---
December 23, 2008 3:55 PM
Here is what's happening in our community lately:
Questions of the week
Blog posts of the week
New community blogs
Messages from the TechTarget network
December 22, 2008 8:43 PM
IT Knowledge Exchange is a proud sponsor of the 2009 TDWI World Conference Series — below is information pertaining to the first event, taking place in Las Vegas in February.
The Data Warehousing Institute (TDWI) has announced it will host its winter 2009 World Conference in Las Vegas, NV, from February 22–27, 2009.
TDWI's premier BI/DW education event emphasizes a topic on every executive's mind: how to keep organizations properly aligned and responsive to change in today's volatile business environment. Courses such as "Agile Project Management" and "Aligning Balanced Scorecard and BI to Optimize Business Performance" aim to provide a holistic approach that allows businesses to align people and projects to deliver agile solutions. The full-day courses will also feature topics in operational BI, insightful analytics, data management, and other business intelligence and data warehousing (BI and DW) disciplines. In addition, the TDWI BI Executive Summit will be co-located at the event in Las Vegas.
For more information, visit the event website.
Thanks,

Community Manager
---
December 19, 2008 7:15 PM

Profile: ITKE
Yes, you heard right! IT Knowledge Exchange is trying out a newsletter "two newsletter per week" format, which will include features such as "IT Blogger of the Week" and "IT Knowledge Exchange Member of the Week" in the Thursday edition. Please send any feedback or suggestions to me at jenny@itknowledgeexchange.com.
---
December 18, 2008 4:25 PM
This week's featured blog is Yellow Bricks, by Duncan Epping. The blog focuses mainly on virtualization, especially VMware, and updates readers daily with tips, tools, and links to related articles and whitepapers. As Epping describes, "[…] Bricks are solid but flexible at the same time [be]cause you can build anything you want. Same goes for virtualization, it provides you with a firm foundation with gaining flexibility at the same time."
In a recent entry, Epping outlines his favorite health tools for VMware PSO. You can check it out here.
Yellow Bricks is a great read for anyone interested in VMware or even virtualization in general, as it covers all areas of virtualization in a thorough, balanced way.

Community Manager
---
December 16, 2008 2:41 PM
Here is what's happening in our community this week:
-> HP wants to know
-> Are you in the running yet?
-> Questions of the week
-> Blog posts of the week
-> New community blogs
-> Messages from the TechTarget network
---
December 11, 2008 3:56 PM
Hello Community,
Each week we want to highlight a blog or website that we think would benefit all IT pros. This week, it's DataCenterKnowledge.com
If you're looking for more information related to the data center, the Data Center Knowledge blog is a great place to start. Rich Miller and his editorial team cover data center news from all angles, targeted to different companies, locations, data center technologies and careers. He also travels to several enterprise events and reports on them, and posts discussion and review-focused video content.  If you are a data center professional or just interested in the Data Center space this blog covers it all and is a must read.
Visit DataCenterKnowledge.com today.
To submit your blog for review email sbrooks@techtarget.com

Community Manager
---
December 9, 2008 4:07 AM
We are happy to announce our November Knowledge Point Contest Winners. Our top Knowledge Point earners in the past month are receiving Amazon.com gift cards just in time for holiday shopping!
  $200 –> Carlosdl, Technochic (over 3,000 Knowledge Points)
 $150 –> Flame (over 2,000 Knowledge Points)
 $75 –> Labnuke99, Gilly400, Mrdenny, Mshen (over 1,000 Knowledge Points)
 $50 –> Philp1jb, Yasirirfan (500+ Knowledge Points)
Congratulations to all of our winners!
Remember: through the month of December, you can win one of ten $50 Amazon.com gift cards, just by asking two questions and answering two questions on IT Knowledge Exchange! Click here for details.
Happy posting,

Community Manager
---
December 4, 2008 5:39 PM
Uploading an image to your profile is simple to do, and it lets other users see who you are! It's simple:
– Once you are logged in, click on "Edit My Public Profile" in the Dashboard:


– Scroll down to the "Upload an Optional Picture" option: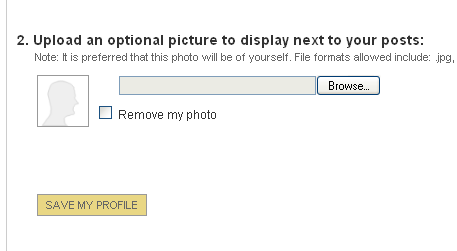 – Browse your computer for a suitable image. Once you have selected one, click "Save My Profile" and the changes will take effect.

Community Manager
---
December 4, 2008 5:34 PM
We are going to be taking the site down tonight from 7-10pm EST. We are planning some back end and front end improvements to better serve the growing traffic we are getting. We are always lookig to continually improve the site to better serve our members.
The biggest change you will see is the new IT Blogs landing page.  This page will now have a featured blog as well as most recent blog comments.
Thanks for your patience and send any other suggested improvements or features you would like to see my way a sbrooks@techtarget.com
Thanks
Sean
---
December 3, 2008 2:59 PM
As 2008 winds to a close, IT Knowledge Exchange has one more fun contest to end the year.
From today until December 23rd, you can enter to win one of ten $50 (US) Amazon.com gift cards.
There are two things, however, that you must do in order to enter:
Ask 2 questions
Answer 2 questions
That's it!
We will randomly draw ten eligible members, and each will receive a $50 (US) Amazon.com gift card. It's that simple!
Remember — you have to both ask 2 questions and answer 2 questions in the community to be entered to win. Anyone who can receive an Amazon.com gift card is eligible.
–> Click here to ask a question
–> Click below for unanswered questions by topic:
Good luck and happy posting,

Community Manager
---