---
October 30, 2009 1:34 PM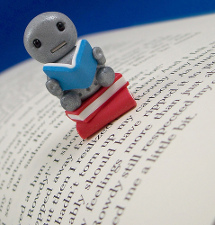 The fine folks at Prentice Hall just sent us a fresh batch of IT books and we want to let you know how they are, but our ReviewBot needs all the help it can get.  Can you give us a hand? Right now, we've got the following books up for grabs:
Network Maintenance and Troubleshooting Guide: Field-Tested Solutions for Everyday Problems, 2nd Edition
VMware VS and vSphere SDK
PM Crash Course for IT Professionals
If you have a U.S. mailing address and would be willing to write an informative, creative review of the above books, let us know and if we like your idea (even just a straight-forward review!), we'll ship you a free copy, yours to keep.
Leave a message in the comments with the book you'd like, or e-mail me directly at Michael@ITKnowledgeExchange.com.
---
---
---
---
October 22, 2009 3:56 PM

Nathan's Exchange Blog is a great resource for the latest news on Exchange releases, troubleshooting, and insider tips. Nathan has been imparting his knowledge on Exchange Server since 2006, and was awarded a Microsoft MVP award in 2007 for his efforts. His most recent post was to raise awareness about the latest UK Microsoft Messaging & Unified Communications user group meeting, but he has also covered common Exchange error messages and even issues in SQL Server. Check out Nathan's blog today!
---
---
October 20, 2009 2:15 PM
Here are the 10 most watched questions on ITKE: There's some great discussions going on ranging from SQL to diagnosing app crashes. Go answer a question now and take your shot at winning a TV:
1. ORA-31672 in oracle 11g tops the list, with thoughts from Carlosdl and MeandYou.

2. .NET framework was asked by Owolab, with answers from Drdenny and Kccrosser.

3. Microsoft Server 2003 to Oracle migration was asked by a reader and answered by Mrdenny.

4. SQL EXPLAIN was asked by a reader and was followed up on with Mrdenny.
5. VB was posed by AnandaDebnath and answered by Carlosdl. Continued »
---
---
October 14, 2009 1:52 PM
We would like to thank all of our IT Knowledge Exchange members for their hard work on the site this year by offering the opportunity to "cash out" on their total Knowledge Points earned. Every 1,000 Knowledge Points earned through December 15th, 2009 is eligible for a $10 Amazon gift card.
Remember: You don't just have to answer questions to earn Knowledge Points! Submitting good questions and thoughtful discussion points can also bump up your Knowledge Points total just as well. Remember your Knowledge Points earned are:
Not sure where to start? Visit this blog post with links to all unanswered questions.
Cashout details:
All members with a cumulative 1,000 Knowledge Points or more on the date of their cashout are eligible.
Participating members must e-mail us at contactus@itknowledgeexchange.com by the end of business on December 15th in order to qualify for the cashout. In order for us to correctly process the e-mail, you must include your handle.
Cashout period runs from today, October 14th, through the end of business on December 15th. We will award gift cards to eligible members based on their total accumulated Knowledge Point values at the time of their e-mail. This means you can e-mail us today to redeem your points, or wait and earn additional Knowledge Points through December 15th.
Restrictions:
Only members in Amazon-eligible locations can participate.
We cannot "round up" — if you e-mail us and your Knowledge Points currently stand at 4,995, we can only award you for the 4,000. Keep this in mind as you plan your time to redeem!
All participants will be reviewed for post relevancy. "Gaming the system" by posting irrelevant comments will be seen by our admins, and you will be disqualified from redeeming.
Each participating member may only e-mail us once — we cannot award additional gift cards for participation after the member has chosen to redeem his points.
Your moderators at IT Knowledge Exchange are very excited to launch this giveaway — we look forward to hearing from you!
Thanks,



Community Manager
---