---
April 6, 2010 5:03 PM
That's right.
Our next contest starts today April 6th and runs until midnight EST on May 17th. Here are the specifics:  We are giving away 2 iPads. 1st place receives a 32GB version and people who finish in 2-10th will be put in a drawing to receive a 32GB version.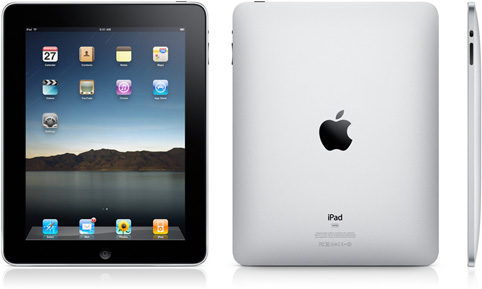 How can you win or qualify?
All you need to do to win is collect the most knowledge points between the dates listed above. To earn knowledge points you can Ask questions, Answer questions, discuss questions, getting your answer selected as an accepted answer and approving answers.
Keep in mind that we will be reviewing all activities and deducting knowledge points to any posts that do not add value or help the member asking the question.
So let the fun begin. Post any Enterprise IT questions you have and answer unanswered questions that exist on the site: Error messages you are receiving, product selection advice needed and anything else. Also spread the word and have your friends post questions that you may have the answer to.
We will be having special ways you can earn additional knowledge points so sign up for our twitter feed @ITKE to get the announcements.
Any questions? Email me at sbrooks @ techtarget.com
If Apple can ship an iPad to you then you are eligible for this contest.
Good Luck
Sean
April 6, 2010 2:46 PM

Profile: ITKE
It was a tight race, but 4 members came out on top:
GRAND PRIZE WINNER ssorr0yk: HP EliteBook 8440w with 2010 Core vPro processor
FIRST RUNNER UP nnf97: $100 Amazon.com Gift Card
SECOND RUNNER UP Resinator: $50 Amazon.com Gift Card
THIRD RUNNER UP LowTec: $25 Amazon.com Gift Card
On behalf of Intel and IT Knowledge Exhcange, thank you to everyone who participated and look out for the next Scavenger Hunt coming soon…..
---
---
---
---
March 29, 2010 4:17 PM

Looking to clean up that mess you call your workspace? Great!  We've even corralled over a dozen assistants to help you get organized: Animal Clips of dubious utility!
They stick on and pop off easily, and help keep those cables where they're supposed to be. Where did we get these truly magical and revolutionary, not to mention lovable, devices? Our good friends at CableOrganizer.com. To win your set, simply ask or answer a networking question tagged "Networking in 2010" and e-mail me at Michael@ITKnowledgeExchange.com, and I'll randomly pick a winner from eligible entrants. Usual contest rules apply.
It would also be awesome if you'd be willing to send us a quick picture of how you ended up using the clips: Here's one from our office of a platypussaurus noshing on my phone line: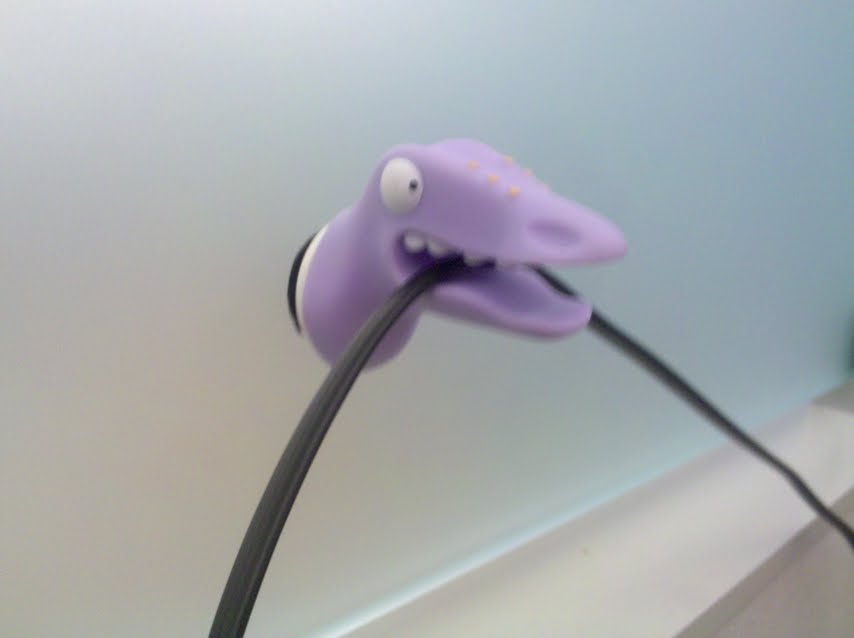 So what are you waiting for? Ask a question now!
---
---
March 11, 2010 9:14 PM

Profile: Lcarlson
On Tuesday, March 23rd, come meet Microsoft experts Max Hermann and Niamh Coleman live on IT Knowledge Exchange for a chat about Desktop Virtualization and how your company can benefit from deploying these technologies.
This is a unique opportunity to speak one-on-one with Microsoft Product Experts and answer all your questions about Desktop Virtualization. Find out if it will save you money and add flexibility. If you'd like to post your questions in advance, visit the chat page and leave it in the comments section.
Don't Forget!! Sign up for an e-reminder to be e-mailed on the day of the event. We look forward to joining Max and Niamh on the 23rd, and hope to see you there.
---
March 9, 2010 2:27 PM
1. A member asks how they can apply GPOs to non-domain computers to make sure they don't get on the corporate domain, and MrDenny, Technochic, Denwood, and SiThu help with a solution.
2. A member asks about business intelligence in a cloud environment, and MrDenny provides h>storing encrypted files on is input.
3. A SQL Server reader asks how to monitor log files in SQL Server 2000 database and MrDenny responds.
4. A Data Center reader asks about recommended temperature and humidity ranges for a data center. Mattmclain, Aquacer0, MrDenny, and WhatIs23 all provide input.
5. A Data Center reader asks about keeping a UPS cool, and XENOPHON22 and Dave MC offer their thoughts.
6. A SQL Server reader asks about CPU and RAM recommendations for a data warehouse, and MrDenny answers.
7. A SQL Server reader asks for help looping through a database, and MrDenny offers some advice.
8. A SQL Server reader asks about merging MDF files, and MrDenny helps out.
9. Yet another SQL Server reader asks about removing and adding new space to databases, and Mrdenny naturally answers, with Gent01 chipping in.
10. Gent01 and MrDenny team up again to answer a SQL question on storing encrypted files on SQL Server 2000.
---
March 5, 2010 8:15 PM

Profile: JennyMack
Over the past couple of years, I've spent my days learning from the IT Knowledge Exchange community, and getting to know many of the members not only professionally, but gaining an insight into your accomplishments, frustrations and hopes for the future. Today will be my last day as your community manager, and it's a bittersweet day.
While I'm excited for my new opportunity outside of IT Knowledge Exchange, I would be remiss if I didn't say how much I've appreciated you letting me participate, and even more importantly, letting me listen. It has been a privilege and a pleasure to serve this community, and I wish every one of you the best of luck in your future endeavors.

Community Manager
---