---
February 12, 2013 7:42 PM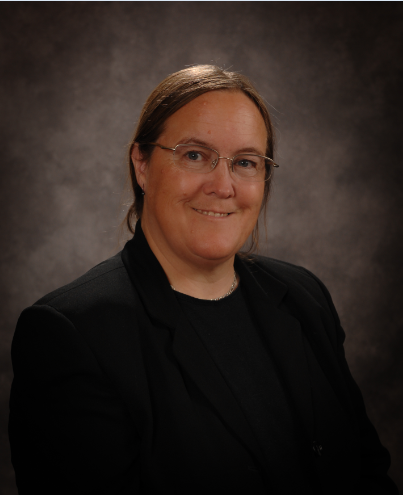 ITKnowledgeExchange recently had the chance to talk to this month's 'featured blogger' Sharon Fisher. Her blog, Yottabytes: Storage and Disaster Recovery, gives users valuable insight into data storage hardware, software products and disaster recovery.
ITKE: Tell us a little bit about yourself: What do you do? What's your area of expertise?
SF: Well, I like to say that I explain stuff. I write about all sorts of things, whether it's computers or public policy or business profiles or how the Idaho legislature works. I particularly like to explain stuff that other people might think is boring (like the Idaho legislature) and show how it's actually really interesting.
ITKE: If you weren't writing about IT, you'd be…
SF: If I weren't writing about IT, I'd probably be writing about something else. Maybe the back of cereal boxes. Writers are funny that way.
ITKE: Who's one person you look up to in the IT world, and why?
SF: It sounds like a cliche', I guess, but I'd say Marissa Meyer; she risked a nice career at Google to take over as CEO at Yahoo, which was really struggling, and is doing a darn fine job of it, by all accounts. And then going, oh, by the way, I'm pregnant. She didn't compromise on what she wanted. And after people like Carly Fiorina, it's nice to have a really competent woman CEO to act as a role model. 
ITKE: How to you see the future of IT developing over the next decade?
SF: They say that history doesn't repeat itself, but it rhymes. When I was first getting started in this business, organizations were circumventing the IT department by buying PCs. Then the IT department took over PCs. Now people are circumventing the IT department by buying smart devices, and the IT department is trying to handle that. So however the IT department figures out how to control smart devices, in the next decade, people will be working on how to circumvent that. Smart watches? Google Glasses? 
ITKE: What advice would you give prospective IT workers (say college students)?
SF: Study something in addition to computer science so you can do programming *about* stuff and not just programming in and of itself. More and more, computer science is becoming interdisciplinary with science and business and even the humanities. So think about what else you like to do, and figure out how to apply IT to that.  
February 11, 2013 5:28 PM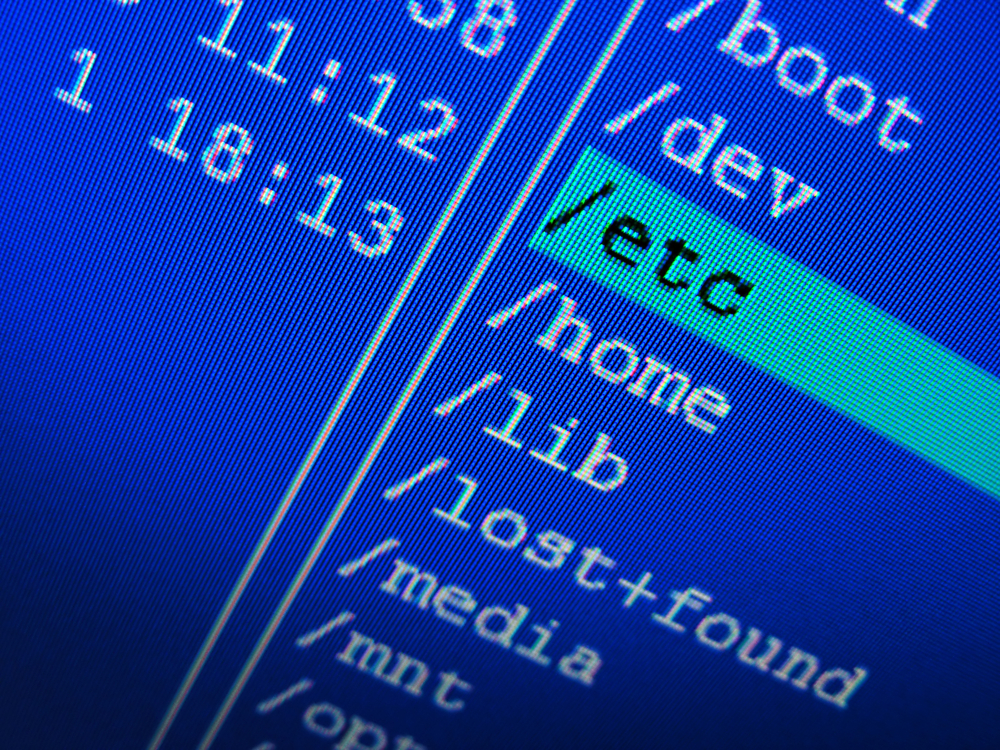 Linux image via Shutterstock
When organizations have issues with their Linux server, DevOps allows development teams to find and troubleshoot problems much more quickly and efficiently. But before fixing those problems, you need to learn the basic functions of DevOps. That's where Kyle Rankin's book, DevOps Troubleshooting: Linux Server Best Practices, steps in. It provides expert analysis and the best techniques to help you solve those Linux server problems. We have an excerpt of the book on our IT Bookworm blog.
To win a copy of the book, tell us how DevOps has helped you in the past. Good luck!
---
February 7, 2013 8:00 PM
At BriForum, leading independent industry experts led by Brian Madden, as well as technical staff from the top solution providers in the space, share the latest tips, tricks and verified techniques to help save your organisation time, money and countless headaches.
Here are 5 reasons why you can't afford to miss out…
5) Unparalleled networking opportunities
With attendance limited to 250 attendees, you'll have plenty of time to mingle with the experts who will be leading our 30+ technical sessions. Plus, you'll have the opportunity to interact with your peers from around the globe, during both daytime and evening activities, who are dealing with the same issues you are. Who knows, your IT department's #1 challenge could be solved by just talking to someone from a different company in a different country! And where else will you find that person than BriForum?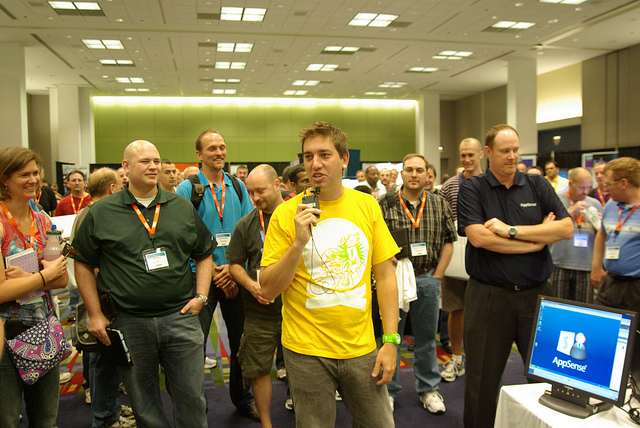 4) Perfect timing & location
For our European conference, London combines an easy to reach travel destination that offers plenty of activities. Also, May is the ideal month to seek new technology for inclusion in the second half of 2013 and projects for the upcoming calendar year.
3) We address the most relevant technologies
2013 is a busy year – Windows 8 is here, and the mobile device trend is solidifying itself as part of the corporate culture. On top of that, you're still faced with delivering Microsoft Windows to traditional desktop environments as well as multitude of end-user devices and Web apps. During this independent two day conference you'll get your toughest questions answered by technical experts and leading solution providers– all free from hype.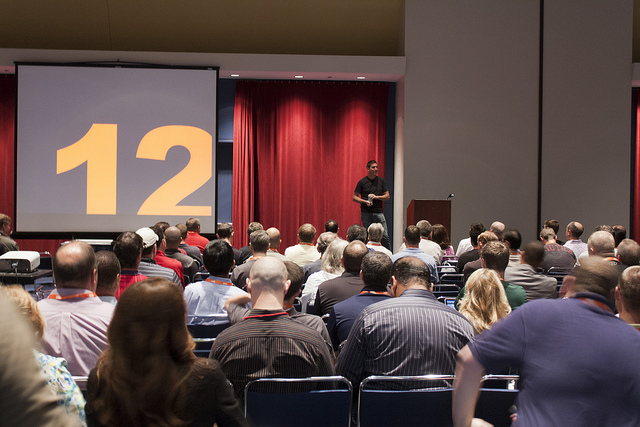 2) The most qualified group of speakers
According to previous BriForum attendees, the number one thing that keeps them coming back to BriForum year after year is the high quality of the speakers. Where else can you find speakers Brian Madden, Gabe Knuth, Shawn Bass, and over 20 of the most renowned technical bloggers, real-world practitioners, and best-selling authors who are dedicated to the technologies you care the most about? These guys aren't giving sales pitches about solutions that haven't been developed yet, they're giving you advice to improve your organisation's technology strategies right when you get back to the office.
1) Best value for your money
As we all know, the economy is continuing to put pressure on IT teams to deliver superior solutions with shrinking budgets. Attending BriForum is the most cost-effective way to obtain pertinent knowledge and best practices on this essential technology, rather than spending months reading books and articles, browsing websites, or traveling to multiple events and conferences.
Register by 15 February to save £200 with our super early bird pricing!
We hope to see you in London this May!
---
January 31, 2013 8:20 PM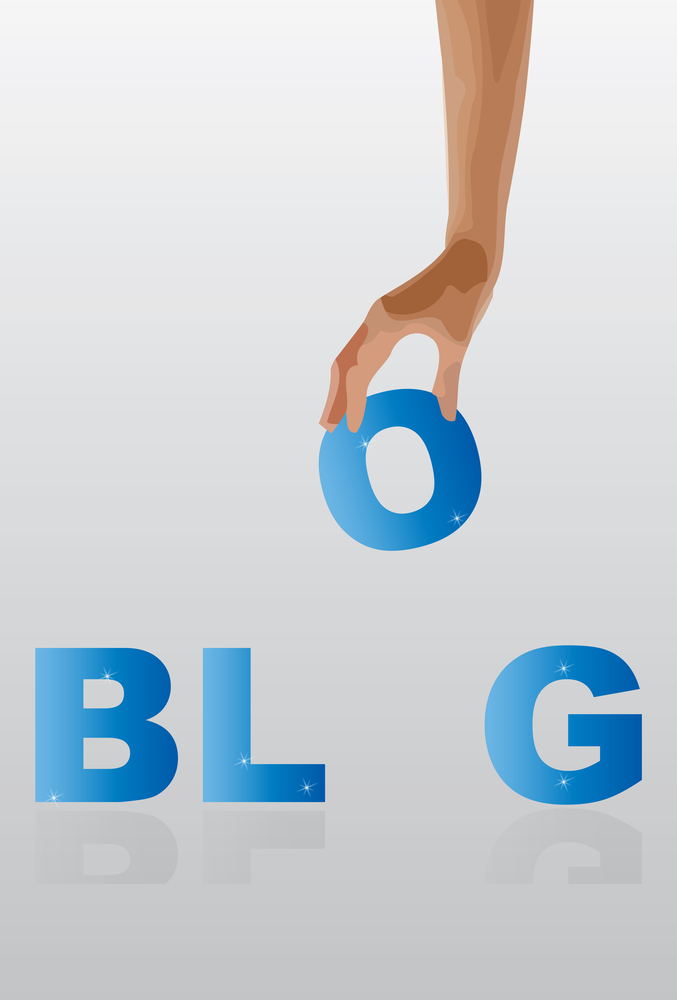 Blog post image via Shutterstock
Another month has come and gone here at ITKnowledgeExchange and so it's time to look back at the top blog posts from January!
---
January 28, 2013 7:21 PM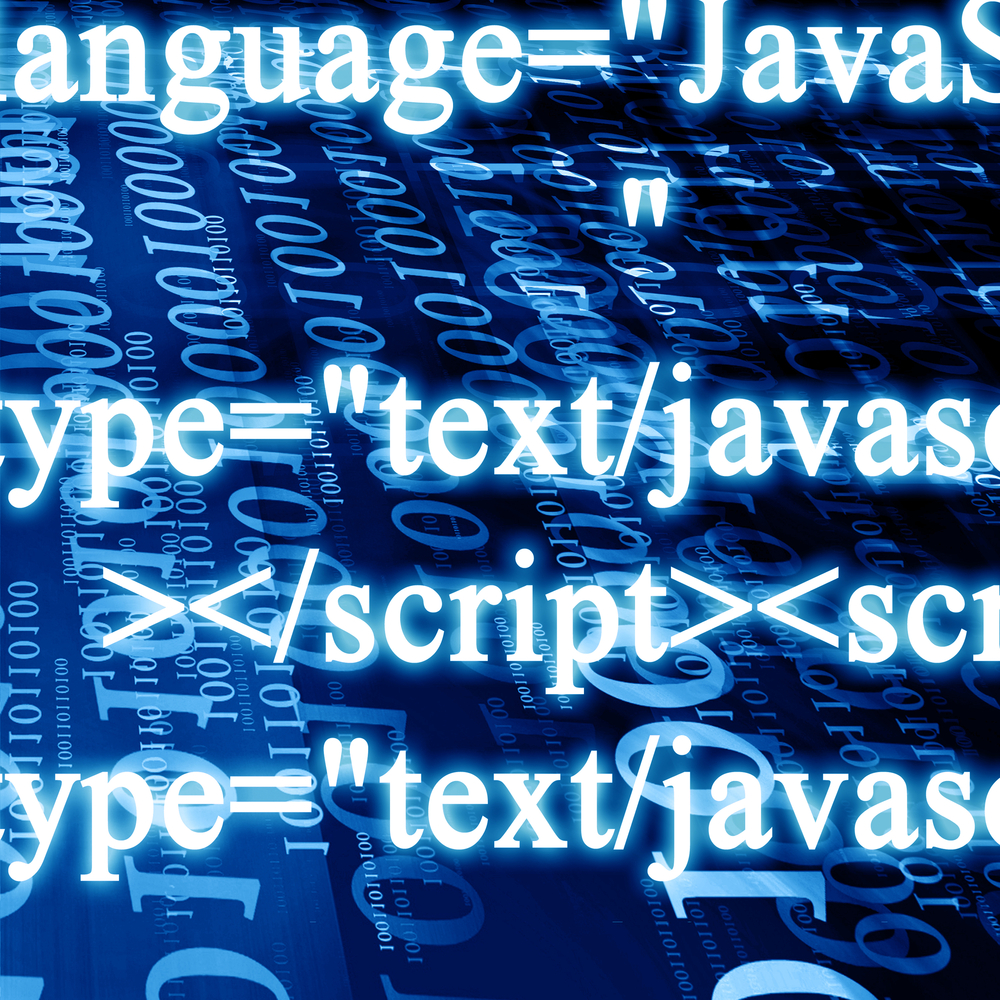 JavaScript image via Shutterstock
For many IT workers, using JavaScript can become a major headache. No need to worry, David Herman's book, Effective JavaScript: 68 Specific Ways to Harness the Power of JavaScript, provides many detailed techniques and strategies to avoid the hassles and get the most out of JavaScript. We have an excerpt of the book on our IT Bookworm blog.
To win a copy of the book, tell us your most frustrating story involving JavaScript. Good luck!
---
January 25, 2013 7:37 PM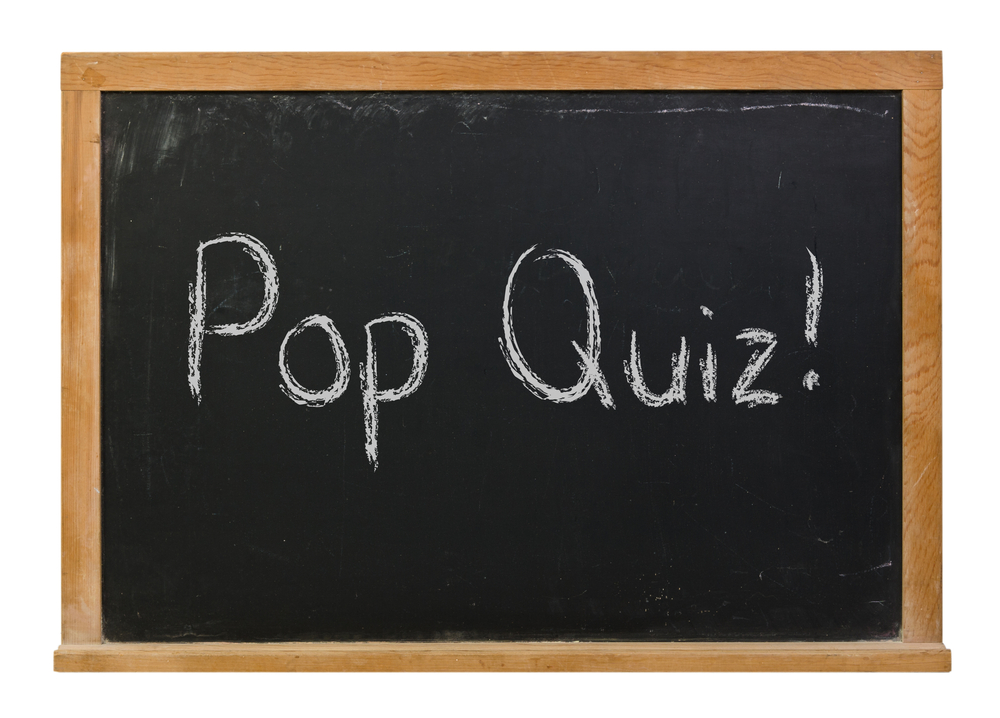 Pop quiz image via Shutterstock
Yes IT students, it's time for another pop quiz! This week, we're challenging you with several tough questions on the topic of Oracle. See if you can answer any (or all) of the questions below and we'll give out 200 Knowledge Points for each approved answer. Good luck!
In Oracle Data Guard, does the target database need to run on the same platform as the source platform?
When a user is running Oracle Instant Client 10.2, is it possible to run a query through the Windows scheduler at the same time?
---
January 17, 2013 8:44 PM
Virtualization has been a hot topic across the IT industry since 2005 and continues to make major strides in three areas: networks, storage and servers. Each year, companies such as VMware and Microsoft release new products and features pertaining to virtualization.
What does the future hold? SearchServerVirtualization.com's Advisory Board recently presented its virtualization predictions for 2013. Tell us if you agree with their predictions in the comments below. The links below will help shed some light on industry trends.
Here are some of the most active conversations on ITKnowledgeExchange.com on virtualization topics:
View all virtualization discussions in the community.
Several ITKE bloggers have also given their insight on virtualization:
What is virtualization? by Eric Siebert (Virtualization Pro)
Eric Siebert goes in-depth on the true definition of virtualization and tries to explain its meaning to first-time users.
Visualizing a virtualization project by Eric Siebert (Virtualization Pro)
When making the case for a virtualization project, visual aids can be a key feature as they allow users to fully understand the project and its benefits.
Virtualization in General by Nathan Simon (The Real and (Virtual) Adventures of Nathan the IT Guy
Need a quick primer? Nathan features a video that explains virtualization in less than 3 minutes.
Virtualization and the Singularity by Joe Foran (The Virtualization Room)
As virtualization continues to evolve, Joe Foran asks several important questions. What role will it play in the unfolding technological evolution of our society?
Virtualization: Changing the OS game, or not? by Ryan Shopp (The Virtualization Room)
Two different opinions emerged between Linux Developer Linus Torvalds and Teneja Group's Senior Analyst Jeff Byrne over virtualization changing the OS market.
For regular coverage of the industry from TechTarget staff, be sure to bookmark The Virtualization Room blog.
---
January 17, 2013 8:03 PM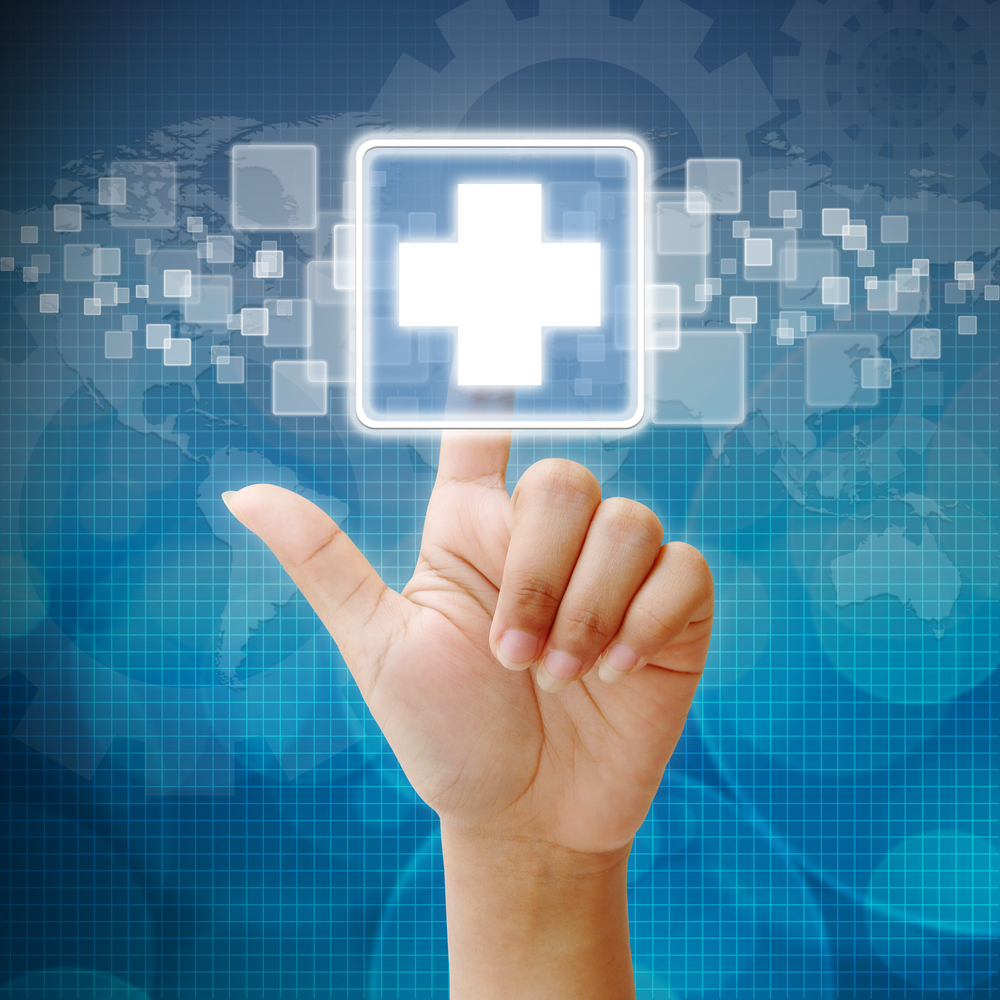 Healthcare image via Shutterstock
Join SearchHealthIT.com and the Health IT Exchange for a live chat on health data liberation on 1/22 from 1:00 – 3:30 EST!
Data has the power to transform health care – by aligning business intelligence data with clinical decision support technology, organizations can make dramatic improvements in cost, quality and productivity.
Health care organizations of all types are collecting petabytes worth of data, but all too often these large data sets reside in massive repositories that prove to be of little value to today's busy clinician.
On Tuesday, January 22nd from 1:00 – 3:30pm EST, join a live chat with Micky Tripathi, President and CEO of the Massachusetts eHealth Collaborative (MAeHC) and Chairman of the Board of Directors of the eHealth Initiative to find out how he's working with 600+ clinicians, across 200 locations, to improve operations and quality of care through the application of clinical data analytics. Tripathi, a nationally recognized leader in the field of health IT and interoperability, will provide critical insight into the processes and technologies employed to manage and integrate data across disparate systems and complex silos. Follow  @MAeHC on Twitter!
Also on hand to offer his expert perspective will be Shahid Shah, the industry's own "Healthcare IT Guy", resident blogger and CEO of Netspective, skilled in offering impactful advice and bridging the sometimes large gap between technical resources, business managers, and CXO's to deliver sophisticated solutions to real world problems. Follow @ShahidNShah on Twitter!
Take advantage of this live chat to get answers to your most pressing questions. Find out how to effectively integrate data across your organization, and what types of analytics can (and should) be applied to drive change at the point of care. Register today!
---
January 16, 2013 4:45 PM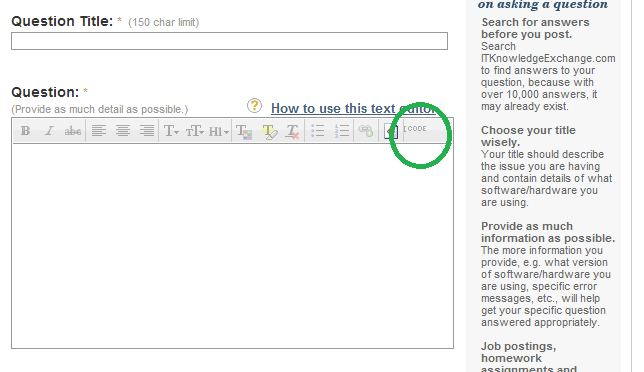 Great news, ITKnowledgeExchange members! We've recently released a fix that greatly improves the display of code on our pages. When you want to post code in a question, answer, or comment, use the [code button (appearing in the top right-hand corner of the text editor), paste your code in the box, and watch the magic happen. Your code will appear in an easy-to-read, highlighted format that keeps all spacing and formatting intact.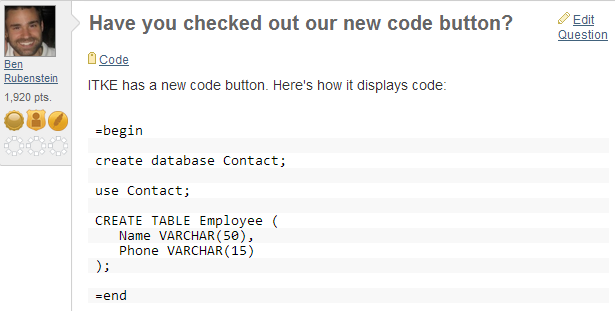 Make sure to try out our newest update and let us know if you have any questions!
---
January 14, 2013 10:05 PM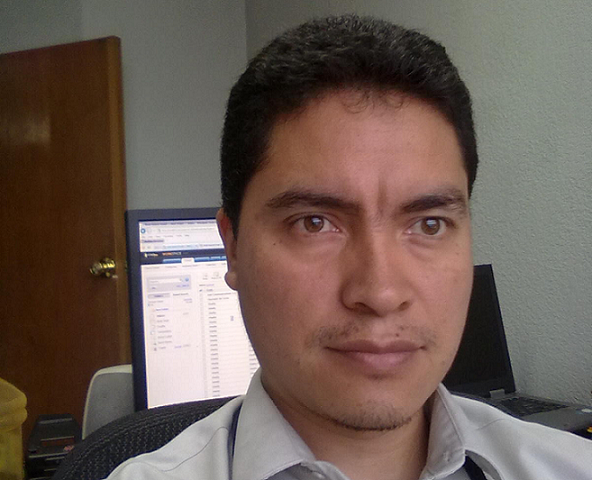 ITKnowledgeExchange recently had the chance to talk to this month's 'featured member' Carlos De Leon. He is one of ITKE's most active users and specializes in Oracle, SQL and Java.
ITKE: Tell us a little bit about yourself: What do you do? What's your area of expertise?
CD: I currently work as Software Development Director at a local telco. Working there has given me the opportunity to learn a lot and be involved in several different IT areas, from software development to operating systems, security, networking and telephony; but software development is what I really do today.
I've been involved in software development  for many years, so I would say my area of expertise is definitely there, but development is a very broad field.  One can be proficient in only a small number of languages,  or methodologies or tools, etc.  In the last few years I've worked a lot with Oracle databases, so I would probably say that SQL and PL/SQL are the languages I know better right now.
But as years have passed, I have been devoting less time to coding and more to managing.  I keep trying to find the way to make software projects succeed regardless of the different external factors or forces that are always present (although many times not in a very visible way) around most IT initiatives.
In my spare time I develop mobile applications, mostly for Nokia devices.
ITKE: If you weren't working in IT, you'd be…
CD: Probably a musician, but I'm not sure whether I would be playing praise music at religious events, or I would have founded a heavy metal band.  I could also have been an MMA fighter 😉 
There are many things that interest me a lot, but I don't have enough time for them.
ITKE: Who's one person you look up to in the IT world, and why?
CD: Not sure if this is normal, but I don't really admire any one.  I read a lot, and because of that I have came to know some of the fantastic things some people have made in the IT world, but I focus more on some of their accomplishments than on their lives or even their careers.
One example is Linus Torvalds.  I admire what he did with the Linux kernel, but apart from that (and from his creation of Git) I don't know almost anything about him or what he has done afterwards.  Something similar happens with Marc Benioff from Salesforce.com or Mark Spencer, the creator of Asterisk.  I know of many people that have done amazing things, but I just don't keep following them.
ITKE: How do you see the future of IT developing over the next decade?
CD: As we are already seeing, mobility will most likely dominate, which probably means also that cloud adoption will grow very rapidly in the near future. 
Areas like domotics (home automation) will experiment significant growth as well, and as most of the things we use in our lives are becoming computing devices, information security will be even more important. Even today, a malicious hacker could gain control of your car, or make your pacemaker malfunction and kill you. That is scary.
ITKE: What advice would you give prospective IT workers (say college students)?
CD: Don't get into IT if you don't really like technology, investigation and problems.  I have known some people that decided to pursue an IT career just because they thought it was a safe bet and they would get good money there.  After some time, most of them have become very unhappy people, who hate to face problems and take challenges.
A couple of days ago I read this in a tweet "choose a job you love and you will never have to work a day in your life".  I don't know who the author is, but I fully agree, and that is probably the best thing I could say to any student, regardless or the profession they have chosen.
---