---
August 28, 2013 7:15 PM
We've made a couple more updates to the site today which I think you'll appreciate.
First, as an update to the Q&A changes we released earlier this month, you'll now be able to see which questions listed on the homepage or on any topic page have answers, and which do not. If a question already has an answer, the button below the question will read "View Answer", while unanswered questions will have a button that simply says "Answer". Of course, you can still add your perspective to any questions that already have answers.

Also, starting today, you'll now be able to earn points by commenting on (and writing) blog posts. Every time you add a comment to any of our blog posts, you'll earn 5 Knowledge Points, getting you closer to a new badge and an associated reward. The author of that blog post will also earn points, so you're helping out your favorite bloggers just by adding your opinion.
You should now see both of these changes on the site – if you don't, or you experience any issues, please let me or Michael Tidmarsh know!
Ben
August 26, 2013 3:18 PM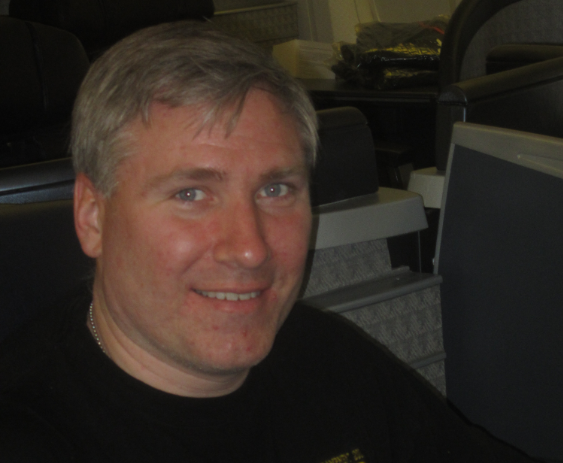 ITKnowledgeExchange recently had the chance to talk to ITKE blogger, software expert and this month's 'featured blogger' Matt Heusser. His blog, Unchartered Waters, provides insights and commentaries on the prevailing issues for IT staffs today
ITKE: Tell us a little bit about yourself: What do you do? What's your area of expertise?
MH: I do a lot of things; I guess the simplest explanation is that I'm the managing consultant a Excelon Development. My company helps organizations reduce risk on software projects, mostly through test/quality/delivery. We do consulting, training, and straight up staff augment contracting.

ITKE: If you weren't working in IT, you'd be…
MH: Probably a financial advisor, possibly full-time religious in a Catholic-Christian tradition.
ITKE: Who's one person you look up to in the IT world, and why?
MH: Jerry Weinberg has stayed in the technology game for 50 years, wrote 40 books, contributed on a lot of projects and programs – and built a legacy in his relationships and the people he impacts. I admire that.
ITKE: How do you see the future of IT developing over the next decade?
MH: I'm not certain, but I do see some trends. First, the bar for IT is getting incredibly high – the little throwaway tablet app in the hotel bar is more polished than anything we were doing for professional software development fifteen years ago. So I see dev groups splitting into the polished, cool, cutting-edge cloudy/lean/devops groups and the boring/old-school/IT groups. For example, the cool kids are going to call REST/SOAP services, and the old-school groups are going to call as database writing SQL with ODBC. It's a split.
The cool kids are going to do things to enable rapid deployment – self-service on demand, virtualized infrastructure, testing in production, rollout to a small userbase, intense monitoring, the ability to roll back – all of that. The older groups are not, so they'll need to do a lot of more traditional practices, like provisioning of physical servers and managing hard drive space traditionally. 
All this means that the cool kids will have promotion and transfer opportunities, while traditional roles will continue to be with older, more traditional organizations. We've seen that with COBOL programmers for decades, it's nothing new, the rift is just getting more clear.
ITKE: What advice would you give prospective IT workers (say college students)?
MH: I think DevOps is interesting and exciting — so I'd suggest learning a couple of programming languages (Python, Ruby) to develop web sites as well as automate system administration tasks using a couple of different virtualization stacks, like, say, Amazon Ec2 (public cloud) or Microsoft and Open Stack private cloud. Combine that with a solid understanding of the network stack (TCP/IP) and Operating Systems, and you can learn anything instead of chasing buzzwords.
---
August 15, 2013 3:57 PM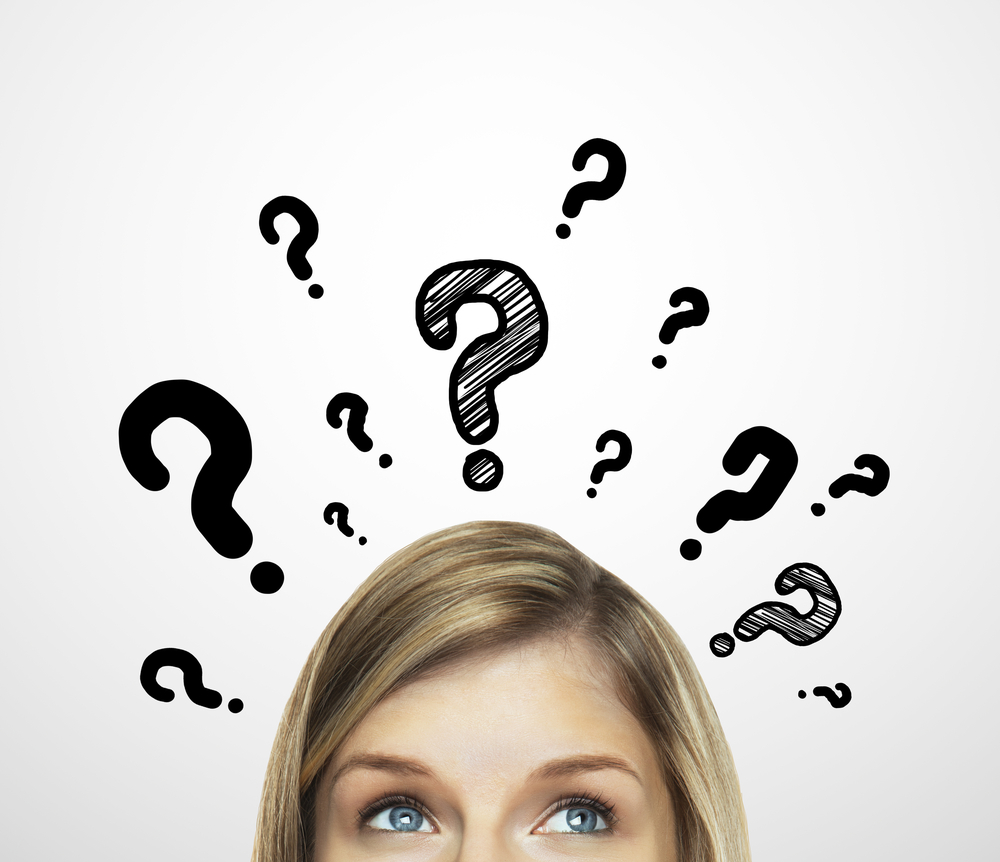 IT questions image via Shutterstock
We're reviving an old tradition here at ITKnowledgeExchange by bringing you the top 10 most active questions over the past two weeks. Come check out our list and see if you can provide any help to our users (We might even send you an extra 100 ITKE points).
---
August 7, 2013 7:05 PM
As you may have noticed, we introduced some new page designs today which we think give the site a refreshed look and more intuitive navigation.
In addition to the cosmetic improvements, the new IT Answers landing page has been streamlined – instead of separating content into IT Questions, IT Answers, IT Discussions and Unanswered, we've simplified the design to show all Questions in one place, whether they are answered or not. This makes it easier to see what's happening on the site at a glance.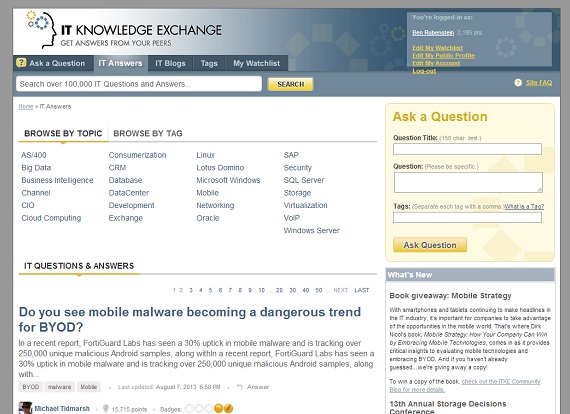 We've made similar changes to each tag landing page; so for example, if you visit our "DataCenter" tag page, you'll see all Questions related to that tag – the multiple tabs separating "Answers" and "Unanswered" have been replaced with a more straightforward view.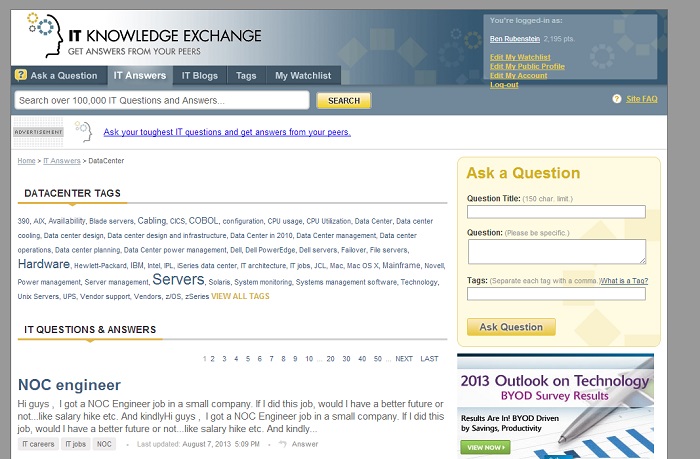 The questions on each page are ordered based on recent activity (whether any users have asked, answered, commented on, edited, or re-tagged them).
Otherwise, everything functions as it always has, so you can use the site as you always have. Of course, let us know if you have any issues, either by commenting on this post or emailing us. This is just the first of several updates that we'll be rolling out over the next few months, so we'd love to hear what you think.
---
August 1, 2013 5:56 PM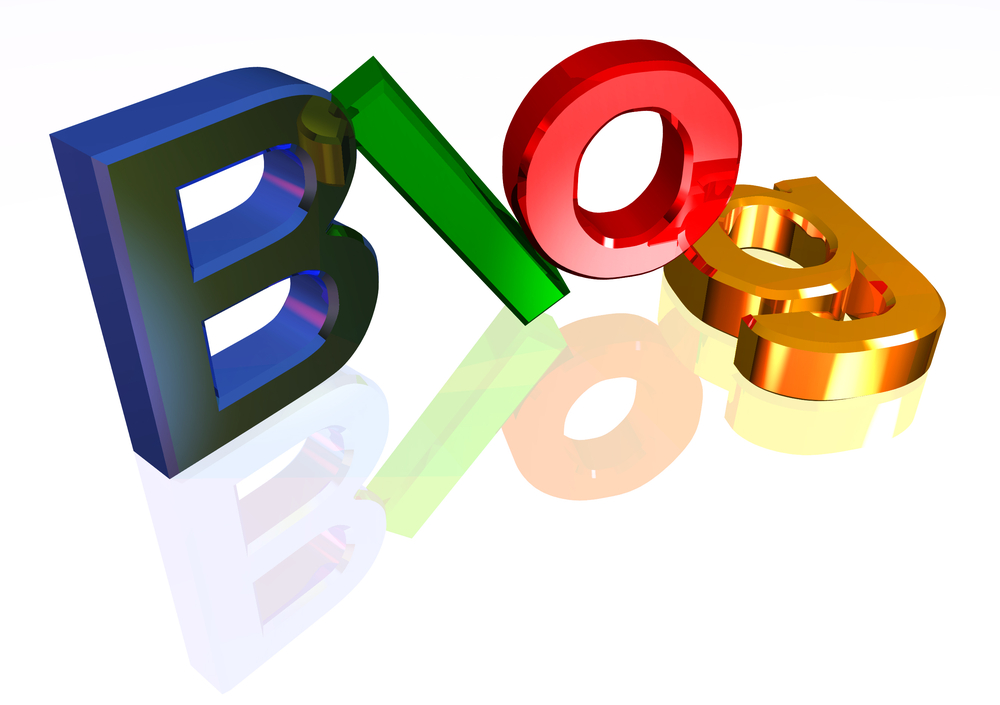 Blog post image via Shutterstock
"It's Microsoft's world and we're all just living in it." That's what you should take away from ITKE's top blog posts for the month of July as Microsoft was included in several posts. Check out why it was such a big hit with the bloggers (Hint: Windows 8.1 was highly influential)
---
July 31, 2013 2:20 PM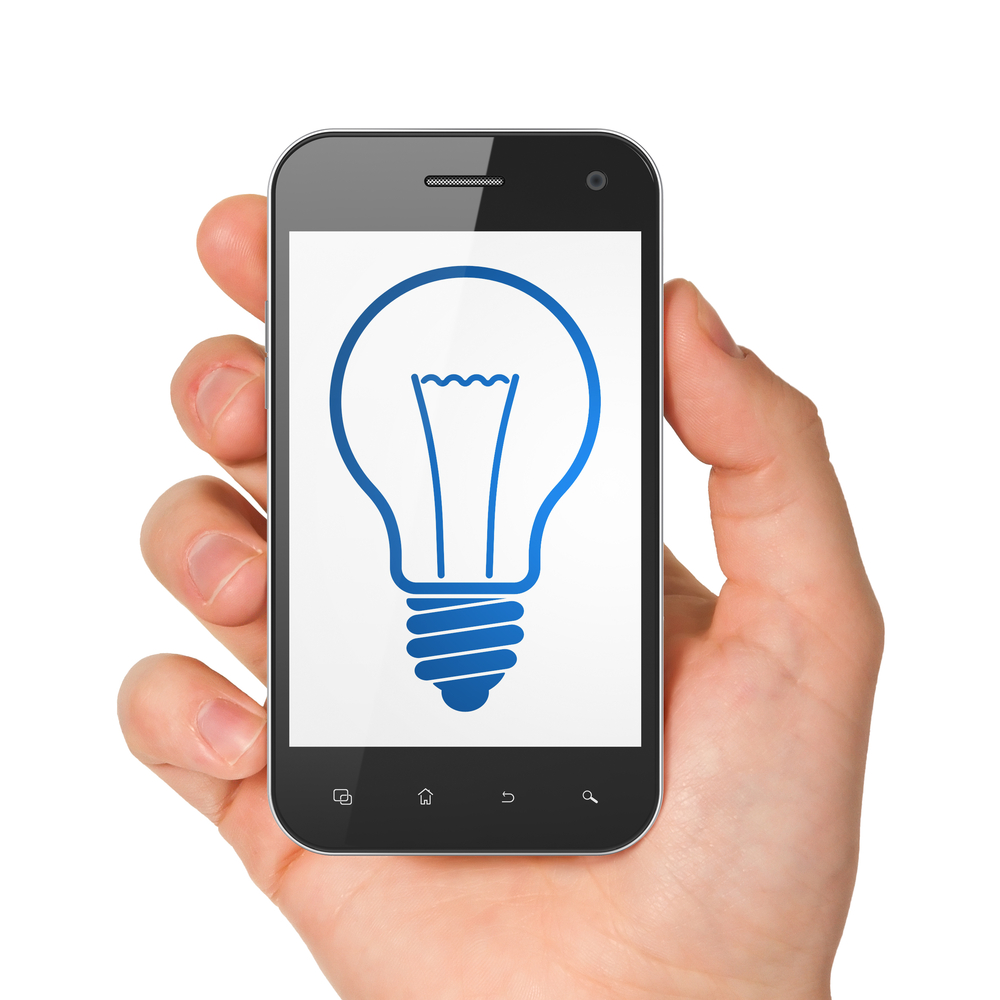 Mobile strategy image via Shutterstock
With smartphones and tablets continuing to make headlines in the technology world, IT leaders and executives are looking to navigate the complex world of the mobile industry. From BYOD to cloud integration, it's important for companies to take advantage of the opportunities in the mobile world. That's where Dirk Nicol's book, Mobile Strategy: How Your Company Can Win by Embracing Mobile Technologies, comes in as it provides critical insights to evaluating mobile technologies, embracing BYOD and integrating mobile, cloud, social and big data. We have an excerpt of the book on our IT Bookworm blog.
And if you haven't already guessed, we're giving away a copy of the book! To win, tell us why BYOD is a necessary component for a company. Good luck!
---
July 12, 2013 6:40 PM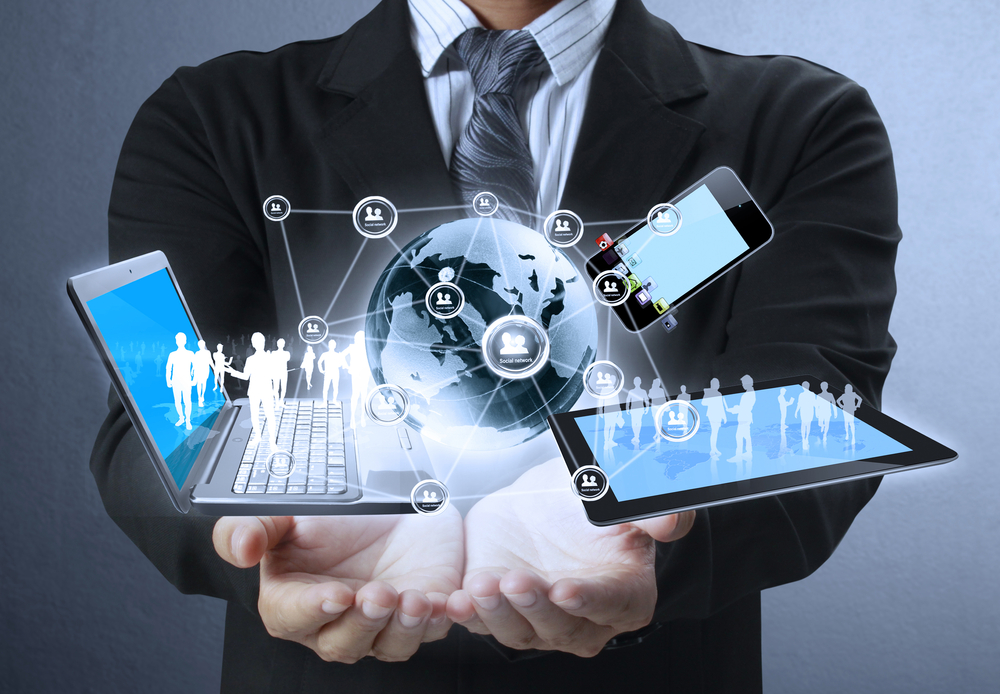 Technology image via Shutterstock
Hi all,
We're halfway through 2013 and it's been quite a while since we posted so we wanted to share some of the exciting updates and news from ITKnowledgeExchange.
First and foremost, we've added a new member to our team, Chris Leonard. You may know him from his work with the TechnologyGuide family of sites (also part of the TechTarget network) – he's here to get to know you and make sure things run smoothly. Make sure to welcome Chris to the community.
As some of you may have seen on the forums, our team has been posting several daily questions on a variety of IT/technology-related topics, mostly not covering specific technical issues. In addition to being interesting conversation topics, they're also a preview of the future here at ITKE. We'll soon be introducing a new discussion type which will allow for all manner of technology conversations, and include content from all the sites in the TechTarget network. Join in the conversation and get a head start on the next phase of our community!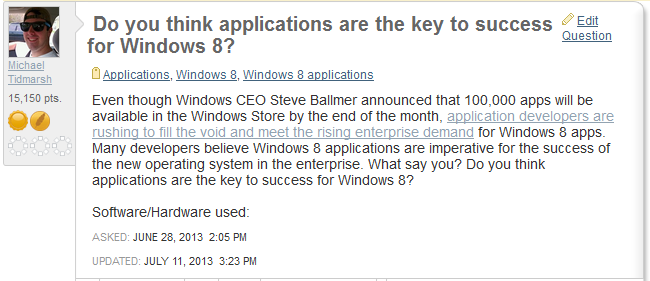 Looking for a quick news fix? Each Monday, check out the Enterprise IT Watch Blog for five of the top stories from across the TechTarget network.
If you're wondering why my profile appears next to dozens of questions / discussions under the 'IT Answers' tab, this is because we've been focusing our efforts on our content quality to make sure ITKE offers the best possible experience for all our users. We've made updates to how questions, answers and discussions are formatted to make it easier to understand. If you see a question that needs improvement, contact me and I'll make the necessary changes.
Over the past few months, we've added several big-name bloggers to ITKnowledgeExchange. Make sure to check out all their blogs and share your comments with them.
Finally, we currently know that some users are having trouble with our 'Ask a Question' box and it's editor features. Our development team is currently working on the issue and will hopefully have a solution soon. Also, we've heard from some of you that you're not receiving ITKE's Community Update newsletter or daily emails on ITKE topics. If you are not receiving either email, reach out to me and I'll make sure you're back on the distribution lists.
As always, if you have questions or concerns about something that's happening in the community, or ideas for how to improve things, please don't hesitate to contact me.
Thanks,
Michael
---
July 9, 2013 3:43 PM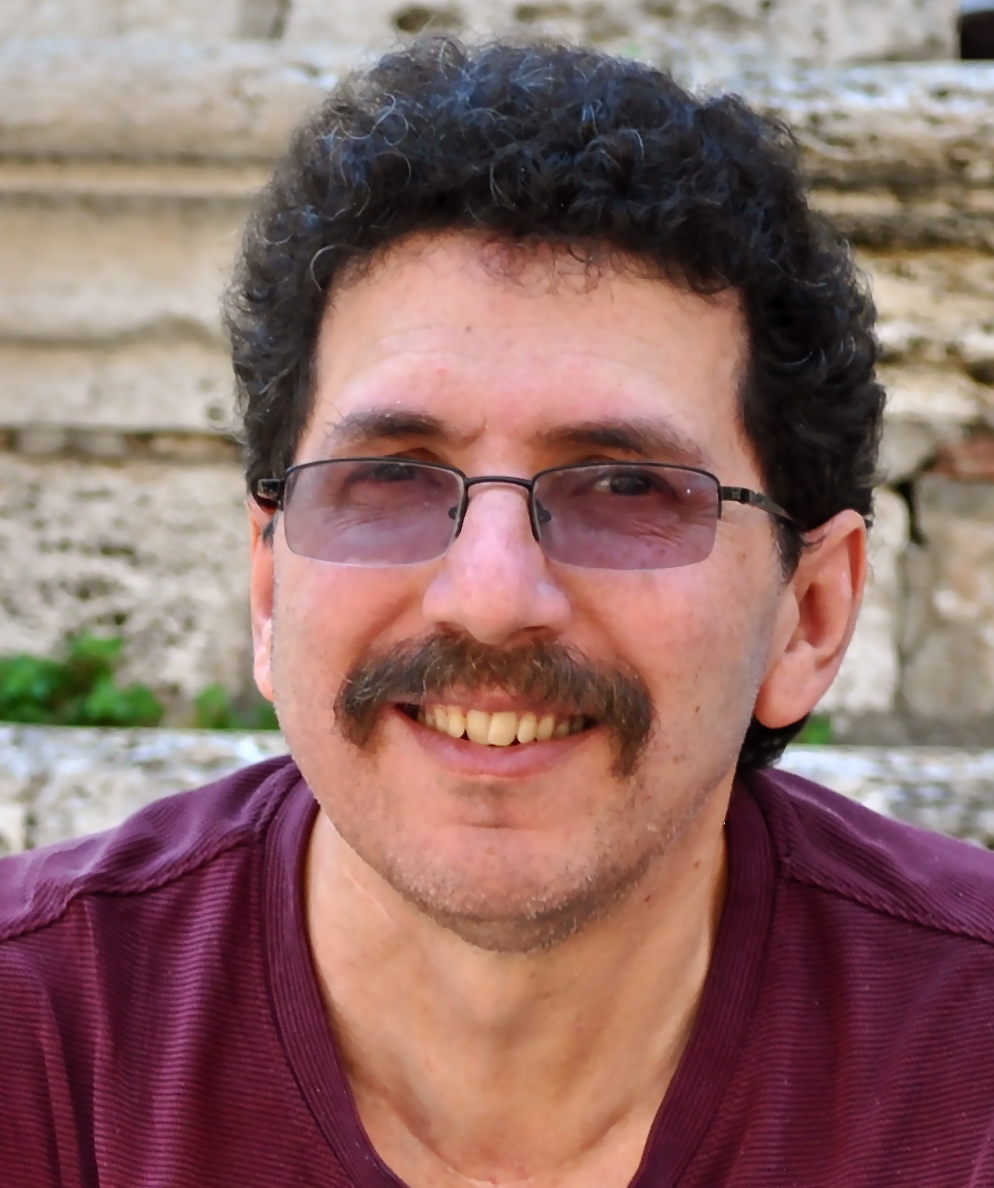 ITKnowledgeExchange recently had the chance to talk to long-time ITKE blogger and this month's 'featured blogger' Ron Miller. His blog, View From Above, looks at how cloud and mobile devices affect IT and how companies link their data so it's updated wherever you are.
ITKE: Tell us a little about yourself: What do you do? What's your area of expertise?
RM: I'm a freelance technology journalist. I write about a range of subjects including mobile, the cloud, social networking, content management, consumerization of IT and Internet privacy.
ITKE: If you weren't working as a journalist, you'd be…
RM: Before I was a full time freelance journalist. I was a technical writer, writing manuals, online help and training materials. I suspect I would be doing that.
ITKE: Who's one person you look up to in the technology world and why?
RM: This is a really hard question, but I'm going to say Clayton Christensen because he identified and defined the power of disruption and what we are seeing now, long after his first book was written, is it playing out at speeds I'm betting he never imagined.

ITKE: How do you see the future of technology developing over the next decade?
RM: I would say we will be seeing more wearable computers, much faster networks, flexible screen technology and some things we can't even imagine (which is what makes it fun).
ITKE: What advice would you give prospective tech journalists (say college students)?
RM: You need to be persistent, resilient and flexible and you also need to keep an open mind. You have to be willing to, within the skill set you have, redefine your idea of work perhaps several times and you have to keep an eye on the future and understand what's coming next.
---
July 9, 2013 3:18 PM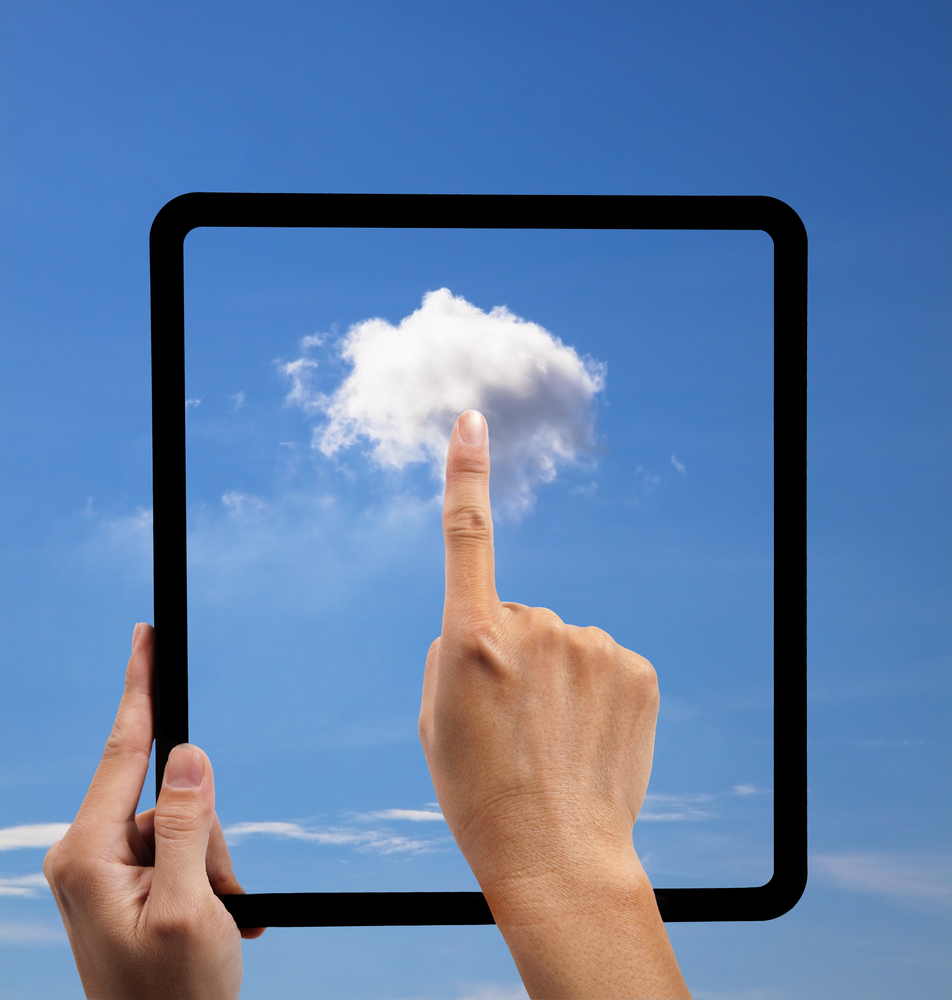 Cloud Computing image via Shutterstock
If you're looking build, integrate or create a cloud environment, it's important to understand the inner mechanics, architectures and layers, as well as the business / economic factors that could result from cloud adoption. That's where Thomas Erl's book, Cloud Computing: Concepts, Technology & Architecture, comes in as it provides the essential building blocks for cloud computing platforms and solutions. We have an excerpt of the book on our IT Bookworm blog.
And here's some even better news…we're giving away a copy of the book! To win, tell us how you think cloud computing will evolve over the next 10 years. Good luck!
---
July 2, 2013 2:06 AM
Website performance image via Shutterstock
Join us on Wednesday, July 17th at 10:00 AM AEST for a live Q&A with Stuart Mills, Head of Digital and SaaS hosting at Macquarie Hosting, and Volker Rath, Hosting Services Expert at Macquarie Telecom (along with a team of engineers), who you discuss the available technologies for optimizing website performance, all from the host perspective.
Today's users are mobile, today's customers are mobile, and both expect a superior user-experience, regardless of the chosen device, geographic location, or services being delivered.
As a result, developing the back end infrastructure to support this user experience is essential. Choosing a hosting model that allows you to identify performance needs – and to quickly respond to those needs – is a critical part of this equation.
Join Stuart Mills, Head of Digital and SaaS Hosting at Macquarie Hosting; Volker Rath, Hosting Services Expert at Macquarie Telecom; and a team of senior engineers from Macquarie Telecomm, all of whom are equipped to answer your most technical hosting questions.
Whether serving as a logical follow-up to the How Your Hosting Provider Can Influence the Quality of Your User Experience webcast, or as a stand-alone opportunity to get answers to your specific questions from industry experts, this live chat on July 17th brings together our panel of experts and a select group of IT professionals for a discussion on the available technologies for optimizing website performance, all from the host perspective.
This live conversation takes place from the comfort and convenience of your own desk and offers insight into why CPU monitoring alone isn't good enough – and why implementing the newest, hottest technologies doesn't necessarily promise superior performance. Register today!
Speakers
Stuart Mills
Head of Digital and SaaS Hosting at Macquarie Hosting
Currently Head of Digital and SaaS Hosting at Macquarie Hosting – a Division of Macquarie Telecom. 20 years sales and sales management experience in Telecommunications, Systems Integration, Selective Outsourcing and Hosting of critical online applications for corporate and government organisations.
MBA from Macquarie University in General and Strategic Management. First Class Honours in Computer Science from University of Sydney.
Volker Rath
Expert for the Hosting line of business at Macquarie Telecom
Volker Rath is Subject Matter Expert for the Hosting line of business at Macquarie Telecom. In this thought leadership role Volker influences Macquarie Telecom's hosting solution strategy and direction. He represents Macquarie Telecoms hosting business internally and externally and manages sales enablement and sales training. Volker has over 16 years of experience in the IT industry majorly in the consulting, security and hosting space.
---