Jun 15 2011 4:49PM GMT
I spy with my little eye… more ways for you to control your community. You may have noticed a few changes when you look at questions in IT Answers.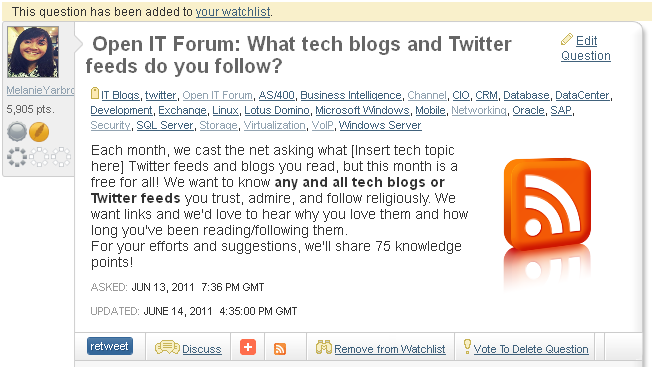 Don't see it? Let me help you…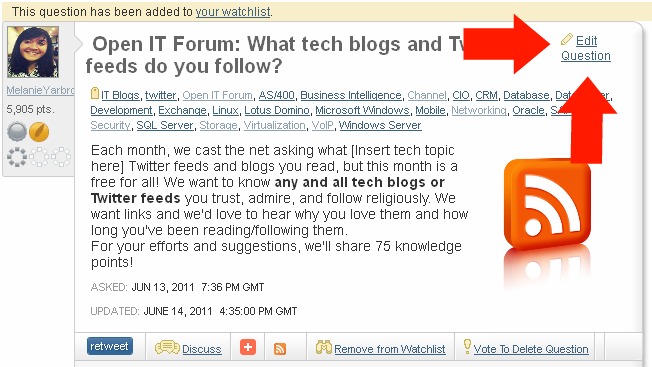 That's right! Whether the coding messed up after you hit submit or a member asked for information you forgot to include, you now have the option to edit your own questions. Moderators** also have the ability to edit all questions. That's not all…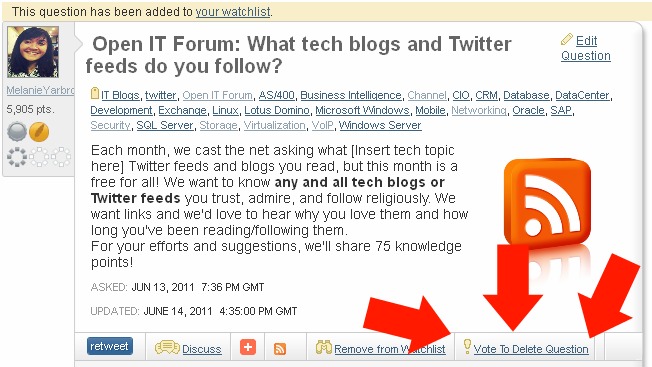 Remember that pesky spam problem we had a little while back? Well, now you have the ability to yank it from the home page. All it takes are two votes from two members of IT Knowledge Exchange, and any question that strikes you as homework/spam/advertising/irrelevant will be removed from the homepage. Our community managers will be monitoring all questions that are voted for removal to ensure that quality questions aren't removed accidentally.
Thank you for all of your hard work and contributions to this community. Each day you build it to be a little more of what you want it to be, and we hope that these new functionalities will only make that easier. Of course, we can only improve with your feedback, so send it to us! Leave us a comment or send me an email directly at Melanie@ITKnowledgeExchange.com.
**Interested in becoming a community moderator? Here's the lowdown. Moderators volunteer to:
Edit or flag inappropriate and irrelevant content for removal
Approve answers across the site
Receive a sweet Moderator badge
To ensure our moderators know their way around, we have just a few qualifications:
Must be an active member for six (6) consecutive months
Must have upwards of 500 Knowledge Points
If you're interested and meet these criteria, send me an email at the address listed above!