Jan 7 2008 10:00AM GMT

Profile: BrentSheets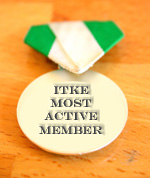 The December winner of our Most Active Member contest is Denny Cherry, a Senior Database Architect from Los Angeles, California. Click on Denny's name to view his profile and to browse all his answers.
Denny Cherry has over a decade of experience managing SQL Server, including MySpace.com's over 175 million user installation, one of the largest in the world. Denny's primary areas of expertise are system architecture, performance tuning, replication and troubleshooting.
Our congratulations and thanks to Denny, who accumulated 1,210 Knowledge Points, as he shared his extensive expertise with other ITKE members. An IT Knowledge Exchange beverage mug is on it's way to you, Denny.
And don't miss his helpful blog on ITKE, called SQL Server with Mr. Denny. Remember, if you'd like to share your own expertise by blogging with us, you can request a blog for yourself.
So what's all this Knowledge Points stuff, you ask? You automatically earn Knowledge Points when you contribute to the ITKE community. You can check your own points or anyone else's by clicking on a username to display a member's Public Profile.
Knowledge Points are earned based on your community participation. So each time you ask a question or share your expertise, points are automatically added to your profile.
Answer a Question (15 Knowledge Points)
Discuss a Question (10 Knowledge Points)
Ask a Question (5 Knowledge Points)
The contest starts over fresh each month, so every member in the community has a chance to be the Most Active Member and win an ITKE beverage mug or t-shirt. Want some bragging rights with your IT buddies? Then start sharing your expertise on IT Knowledge Exchange.


Community Manager