Dec 3 2007 3:07PM GMT

Profile: BrentSheets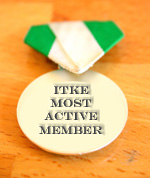 It's time to announce the winner of our first monthly Most Active Member contest here on IT Knowledge Exchange. The envelope, please… and the winner is HCream, a Network Admin/Analyst from Tampa, Florida.
Kudos and congratulations to HCream, who racked up an impressive 1,160 Knowledge Points and secured first place. HCream will receive a choice of IT Knowledge Exchange beverage mug or t-shirt – not to mention bragging rights with IT buddies for making our Top 10 list.
By now, you're no doubt salivating for a mug or t-shirt of your very own. So how do you earn Knowledge Points, you ask? You automatically earn Knowledge Points when you contribute to the community. You can check the total Knowledge Points for yourself or anyone else by clicking on a username.
Knowledge Points are earned based on community participation. Each time you ask a question or share your expertise, points are added to your profile based on the following point system.
Answer a Question (15 Knowledge Points)
Discuss a Question (10 Knowledge Points)
Ask a Question (5 Knowledge Points)
Each new month begins a new contest, so everyone has an equal chance to climb to the top of the Most Active Member heap. What are you waiting for? Start sharing your expertise by answering questions and you'll not only be helping out a colleague but also earning points and moving up the list.


Community Manager