May 15 2009 8:01PM GMT

Profile: BrentSheets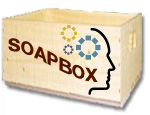 Say, have you visited our community of IT blogs lately? You may be surprised to learn that we are now home to over 70 blogs on IT Knowledge Exchange.
Take a gander below to visit some of our most recent member blogs on everything from virtualization – to geek speak – to data privacy – to business intelligence.
Looking for your own soapbox? If you've got something to share with the IT community – we can help you find your voice and be heard. Simply request your own free blog on IT Knowledge Exchange and we'll help you get started. Thanks.

Community Manager
::::::::::::::: Recent Member Blogs :::::::::::::::
→ Virtualization with Sid Smith (by Sid Smith)
This blog will include situations and scenarios that affect everyone deploying Virtualization today. I will be mainly focusing on VMware, Hyper-V, and Xen but will cover topics related to storage, networking, and other areas that have a high impact on the success of your Virtualization initiative.
→ Getting past the Geek Speak (by Derek Kuhr)
Being a great IT Pro is often more than being the fastest to solve an issue. It is often the ability to recommend really cool (or sometimes really simple) solutions, practices, etc. that help customers execute their businesses more efficiently and more profitably. I explain this and more on my blog.
→ Think Privacy (by Matthew Barach)
This blog addresses timely privacy topics including behavioral advertising, Red Flag Rules, the new Massachusetts regulations, HIPAA, GLBA, data transfer, cloud computing and other emerging privacy issues, laws, regulations and challenges that organizations will continue to face.
→ Business Intelligence Technology (by Jay Dugan)
This blog will examine an array of technology solutions and present them in a business context. Areas of security, business continuity, networking and databases with an emphasis on business intelligence, will be covered, plus anything else that involves business and IT that comes to mind.