Jun 10 2009 6:54PM GMT

Profile: BrentSheets
Psst! Don't look now but you're being followed. That's right – your Knowledge Points are now following you on IT Knowledge Exchange. Our members earn Knowledge Points by asking, answering and discussing IT questions. Your Knowledge Points represent your activity in this IT community and we thank everyone for their participation.
Got a *high* Knowledge Point count? Be proud of that! Your fellow members and the ITKE staff appreciate your continued community participation in helping build a great collection of IT answers.
Got a *low* Knowledge Point count? Then dive in and participate to earn and increase your points. All members have experience in some area of IT – so take a moment to share your skills and experience.
Login/Account Box
When you log into IT Knowledge Exchange, the box in the upper right that contains your member account information will now list your Knowledge Points beside your username (or "handle"). So you can now see your current Knowledge Point count with a quick glance. (See below)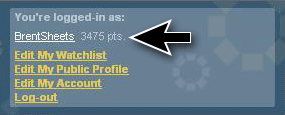 Questions on the Homepage
If you look at the question excerpts on the homepage, you'll notice the member image has been moved from the upper left side of the question to the lower right – and – the member's Knowledge Points and Username are now shown. To view a member Public Profile, you could always click the member photo, but displaying the linked Username now makes this more obvious. (See below)

Individual Questions
Likewise, when you visit an individual question, you'll now see that the member's Knowledge Points shown beside the username, as well. (See below)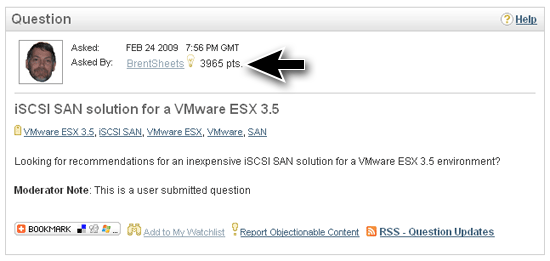 So thanks again for making IT Knowledge Exchange a great place to find IT answers. We are a community – so why not take a moment right now to add a photo, image or logo to your Public Profile? Don't hide – show yourself! Jenny explains how to add your photo in this post. And speaking of great members, we now have three new member moderators helping out. Thanks.

Community Manager