Jun 25 2010 4:55PM GMT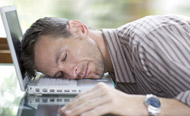 We at IT Knowledge Exchange know how Fridays can be, especially Fridays the week before a major holiday weekend. We're here for you, to keep you on your IToes (see what I mean about Fridays?). Below are some questions that desperately (or moderately-desperately) need answering. Help us out, then head out of the office!
Don't worry, there's something in it for you, too: You'll get 50 Knowledge Points if you're the first (quality) answer to the question! Answer the question, send me an email with the link, and I'll add it to your score. Great timing, too, since our latest contest is all about Knowledge Points.
Some new and yet-to-be-answered questions:
1. Magoo needs to know how to Upgrade windows server 2003 to windows server 2008 Domain. Can you help him? (Just because RichS provided an answer first doesn't mean you can't add your input!)
2. Lmtapia is having trouble setting up a VPN in Windows XP Professional. Throw in your two cents!
3. HoustonITGuy recently started a new position, and he needs help getting ISP and IP information from Exchange Incoming Mail Logs. (Technochic has 50 more points thanks to her simple answer. Do you have any other ideas for HoustonITGuy?)
4. What with the mass exodus to purchase the latest of Jobs' magic boxes, we were wondering if you think the iPhone is enterprise-ready? Share your thoughts with us about what smartphones you use for your corporate device. (We want to hear what you have to say, so head over and say it! Thanks to Aguacer0 for making a case for the Blackberry in enterprise.)
5. A reader asked, Is there any configuration on Cisco router to enable it to respond to ARP from IP source 0.0.0.0? and we're still looking for an answer!
6. ODSTech asked a great Storage in 2010 question: How to merge 2 disks on 1 hard drive to create a large storage server for archived data? (Poweredge 2800 and Windows Server 2003) (Thanks, Lonewolfbw!)
Okay, okay, it's Friday. That's all we'll throw at you for now. But if you feel like you're just getting started, head over to IT Answers for more unanswered questions or help us improve IT Knowledge Exchange and get 250 more Knowledge Points. See? You just wasted time by being productive. You're welcome. Now back to work.
Melanie Yarbrough is the assistant community editor at ITKnowledgeExchange.com. Follow her on Twitter or send her an email at Melanie@ITKnowledgeExchange.com.