May 16 2014 1:23PM GMT

Profile: Ben Rubenstein
Tags:
In the beginning, there was IT Answers. But as we all know, the IT Knowledge Exchange community has grown well beyond Q&A to include activity of all types, with our members discussing the latest tech industry news, publishing blog posts on everything from cloud computing to Chromecast, interacting with TechTarget editors and experts and, yes, asking and answering technical questions.
It's about time we had a site that really features all that activity and growth. Today, I'm pleased to tell you we have one. If you haven't already, check out the new IT Knowledge Exchange homepage at https://itknowledgeexchange.techtarget.com.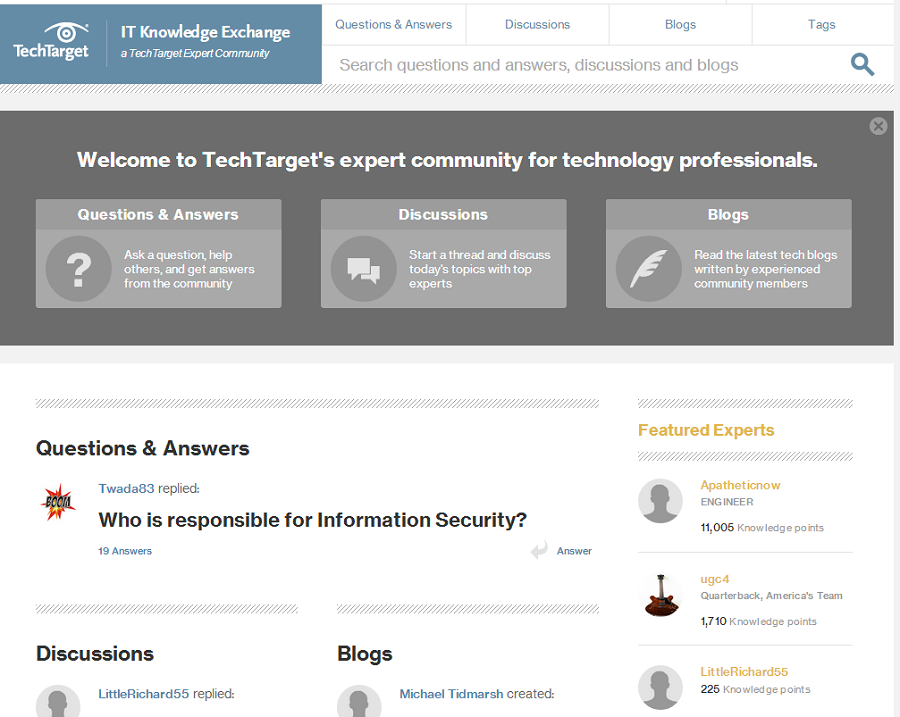 The first thing you should notice (well, aside from the welcome box, which you can close and never see again as long as you're logged in) is that the URL stays there – no more redirection to the IT Answers section. Update your bookmarks accordingly! Now you will find all the latest community activity in one place. We're surfacing the latest and greatest items (and people!) so that you can quickly find what you want, or stumble across something you didn't even know what you were looking for.
Some new things you can (and should) do now as you explore the updated site:
–          Edit your profile. One thing you'll probably notice is a lot of pictures; we're plastering your expert mugs across the new homepage, on questions and in discussions. So you'll want to make sure you have a good picture to go along with your profile. To make that change, click on your username in the header on any page.
–          Keep an eye on activity. The main section on the homepage features the most recent activity in each of our main content areas (Q&A, Discussions, Blogs) as well as some featured users. Don't be surprised if you see your face there occasionally. This section will update as fresh content comes in, so you can always check here for new stuff. Further down the page, you'll find sections for Q&A and Discussions with longer lists of content. Click into any section title to view the full page for that section, which features even more recent content (your familiar lists will be here).  
–          Follow topics. Topics and tags are key ways that we categorize and filter all of the content in the community , so if you've got a specific interest, make sure to subscribe to that tag to get updates in your inbox. You can find the list of topics on the homepage, under Tags in the main menu, or on any individual question or discussion page.
–          Start your own threads. Of course, it's not just about seeing what's already on the site. IT Knowledge Exchange has always been about taking action, and you'll find handy widgets where you can add your own questions or start your own discussions throughout the site, on the homepage and on various landing pages.
–          Read our blogs. The most recent blog posts in our network will be featured on the homepage, but you can head to the redesigned Blogs page as well to view our full list of blogs and recent posts, now more easily accessible than ever before. Each blog will include a label denoting it as an editorial, member or vendor blog.
That's a quick tour of our new site – I'm really curious to hear your thoughts and get your feedback on what else you'd like to see. Add comments below or email me at brubenstein@techtarget.com or Michael at mtidmarsh@techtarget.com.