Sep 14 2010 12:59PM GMT

Profile: Michael Morisy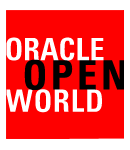 Oracle OpenWorld 2010 is almost upon us, and we'd like to hear what news, tips and tricks emerge from the over 1,800 sessions, seminars and demonstrations taking place next week in San Francisco. To do that, though,  we need your help, particularly if you're going to the show.
We're looking for interested users to take pictures, share their thoughts and write up short blog posts about the show; in exchange, we'll work to get you behind-the-scenes access, free ITKnowledgeExchange.com schwag, and even a little monetary compensation for your troubles. And, of course, thousands will be hanging on to your every dispatch, making you an instant mini-Internet celebrity. What could be better? Fame, fortune and free T-shirts, all in one amazing deal.
If you're interested and attending Oracle OpenWorld, simply get in touch with me at Michael@ITKnowledgeExchange.com and we can work out the details. In the meanwhile, be sure to check out Mr. Denny's post on preparing for an IT conference, and feel free to add your own tips.
Michael Morisy is the editorial director for ITKnowledgeExchange. He can be followed on Twitter or you can reach him at Michael@ITKnowledgeExchange.com.