Mar 26 2009 9:06PM GMT

Profile: JennyMack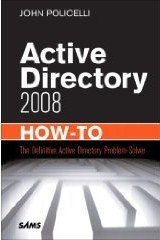 This week's IT Knowledge Exchange Blogger of the Week is John Policelli. John is a Microsoft MVP, and his blog covers Microsoft Directory Services. He is a published author on topics such as Active Directory, Windows Enterprise Server Administration and Windows Server.
John recently wrote about securing the Directory Services Restore Mode (DSRM):
This is not a post that describes how-to change the password on a DSRM account; there's thousands of such articles on the web. This post aims to give you a thorough understanding of the risks associated with not properly securing DSRM accounts, the impact of exploited DSRM accounts, and my recommendations to secure DSRM accounts.
We're happy to feature him as our Blogger of the Week!