Apr 21 2008 6:00AM GMT

Profile: BrentSheets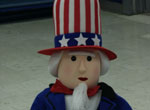 Benjamin Franklin said, "In this world nothing can be said to be certain, except death and taxes." If Uncle Sam has just taken a bite out of your geek budget, keep reading, as today marks the start of our newest Most Active Member contest. Our previous winners are already kicking back and enjoying their prizes — and you could be our next winner.
Check out the sweet new prizes we're offering…
1st Place → Nintendo Wii game system
To truly understand how Wii revolutionizes gaming, you have to try it for yourself. Quite simply, Wii is for everyone. The ease of use and interactivity of the Wii Remote and Nunchuk allows for a unique social gaming experience for the whole family. You don't just play Wii, you experience it.
2nd Place → Canon PowerShot SD100 IS 8MP Digital Camera
With 8.0-megapixel technology at its heart, PowerShot SD1100 IS Digital ELPH brings you high resolution images that maintain their sharpness and vivid impact even when they're enlarged and cropped. The 3x Optical Zoom is a clear winner when it comes to getting up close and personal. And Canon's invaluable Optical Image Stabilizer reduces the blur of camera movement, even in tricky low light situations.
3rd Place → $100 Amazon gift certificate
Redeem your gift certificate for whatever you wish. You'll find a huge variety of geek gear on Amazon.com and this shopping spree is on us.
You've heard it said that April showers bring May flowers? All I know is that April Knowledge Points bring May prizes. Each time you ask your own question, answer or discuss IT questions, you are automatically earning Knowledge Points. Whoever is sitting in the top three spots at the end of the day on May 31st will claim the title of Most Active Member and win one of these great prizes.
So be sure to visit the main unanswered questions section on IT Knowledge Exchange often during the contest period and ask, answer or discuss an IT question and earn Knowledge Points. You can also find unanswered questions for specific IT topics.
The prizes are our way of thanking the top contributors for sharing their expertise and helping build the ITKE community knowledgebase. It's a brand new contest and everyone has an equal chance of being the next Most Active Member. So read the Contest Rules and start participating today. Thanks!


Community Manager
p.s. And don't forget about our other "Link to ITKE" Contest that ends on April 30th. All you have to do is add IT Knowledge Exchange to your blogroll or homepage. It's that simple and you could win an Apple iPod shuffle. Enter today for the random drawing.

Visit these links to find unanswered questions in these categories
AS/400 (unanswered questions)
Channel (unanswered questions)
CIO (unanswered questions)
CRM (unanswered questions)
Database (unanswered questions)
Data Center (unanswered questions)
Data Management (unanswered questions)
Development (unanswered questions)
Exchange (unanswered questions)
Linux (unanswered questions)
Lotus Domino (unanswered questions)
Microsoft Windows (unanswered questions)
Mobile (unanswered questions)
Networking (unanswered questions)
Oracle (unanswered questions)
SAP (unanswered questions)
Security (unanswered questions)
SQL Server (unanswered questions)
Storage (unanswered questions)
Virtualization (unanswered questions)
Unified Communications/VoIP (unanswered questions)