Dec 18 2007 3:59PM GMT

Profile: BrentSheets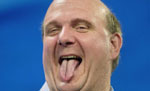 No, that's not an image of Jabba the Hutt. If you were a developer, you would have known that. It's Steve Ballmer, Microsoft CEO, and he's just wild about developers. So are we and to prove it, we recently added a top-level tag just for Development.
So when you have a burning developer-related question, be sure to visit our new Development tag and ask for a helping hand. And if you possess the developer mojo, then please stop by and share your developer expertise with fellow members. This is what makes IT Knowledge Exchange a great place. You may need to ask for help in one area but provide help to others in another.
While I love developers as much as the next guy, admittedly, I cannot 'bust a move' like Steve Ballmer. So without further ado, here is a music video of Steve that you may enjoy. No developers were harmed in the making of this film.[kml_flashembed movie="http://youtube.com/v/KMU0tzLwhbE" width="425" height="350" wmode="transparent" /]
Those of you involved in Microsoft development are probably familiar with SearchWinDevelopment.com (formerly SearchVB.com). If you're not, then be sure to drop by the site today and see what Brian Eastwood and his team have to offer Windows developers. And be sure to visit our ITKE member blogs by fellow developers: Windows Presentation Foundation and Custom Application Development.


Community Manager