Jan 28 2008 3:32PM GMT
We are excited to announce a new contest that can give you the opportunity to win some cool prizes. Here are the details:
From January 28th to March 15th 2008 the top 3 contributors to the site who have earned the most Knowledge Points over that time frame by asking a question, answering a question or discussing a question will win:
First Place will win a Xbox 360 Elite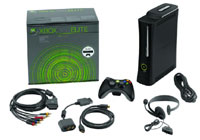 Second Place will receive a 8GB iPod touch
Third place will receive a $100 gift certificate to Amazon.com.
Each week we will update the community with the current standings via The ITKE Community newsletter (sign up if you haven't yet) and our community blog.
 Ask your questions here.   or email it to us. Remember to provide specific details on the issue you are facing.
Looking for some questions that need answers?
We have compiled a list of unanswered question so help out your fellow IT pros and earn Knowledge Points at the same time. Here is the list of unanswered questions. We will be adding more weekly.
Click here for the official rules of the contest.
Spread the word to all your friends who may have an IT question that you can answer or has the expertise to answer some questions.
Thanks
Sean