Jul 13 2009 3:26PM GMT

Profile: JennyMack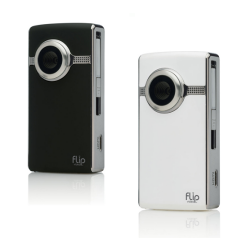 If a picture says a thousand words, how much does a video say? A Flip UltraHD pocket camcorder can hold up to 8 GB of video, meaning every belly flop into the pool, every trip to the beach and every summer sunset can be captured for your video scrapbook or uploaded quickly and easily to a video sharing site like YouTube.
This summer, we're giving away four (4) Flip UltraHD pocket video recorders to the top four Knowledge Point earners from July 13th to August 30th. You can earn Knowledge Points by asking, answering and discussing questions here in the community. Remember: some questions are open discussions, so everyone can contribute.
The contest is open to members in the United States, Canada, United Kingdom and Western Europe.
Previous winners of IT Knowledge Exchange contests are eligible for this contest.
All questions, answers and discussions will be reviewed for validity.
You can start earning Knowledge Points by asking your enterprise IT questions (or telling your friends to ask a question) on our Ask a Question page, or start answering questions that haven't received attention yet:
Good luck!

Community Manager