Sep 5 2012 2:24PM GMT

Profile: Ben Rubenstein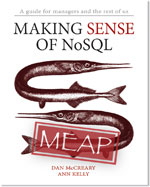 Data wranglers, your time has come. But you knew that already. It seems like every day we're hearing about a new startup or solution aimed at making sense of the mass of data organizations must process.
But that doesn't mean everyone's clear on all the options. Like NoSQL. Yeah, it's a big deal, used by a lot of big data companies, but why, exactly?  Making Sense of NoSQL, a recent e-book from Manning Publications, aims to answer that question and others. We've got an excerpt of it up on our IT Bookworm blog right now.
Want the whole thing? Just submit your data management story in our Open IT Forum. We'll choose our 'favorite' scenario (note: we're not taking pleasure in your pain) and award the prize.