Nov 26 2008 8:30PM GMT

Profile: BrentSheets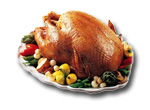 An early 'Happy Thanksgiving Day' to you all. No matter whether the Thanksgiving holiday is celebrated where you live, we can all think of things to be thankful for …especially family and friends.
You can also be thankful that you don't work in one of the data centers highlighted in our Data Center contest. Our contest runs until the end of November, so hurry, you still have time to send us your own story before the contest ends.
You can read some of the crazy tales we've received in my previous post that listed the first 10 contest entries — and here are 4 more below.
Data Center Contest: Disaster recovery using non-Microsoft "Windows"
Data Center Contest: Successful treatment of Mayo Clinic kill switch
Data Center Contest: Ooh, ooh that smell …can't you smell that smell?
Data Center Contest: Oh what a tangled web we weave

Hurry, because the contest is almost over. We'll be awarding a Nintendo Wii game system to the Data Center story judged best. But even if you don't win first place, we're also giving away twenty (20) copies of System Specifications and Project Manual for Data Centers (this is a $250 value!). So take a moment and send us your own data center story today. Thanks!


Community Manager