Apr 1 2009 9:00AM GMT

Profile: BrentSheets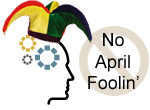 You've probably had your leg pulled more times than you can count today, right? Yes, it is April 1st again (and I was sorely tempted to post an April Fools' Day whopper here myself) but what I'm about to say is indeed the truth. We have another free book chapter for you!
We recently started a new blog to offer our readers a chance to download free chapters from some of the most popular enterprise IT and development books on the market. That's right, it's absolutely free and not an April Fools' Day prank.
Each week, you'll find a fresh chapter on the IT Bookworm Blog – along with a list of hand-selected IT resources to complement the topic of the chapter. Below are four chapters for your reading pleasure. So be sure to visit today and download your chapter.
Take care – and watch your back today!

Community Manager
Chapter 7 – Configuring the Hub Transport Role
Source: Professional Windows PowerShell for Exchange Server 2007 by Wrox
Chapter 4 – Booting and configuring a Xen Host
Source: Professional Xen Virtualization by Wrox
Chapter 3 – How to retrieve data with the SQL SELECT statement
Source: Murach's SQL Server 2008 for Developers by Mike Murach & Associates
Chapter 2 – How to use Oracle SQL Developer and other tools
Source: Murach's Oracle SQL and PL/SQL by Mike Murach & Associates