Mar 18 2008 1:33PM GMT

Profile: BrentSheets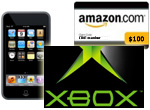 Our Xbox Elite contest has ended and the winners have been calculated. Kudos and congratulations to the 3 outstanding members below that will claim some very cool prizes for their high level of participation. Our 1st place winner, Denny Cherry, has now surpassed 10,000 Knowledge Points. Congratulations on both the Knowledge Point milestone and winning the Xbox Elite, Denny!
Be sure to click the username of these members to view their most recent IT answers and discussion.
1st Place – Microsoft Xbox Elite game system
→ Denny Cherry (Mrdenny)
2nd Place – Apple 8GB iPod Touch
→ Buddy Farr (Buddyfarr)
3rd Place – Amazon $100 gift certificate
→ Jerry Lees (Jlees)
Prizes are a great incentive – but getting answers to your toughest IT questions is even better. A big "thank you" goes out to all of our members on IT Knowledge Exchange. Everyone wins as the collective knowledge of our IT community is expanded more each day.
We're busy thinking up the next member contest, so feel free to leave a comment or suggest a prize. I welcome your feedback. Thanks.


Community Manager