Jun 4 2008 8:02PM GMT

Profile: BrentSheets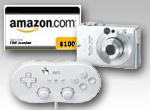 Our Nintendo Wii contest has ended and the winners have been determined. Congratulations to the 3 outstanding members below that won some very cool prizes for being the most active during the contest period.
Click on the username of our winners to view their most recent IT answers and discussion or read their blogs to see what IT issues are most on their minds.
1st Place – Nintendo Wii game system
Alessandro Panzetta (Alessandro.panzetta)
ITKE Blog: If it has a plug, it's IT stuff
2nd Place – Canon PowerShot Digital Camera
Troy Tate (Labnuke99)
ITKE Blog: IT Trenches
3rd Place – Amazon $100 gift certificate
Melissa (Technochic)
Everyone enjoys winning a prize, especially some of the cool prizes we offer, but the important thing is that our community is growing and providing our IT pro membership with a forum to share expertise and exchange knowledge.
Got an idea for a new contest or prize? We're always open to suggestions from our members. Email us or post it right here. Thanks.


Community Manager