Oct 5 2012 12:52PM GMT

Profile: Ben Rubenstein
Happy fall, all. Hard to believe it's already October! We've been busy here at ITKE over the last month or so, and I wanted to share a few updates we've made to the site. There are some interesting and exciting developments that I think will really improve the experience for everyone.
First up, spam. A number of our more active members have brought up the issue of spam posts on the site, and it's something we've noticed, too. We are taking this problem very seriously, and are happy to announce that we've instituted a new spam filter on the site that should help us catch those extraneous and/or unintelligible posts that sometimes appear. As with any automated solution, there are going to be some hiccups, and we expect that a few legitimate posts may get caught up in the net from time to time as the system learns what is and isn't spam. We will be checking regularly to make sure the good stuff gets published to the site quickly. If your post is mistakenly flagged and you don't see it within a day or so, let us know and we'll push it through. And if you see spam that does make it through the filter, continue to 'Vote to Delete' as necessary.
We've made a number of other changes to the site over the past six weeks or so, but the most important one for your experience is an update to the 'Answer Wiki' that appears on each question posted to the site. You'll now see a new avatar next to that box – instead of showing a single answerer, we're now showing a 'crowd' to reflect the multiple contributors to that answer (in true wiki style). Rest assured that if you add or improve an answer, your contributions will still be reflected, both in your points and in the list of contributors below the box. We're just changing the way the top of the box displays to avoid confusion.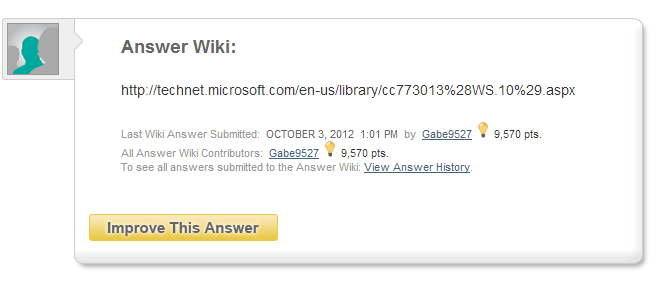 Looking for some reading material? Our IT Bookworm blog has been re-loaded with excerpts from a few new IT books, including titles on SOA, the requirements process and C++. Take a look through, and stay tuned for a chance to win copies of these and other books.
One final note: As you may have noticed, we're keeping track of major IT events on our Enterprise IT Watch blog. I imagine at least some of you are attending at least some of these shows; if you are, and want to share your experiences, let me know! We'd love to get some inside perspective from the ITKE army (or whatever you'd like to be called).
As always, drop me a line with any questions or concerns.
Ben