Nov 20 2007 10:00AM GMT

Profile: BrentSheets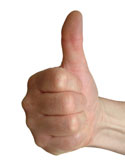 Back in the day, getting a thumbs down from a Roman emperor meant you'd be put down faster than you could holler, "Don't tase me, bro!" So I've got good news for any members desiring Caesar-like powers – we just added a nifty 'thumbs up or thumbs down' feature to help rate the answers on IT Knowledge Exchange.
That's right – the power of the thumb is now yours. When you spot a good answer that contains helpful advice, click the thumbs up to help alert other members. If you come across an answer that you know is bad advice, then click the thumbs down. And remember, the next time someone provides you with a helpful answer – show your appreciation by giving it a thumbs up.
Naturally, you won't find this widget on unanswered questions. So to view or try out our new rating system, you'll need to visit an answered question. There, you'll find a little box labeled Rate this answer with the text Click to Vote. Simply click the applicable thumbs up or thumbs down button and you're done. The rating widget will keep a running tally of all votes.
I ask our members to please think before rating an answer and not give indiscriminate thumbs up or thumbs down. If we use this feature wisely, it will be a helpful addition to our community.
Pollice verso!


Community Manager