Mar 10 2014 4:01PM GMT

Profile: Ben Rubenstein
Today, we've made it easier for you to get updates on the community content you care about most.
As you've probably noticed, all content on IT Knowledge Exchange includes descriptive tags that make it simpler to find discussions that are relevant to you among the thousands happening on the site and around the TechTarget network.
This database of tags, and the content they cover, is constantly growing and evolving along with the industry as a whole. We're always working to make sure that they're organized so that you can find what you're looking for quickly. We now have over 30 parent topics – from Business Intelligence to Consumerization, from Email Administration to Systems Management —  that you can browse to find just the questions and discussions you are interested in.
But we know you're busy and don't always have time to click through page upon page of discussions. Now, when you find content you're interested in, you can subscribe to email notifications on that and related topics with just one click.
Here's how it works:
Hover over any tag on a question, discussion, or tag page.


Click the "Follow" button that appears. If you are logged in, that's all you have to do (if not, you'll be prompted to do so). You will see a confirmation that you're following that topic.

You'll soon begin getting daily email notifications (no more than one per day) on all content related to that topic, like the example below.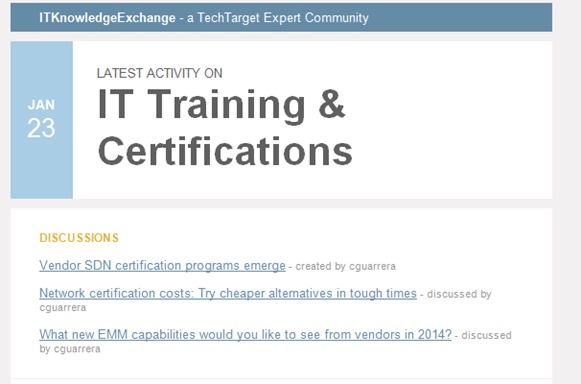 Try it out and see how easy it is. Note that this new system replaces the previous tag alerts we were sending; if you were previously receiving those, you should beg to receivine these new emails (again, one per topic per day). Because some additional topics have been added, you will want to check the site so that you can be sure you'll get info on everything you care about.
You can unsubscribe at any time via a link at the bottom of the email, without affecting any other subscriptions. You can also manage your topic subscriptions on the confirmation page that appears after you ask a question or submit a discussion.
As always, let us know what questions or comments you have by contacting Ben (brubenstein@techtarget.com) or Michael (mtidmarsh@techtarget.com).