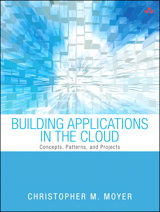 This week's free IT book,
Building Applications in the Cloud: Concepts, Patterns, and Projects
, is Christopher Moyer's guide to help you not just
migrate
to the cloud, but "use cloud architectural patterns that deliver superior performance, scalability, and availability." Whether you're building a new cloud solution or adapting code that already exists, this is a great resource to help you maximize the return from your project. To win this great resource, answer a question from the IT Knowledge Exchange forums that was asked within the past two weeks and post the link to your answer in the discussion section below.
For additional entries:
1. Follow
@ITKE
on Twitter. 2. Send out
this tweet
. For these additional entries to count, post the link to your activity (or your Twitter handle) in the discussion area below. Winner will be announced Monday, June 6.