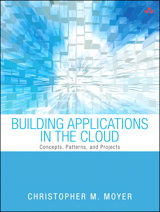 This week's free IT book is Christopher Moyer's
Building Applications in the Cloud: Concepts, Patterns, and Projects.
"Don't just migrate the cloud: Use cloud architectural patterns that deliver superior performance, scalability, and availability" with this great resource. Answer one of five questions and post the link to your answer in the discussion area below.
Entourage, Blank attachment
Help needed in making firewall in either C or C++ language
Task Scheduler in Windows Server 2003 not working
Allow users from specific static IP
VPN Hollander Powerlink Server issues
For additional entries:
Follow @ITKE on Twitter.
Tweet this tweet.