Tags: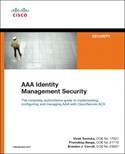 This week's free IT book is your complete, authoritative guide to implementing, configuring, and managing AAA with CiscoSecure ACS. For a chance to win
AAA Identity Management Security
, answer one of the questions listed below and post the link to your answer in the discussion section of this question.
Upgrade Exchange 2007 from 2003 (downgrade license of 2007)
Adding monmsg to backup through BRMS
Open IT Forum: Security Worst-Cases
(worth 200 points in addition)
Bandwidth & prerequisites for VMware View
SQL 2005 Database instance
Good luck, and check back Monday February 21st to see if you're the winner!
Asked: Last updated: