Dec 4 2009 1:22PM GMT
I recently came across this interesting website that uses javascript and SHA-1 hashes to generate passwords. The thing to remember about this tool is that the generated passwords are just numbers and letters. There are no special characters. So, the passwords should not be considered strong or complex. You can add special characters to meet passwords complexity requirements.
What I like about this website is that you can simply save the entire page to a local drive or a USB stick for portability. All of the necessary code is in the page. Simply browse to the page and use the page or file save browser feature to save a local copy of the file to the desired location. You can then modify the code as needed to strengthen the generated passwords.
This method of password generation is a good tool in that nothing is stored and the password generation process is repeatable. Simply enter a master password, the site (or host) name and click the generate button. The javascript under the page generates a SHA-1 hash based on the combination of the master password and the site (host) name. So, this means that each site (host) has a different password. This will permit you to not use the same password on multiple sites, but will enhance your ability to generate a strong password for the sites you do use and recover it easily.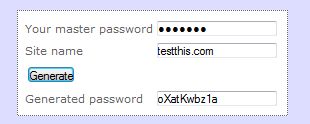 What password generation and tracking tools do you use? Share your suggestions with other ITKE readers. Thanks for reading & let's continue to be good network citizens.