---
September 30, 2008 7:22 AM
So here uit comes the first post in the Admin section of our Download Center! In order to have an upload feature in our administration section I used the Persist ASP Upload component that gave me a...
September 29, 2008 9:31 AM
In the previous posts I've described how to restrict the download of certain software packages by using the group membership in an Active Directory. As already anticipated the Download Center allows to download software from the closest intranet server (called Distribution Point) butthere's also...
---
September 25, 2008 3:16 PM
In the previous post we have seen the code that stays behind the scenes and that checks if a user is allowed to download the file. But what happens if the user is not allowed to download the requested software? If you check the ASP code in my previous post you will see that there is a subroutine...
---
September 24, 2008 12:52 PM
Hi folks, I just found out that I had an image of the concept behind the Download Center so I think it's much better to post it so this can clearly explain how the whole thing works…here it is!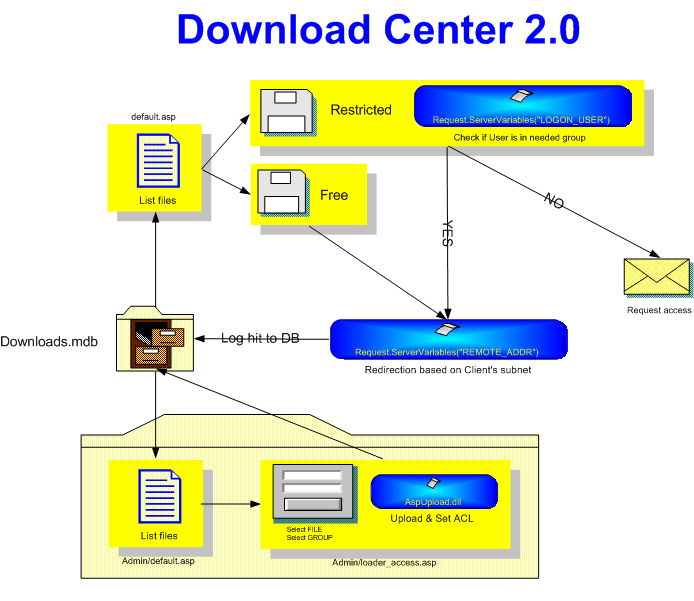 ---
September 24, 2008 12:36 PM
So we're finally at the "interesting" stuff: the page that checks if a user is allowed or not to download a certain package. As in previous posts in order to allow a user to download a certain file he/she must be a member of a given group; e.g. we want to restrict the downloads of...
---
September 17, 2008 3:07 PM
...but time won't take the boy out of this man! (U2 - City of blinding lights) Some of you probably notices that I'm not updating as frequently as before...oh well...soooooooorry but this new job is sucking taking all of my time in styudying, exams and so on. So pleas ebe...
---
September 11, 2008 10:13 AM
In this post we will build the page that downloads the packages that we have defined as: STANDARD, GOODIE or PATCH. These software packages are the ones that are available to all users in our domain so no special need is required except being a user in the domain. What the page will do is to...
---
September 10, 2008 3:21 PM
In this post I'll present the home page and will explain how this works….so let's play J First in order to have this working we need a file called adovbs.inc that can be

0 Comments

RSS Feed

Email a friend
---