---
April 23, 2008 3:51 PM
Social networking
When IT projects begin and end with the words 'Second' and 'Life' the almost universal response from managers is "nice graphics, now talk ROI."Needless to say, interest in developing technologies withers, as proving ROI is almost impossible to do honestly. What also withers is the possibility of any basic exploration or piloting of a virtual world project.
This is happening at a time when businesses are being told to look to IT as a source of innovation.
Having talked with businesses beginning to use virtual worlds, it is still very much a case of them finding out what technologies like Second Life offer their business.
The situation has many parallels with the first wave of business interest in web sites. Having a website in the 90s was seen as part of a fad, now it is a customer's first port of call and a required part of any business plan.
The jury is out on if these virtual worlds actually offer (or will offer) the same kind of value to a business as a web site. There is no acknowledged best approach for building an enterprise virtual world application, but it hasn't stopped businesses from exploring the technology.
It is having an open mind and willingness to devote resources to something that might never pay off immediately that could spring the biggest rewards.
April 22, 2008 11:16 PM
Social networking
Microsoft may have to up its offer for Yahoo after the search giant posted strong revenues today.
"As outlined in our investor presentation, we believe we can significantly accelerate our revenue growth,
return to our historically high margins, and double our operating cash flow by 2010. This quarter's solid
performance underscores the fact that we are executing on that plan. Yahoo! is beginning to realize the
benefits of the very substantial and deliberate long-term investments we've made to capitalize on
the opportunities ahead in display and to recapture momentum in search," said Jerry Yang, co-founder and
chief executive officer, Yahoo!
The breakdown
Revenues were $1,818 million for the first quarter of 2008, a 9 percent increase compared to $1,672
million for the same period of 2007.
Operating income before depreciation, amortization, and stock-based compensation expense for
the first quarter of 2008 includes incremental costs of $14 million incurred for outside advisors
related to Microsoft's unsolicited proposal, other strategic alternatives, and related litigation
defense costs.
---
April 22, 2008 1:11 PM
Social networking
Just came across this great site – a veritable alcove of Nostalgia. Forget rebuilding the Colossus at Bletchley Park and get on with building the UK's first C64 museum!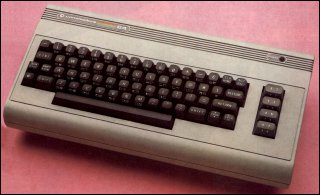 I had one of these beauties back in the 80s and although the graphics by today's standards look like stickmen on acid, the playability was top notch.
The only drawback was waiting for the damn cassette tape to load, and then after five minutes, discovering that it had missed one "bleep" that required a complete re-load.
Check the videos for top games like International Soccer and Daley Thompson's Decathlon.
---
April 22, 2008 1:02 PM
Social networking
Despite what pundits might have led us to believe over the past 20 years, the mainframe is not going to disappear any time soon. What is going to change, however, is the mainframe product environment. Organisations need to have plans in place for either migrating or maintaining their current set-ups in the changing environment.
"Although firms are vocal in their dissatisfaction of the costs of maintaining them, legacy mainframes continue to run core business functions for medium, large, and Global 2000 companies," said Phil Murphy, principal analyst at Forrester Research.
And yet the prevailing questions concerning moving from the mainframe remain about Cobol versus Java or Cisco versus IBM Websphere, rather than more fundamental issues.
"If a company decides to stick with its current system, then they have to make an investment in ensuring they will still have the required skill sets (eg Cobol) in place within the next 10 years," said Dale Vecchio, research vice-president at analyst firm Gartner.
---
April 22, 2008 12:56 PM
Broadband
BT launches its first range of broadband ADSL2+ services on its 21CN next week, but some readers have written in complaining about SLA problems with its existing Openreach service.
If you have had a problem, send an email or post a comment.
---
April 22, 2008 12:52 PM
Social networking
In 2007, a new wave of tech savvy employees brought Web 2.0 tools into the workplace.
They realised that tools such as real-time messaging, online social networking and virtual worlds could be used to simplify communication in the workplace.
CIOs started learning about how Web 2.0 tools can allow enterprises to more efficiently generate, self-publish, and find information, plus share expertise in a way that is much easier and cheaper than earlier knowledge management attempts.
Yet in 2008, many enterprises are still struggling to understand the business value of collaboration tools and how to prove its ROI.
I'll be talking with IBM about presenting a ROI case for Web 2.0 IT projects. If you have any questions you'd like answered, shoot me a comment.
---
April 22, 2008 8:06 AM
Social networking
A manifesto for governing the use of Phorm from the web site badphorm – for when good ISPs go bad!
* The Phorm system must be fully opt-in. Opt-out systems are, in our opinion, not acceptable for such a potentially invasive piece of technology.
* Such opt-in must be explicit and voluntary (requiring specific user action) for all subscribers, not simply a change in the ISPs terms and conditions.
* The opt-in process must be managed at a network level, not reliant on cookies or any other type of client side mechanism.
* Where a user has chosen not to participate in the Phorm system, that user's traffic must not be passed through or be accessible by any equipment owned, operated or supplied in whole or in part by Phorm (including software operating on ISP owned equipment).
---
April 22, 2008 8:02 AM
Social networking
Did you know that IT workers may help swing the upcoming '08 elections? 12 million strong, IT workers number more than miners, farmers and construction workers combined. For the upcoming elections, this mostly young, educated, upscale, independent and politically motivated group has a thing-or-two to say about the campaign for the Presidency.
Who do they prefer for President? Senators Barack Obama and/or John McCain.
What are their top concerns? The Economy. The War. Immigration.
The Computing Technology Industry Association (CompTIA) recently surveyed 600 IT workers about their views of the '08 elections.
If the 2008 Presidential Election were held today who would get the vote:
McCain 29%
Obama 29%
Clinton 13%
Huckabee 11%
Paul 9%
Not sure 9%
Most important issue facing the next President:
Economy 39%
War in Iraq 18%
Immigration 15%
National security 14%
Govt. ethics/corruption 6%
Health care 4%
Other 2%
Not sure 2%
Social Security 1%
---
April 21, 2008 4:16 PM
Social networking
Last week O2 UK announced a mobile broadband (i.e. USB modem, or dongle) offering. Two packages are available to existing mobile or home broadband subscribers.
But how does it compare to the others already available?
Steven Hartley, senior analyst at Ovum comments:
"Firstly, O2 is relatively expensive, although the tariffs from both Vodafone and T-Mobile are currently on offer. For the equivalent length of contract and usage limits, O2's 18 month contract is £5 more than 3's, Vodafone's and T-Mobile's (which runs for 24 months). The one month contract is the same price as Vodafone, but the one-off USB modem fee is £20 more expensive."
"Secondly, it is only available to existing customers, either mobile or home broadband. None of the other MNOs make this stipulation, although 3 is now offering a 50% discount to existing customers. A focus on existing customers emphasises a churn reduction strategy, which contradicts O2's SIM only customer acquisition drive. Growing mobile broadband uptake in the UK could be an excellent opportunity to attract new customers to data services."
"A focus on fixed broadband customers is another signal of O2's intention to drive customer growth in this area; hence its core messaging around the service conveys mobile broadband as complementary to fixed, particularly with WiFi access included. Only T-Mobile also includes WiFi, and shows how mobile broadband offerings are converging with those from fixed ISPs."
"However, O2's fixed broadband services are only available from unbundled exchanges and its customer numbers are small to date (currently around 100,000). Therefore, we do not expect large numbers of mobile broadband customers to come from this category."
"An interesting aside to O2's announcement is Orange's position in the UK mobile broadband market. It is missing a major opportunity due to a strategic emphasis on fixed broadband, combined with almost no marketing and exorbitant pricing (£25 per month for business users and £29.99 for 'non-business customers') for its mobile broadband offering. O2's announcement at least shows Orange that fixed and mobile broadband can live side by side."
"Therefore, O2's complementary mobile broadband offering is interesting from a market positioning perspective. But ultimately it is not competitive for consumers, even existing customers. Like O2's fixed offering it is unlikely to set the market alight. As a result, revised pricing looks more likely. As we mentioned in relation to 3 (see EuroView Daily, April 10), this suggests that the longer term outlook for mobile broadband is similar to that of fixed broadband – falling prices and a need to focus on value-added services, or survive as a bitpipe."
---
April 21, 2008 1:49 PM
Social networking
A new Forrester report reckons that business spending on Web 2.0 software will rise to a value of $4.6 billion as the promise of what it can deliver increases.
The key drivers for Web 2.0 in business is that it will allow businesses to communicate with customers better and improve employee collaboration.
But the key question is who pays for Web 2.0 in the enterprise? Three challenges await: IT shops are wary of what they perceive as insecure, consumer-grade technology; ad-supported Web 2.0 tools on the consumer side have set "free" as a starting point; and Web 2.0 technologies enter a crowded space dominated by legacy software investments.
A final point is that improving communication requires a culture of working practices already geared towards collaboration and listening to the customer. Technology alone doesn't enable this, but this is just the way Web 2.0 software could be sold to a business.
So before your manager decides to 'get down with the kids' with the latest Web 2.0 ware, ask him; are we geared as an organisation to deliver Web 2.0 in the first place?
---