---
April 27, 2008 9:54 AM
Social networking
The Sunday Times reports that Microsoft will launch a hostile take over of Yahoo at its AGM on July 12, if the company does not accept its offer.
It's strange that Microsoft has not commented on the fact that the deadline it gave Yahoo passed yesterday. Steve Ballmer said in a letter to Yahoo dated April 5th 2008:
"If we have not concluded an agreement within the next three weeks, we will be compelled to take our case directly to your shareholders."
I rang Microsoft to check whether it had any update, but it was keeping quiet.
The Wall Street Journal said that analysts it spoke to were confident that the deal would eventually happen, but that Microsoft would have to raise its offer before Yahoo accepted.
Microsoft's CFO, Chris Liddell, said its offer remains 'extremely generous,' and said Microsoft would 'reconsider its alternatives' if Yahoo fails to accept the offer this weekend.
April 25, 2008 7:28 PM
Social networking
The Texas-based outsourcer and services firm reported $5.37bn in revenue, a slight increase year-on-year.
Net revenue was $63m, down from $165m a year ago, but last year's figure included a $100m contract termination payment from Verizon.
With two $1bn deals recently under its belt, and given a sluggish global economy, EDS experienced a respectable first quarter, but needs to show growth in its applications business, given the strategic importance of this business to its future growth.
EDS is continuing to build its SAP practice, and has started to put additional investments into its Oracle capabilities, recently launching a government tax practice based on Oracle solutions.
---
April 25, 2008 6:18 PM
Social networking
Following my BT/Unilever story about businesses exploring Second Life, and interview with Second Life creator Philip Rosedale, I have spoken to a Fortune 500 company who said that "event orientated" applications are more suited for business looking to exploit virtual world technology.
For example; the launching of a book, a music performance, or an "ongoing event" to drive customer feedback about the changes you'd like to see at your local Starbucks store would work best for business applications.
The challenge is understanding how the unique characteristics of Web3D map to your business. This is something that is a long way-off, as most companies haven't even got Web 2.0 right as yet.
Even on the Web 1.0 front, there are some companies out there who still think that sticking a company brochure on a website constitutes "a strategy".
The company I spoke to also said that the next wave of customers will have been brought up on video games, not traditional print media and not movies.
So learning how best to engage and collaborate with this group of customers through the mediums they are more apt to use – and learning the sensibilities of that medium – is the real challenge and opportunity for businesses.
---
April 25, 2008 5:53 PM
Social networking
Microsoft reported its fiscal 2008 third-quarter results after the close of the US financial markets on Thursday. Revenues totalled $14.45bn. The revenue figure was up slightly from the $14.40bn posted a year ago but the net income and earnings per share were down.
Of course, Microsoft is still hoping to bolster its Online Services Business via its still-pending offer to acquire Yahoo. CFO Liddell said Microsoft's offer remains 'extremely generous,' and said Microsoft would 'reconsider our alternatives' if Yahoo fails to accept the offer this weekend.
---
April 25, 2008 12:19 AM
Video
Second Life CEO and Founder Philip Rosedale on stepping down
---
---
April 23, 2008 3:51 PM
Social networking
When IT projects begin and end with the words 'Second' and 'Life' the almost universal response from managers is "nice graphics, now talk ROI."Needless to say, interest in developing technologies withers, as proving ROI is almost impossible to do honestly. What also withers is the possibility of any basic exploration or piloting of a virtual world project.
This is happening at a time when businesses are being told to look to IT as a source of innovation.
Having talked with businesses beginning to use virtual worlds, it is still very much a case of them finding out what technologies like Second Life offer their business.
The situation has many parallels with the first wave of business interest in web sites. Having a website in the 90s was seen as part of a fad, now it is a customer's first port of call and a required part of any business plan.
The jury is out on if these virtual worlds actually offer (or will offer) the same kind of value to a business as a web site. There is no acknowledged best approach for building an enterprise virtual world application, but it hasn't stopped businesses from exploring the technology.
It is having an open mind and willingness to devote resources to something that might never pay off immediately that could spring the biggest rewards.
---
April 22, 2008 11:16 PM
Social networking
Microsoft may have to up its offer for Yahoo after the search giant posted strong revenues today.
"As outlined in our investor presentation, we believe we can significantly accelerate our revenue growth,
return to our historically high margins, and double our operating cash flow by 2010. This quarter's solid
performance underscores the fact that we are executing on that plan. Yahoo! is beginning to realize the
benefits of the very substantial and deliberate long-term investments we've made to capitalize on
the opportunities ahead in display and to recapture momentum in search," said Jerry Yang, co-founder and
chief executive officer, Yahoo!
The breakdown
Revenues were $1,818 million for the first quarter of 2008, a 9 percent increase compared to $1,672
million for the same period of 2007.
Operating income before depreciation, amortization, and stock-based compensation expense for
the first quarter of 2008 includes incremental costs of $14 million incurred for outside advisors
related to Microsoft's unsolicited proposal, other strategic alternatives, and related litigation
defense costs.
---
April 22, 2008 1:11 PM
Social networking
Just came across this great site – a veritable alcove of Nostalgia. Forget rebuilding the Colossus at Bletchley Park and get on with building the UK's first C64 museum!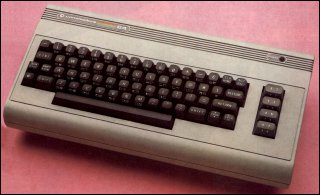 I had one of these beauties back in the 80s and although the graphics by today's standards look like stickmen on acid, the playability was top notch.
The only drawback was waiting for the damn cassette tape to load, and then after five minutes, discovering that it had missed one "bleep" that required a complete re-load.
Check the videos for top games like International Soccer and Daley Thompson's Decathlon.
---
April 22, 2008 1:02 PM
Social networking
Despite what pundits might have led us to believe over the past 20 years, the mainframe is not going to disappear any time soon. What is going to change, however, is the mainframe product environment. Organisations need to have plans in place for either migrating or maintaining their current set-ups in the changing environment.
"Although firms are vocal in their dissatisfaction of the costs of maintaining them, legacy mainframes continue to run core business functions for medium, large, and Global 2000 companies," said Phil Murphy, principal analyst at Forrester Research.
And yet the prevailing questions concerning moving from the mainframe remain about Cobol versus Java or Cisco versus IBM Websphere, rather than more fundamental issues.
"If a company decides to stick with its current system, then they have to make an investment in ensuring they will still have the required skill sets (eg Cobol) in place within the next 10 years," said Dale Vecchio, research vice-president at analyst firm Gartner.
---