May 11 2012 4:48PM GMT

Profile: Ed Tittel
I heard a story on NPR morning edition that rocked me back on my heels, HARD. It's entitled "College Grads Struggle to Gain Financial Footing," and its basic point calls on a recent Rutgers survey of former students who graduated between 2006 and 20011 to report that "just half of those grads are working full time" (emphasis mine). Holy cow!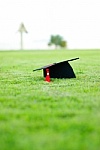 Recent grads face coin-toss odds
The story goes on to report that many recent grads are settling for part-time employment when they can't find full-time positions, and that others often end up taking work outside their fields of study just to generate some income. What makes this situation doubly dangerous, beyond the difficulty of finding work in a slow and tight labor market is the inescapable statistic that many graduates are leaving school with significant student loans to repay following graduation.
The Rutgers study, from the Heidrich Center for Workforce Development there, found that 6 of 10 students who graduate leave school with over $20,000 in debts to repay. Cliff Zukin, a senior research fellow with that Rutgers organization remarks that "there's certainly a suggestion that the American dream has stopped at these guys' doorstep."
More depressing findings from this study include:
half of those grads who do find full-time work are in jobs that don't even require a college degree
the majority of respondents indicate they see no career potential in their first jobs
one-third of recent grads "say they no longer believe education combined with hard work will necessarily lead to success"
To me, that concluding statement is completely antithetical to the American dream as we've always understood it. To counter this kind of despair and ennui, I can only recommend to IT students and pending graduates that they do everything they can to get experience in the field before they graduate–be it through internships, part-time on- or off-campus jobs, and even volunteer work for local school systems, charities (especially Goodwill Industries), churches, and small businesses. This not only gives you something to learn from and practice skills and knowledge on, and something to help add substance to your cover letter and resume when the time comes, but also puts you in contact with people who might point you to, or even offer you, that all-important first job once you graduate.
Many graduates also said they wished they'd done more internships, or chosen fields with better employment prospects, too. I have to believe that IT remains an excellent choice for study, now and for the foreseeable future. I honestly believe that if you do study hard, and take every opportunity to work hands-on with IT, you will be able to corner your own part of the American Dream, whether "survey says" yea or nay when you matriculate!