Aug 26 2013 3:14PM GMT

Profile: Ed Tittel
For the past two years or so, I've been following Mirek (Miroslaw) Burnejko's excellent ITCertificationMaster.com Website on a pretty regular basis. Over the past two months, I've noticed zero update activity on his pages, and this morning when I attempted to see if he'd finally gotten around to adding any new content to his site, I got a "this domain has expired message" instead of the site's usual home page. In poking around at the Wayback Machine, I observed that the most recent date the site was snapshotted occurred on June 13 but that the snapshot file itself is dated May 29, which I presume to mean nothing had changed in the interval from May 29 to June 13.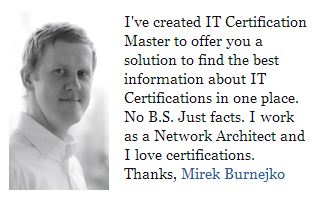 Burnejko's photo and motto have long occupied his now apparently MIA home page.
Gosh! I seriously hope this is just a glitch of some kind, and that the site comes back up soon. The resources on the site include the most comprehensive list of IT certifications (the "List of All Certifications") I know of anywhere, with lots of other useful and informative goodies besides. I've already reached out to Mr. Burnejko to offer help and financial support. Should he respond and evince a need for either or both, I will hasten to do whatever I can to help out. This is one of those information treasures on the Web I'd be very sad to see go dark.
11:45 AM CDT [-06:00 UCT] Just got an email from Mr. Burnejko informing me that the snafu comes from a DNS registration renewal issue. The site should be back up and running, no later than the end of this week, on or before August 30, 2013, providing that registration renewal is successful in the next day or two.
Noonish on 8.27: I'm not sure how long ago this happened, but the site's back up at www.itcertificationmaster.com. Goody, Goody, Goody! Still see no new content, though…