Jan 31 2014 4:14PM GMT

Profile: Ed Tittel
I love finding surveys, stats, and wish lists related to IT jobs and certifications. They're always interesting, they often have useful things to say, and there's always a catch (or two) involved in interpreting their proclamations. The ITBusinessEdge slideshow entitled "Twenty IT Certifications Project to Make Pay Gains in 2014" is no exception. It's based on Foote Partners Q4 Update to its 2013 Skills Demand and Pay Trends Report (which is actually based on results for Q3 2013, and covers 348 noncertified IT skills along with 293 IT certifications). The big takeaways from that report were that (a) average page for noncertified IT skills increased by a niggling 0.4%  that quarter, up by 1.8% over the previous year, and (b) that average pay for IT certifications were up by 1.5%, the biggest jump since 2005, and the first time since 2006 there had been two consecutive positive quarters in this area.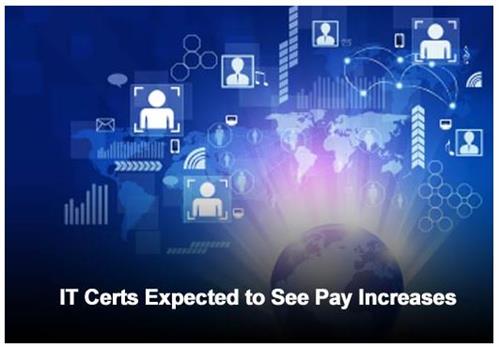 The lead-in slide from the ITBusinessEdge story sets a somewhat breathless tone for the 20-cert lineup that follows.
The slideshow proceeds to list the following 20 IT certifications where pay hikes have been highest, or where demand is strongest (and thus most like to command higher pay for entrants and bigger raises for those already in the game):
ITBusinessEdge/Foote Partner's 20 Raise-worthy IT Certs for 2014
Name
Acronym/Link
Sponsor
Certified in Risk and Information Systems Control
CRISC
ISACA
Certified Wireless Security Professional
CWSP
CWNP/Planet 3
Certified Wireless Network Expert
CWNE
CWNP/Planet 3
GIAC Certified Forensic Analyst
GCFA
SANS/GIAC
GIAC Certified Intrusion Analyst
GCIA
SANS/GIAC
HP Accredited Solutions Expert (All)
HP ASE
HP/ExpertOne
HP Master Accredited Solutions Expert
HP MASE
HP/ExpertOne
HP Master Accredited Systems Engineer
HP Master ASE
HP/ExpertOne
Information Systems Security Engineering Professional
CISSP-ISSEP
ISC-squared
Microsoft Certified Architect
MCA
Microsoft (retired)
Microsoft Certified Solutions Master
MCSA
Microsoft (retired)
Open Group Certified Architect
Open CA
The Open Group
Open Group Certified Master Architect
Open CA
The Open Group (up-level from Architect*)
Oracle Certified Expert MySQL 5.1 Cluster Database Administrator
OCE
Oracle
Oracle Certified Professional MySQL5 Database Administrator
OCP
Oracle
Oracle DB Administrator Certified Master
OCM
Oracle (various available for different DB versions)
PMI Risk Management Professional
PMI-RMP
Project Management Institute (PMI)
Program Management Professional
PgMP
Project Management Institute (PMI)
Red Hat Certified Architect
RHCA
RedHat
Teradata 12 Certified Enterprise Architect
None
Teradata
Here's what's interesting to me about the results of this survey:
1. Two of the credentials mentioned are no longer available, and thus useful and meaningful only to those who've already earned them. This shows only the lag between what people have accomplished and what still lies ahead.
2. Information security, aka infosec, remains a pretty strong expertise card to play, with 6 directly related credentials under that heading, and several others including partial or tangential coverage of infosec as well.
3. High level certifications — those with Master, Expert, and Architect in their labels — account for half of the 20 credentials included. These are high- or pinnacle-level certs, and reflect high seniority, serious skills and knowledge, and valuable experience. Such people are at the top end of the salary scale, so of course their raises are going to be big, along with everything else about their positions. But there are relatively few such individuals in the overall IT population (I'm guessing less than 5% for sure, and possibly less than 2%).
That's why I always recommend taking surveys like this one with a healthy dose of skepticism, and suggest they're best used to show trends and possibilities, rather than to provide detailed career guidance (except, perhaps, for those already en route to some of the pinnacle or high-level certs mentioned in the preceding table). Buy this information remains interesting and informative nevertheless.
[*Note added 3/4/2014: Thanks to feedback from David Foote and Aida Zepeda, I am informed that the Open Forum's Master Architect is still available (it just doesn't have a Web page of its own, and functions as an add-on to the base-level Architect credential). In fact there's also a "Distinguished Architect" version of this certification as well, though it's seldom bestowed.]