Oct 16 2013 1:50PM GMT

Profile: Ed Tittel
In visiting the Born to Learn blog this morning on the never-ending search for blog fodder, I was reminded that certain tried-and-true certification exam preparation routines — or what I refer to as "the Drill" in this blog's title — remain as relevant today as they were when I myself first ventured into IT certification back in the mid-1990s nearly two decades ago. The post under discussion is entitled "Passed 410! My experience," and is comes from Shaun Tompkins, a full-time network administrator from the London metropolitan area in the UK.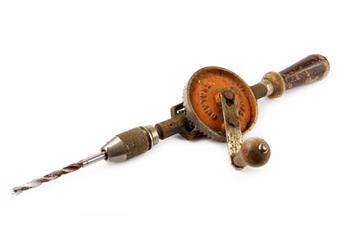 With tongue in cheek, I provide an image of an old-fashioned hand drill to stand for a tried-and-true sequence of cert exam preparation maneuvers.
[Image Credit: Shutterstock 100673161]

There are three interesting things about Mr. Tompkins blog post that made it well worth the reading. First, he jumped on the exam date because he was running out of time to exercise his Second Shot option (a not unheard-of experience for many of us, including me). And second, even though he expected to fail the exam, he ended up passing, apparently because his partial preparation was enough to permit him to squeak out a passing score. Third, he recites a nice but incomplete rendition of "the old, familiar drill" in preparing for cert exam, upon which I'd like to expand just a little.
The elements of his preparation for the Microsoft 70-410 exam ("Installing and Configuring Windows Server 2012," the first of the 70-410, 411, and 412 trio required to earn the MCSA: Windows Server 2012, and a pre-requisite for MCSE: Server Infrastructure, MCSE: Desktop Infrastructure, and MCSE: Private Cloud included the MS Press 70-410 Exam Ref book, a set of MeasureUp practice exams, some TrainSignal training videos, and a set of hands-on activities that included downloading and installing Windows Server 2012, and working with virtual machines on Hyper-V server and in the Hyper-V role for Windows Server 2012.
His plans for preparing for the next exam in the sequence — namely, 70-411 — are equally interesting: to revisit areas of weakness encountered on the 410 exam, to read through the 70-411 Exam Ref, to use exam objectives and the Born to Learn wiki to establish study points and areas of focus, work through more TrainSignal videos and MeasureUp practice tests. He goes on to observe further that "supplementing the book with the videos gives me confidence, and practice exams are always a good study supplement."
This ends up being a fair partial description of what I've long perceived as the old, familiar drill in prepping for cert exams, which I'll lay out in the form of a bulleted list that includes pointers for cycling back as required to earlier elements in the list:
Download and review exam objectives to identify areas of familiarity, areas where additional study is needed, and entirely new areas where unfamiliar subjects must be learned and then mastered
Survey the learning and training materials available to you — these can include classroom, online or video training, full-length books (Study Guides), focused exam prep books (Exam Crams), practice tests, flash cards, simulators or virtualized runtime environments for practice, and more — to help you assemble the learning, study, and practice tools you need for exam preparation
Take a first practice test to identify areas of ignorance (no knowledge) or weakness (some knowledge, but not enough to get past all related questions)
Start your reading and study by working systematically through a Study Guide (a detailed, full-length book on the exam) to get a sense of the exam's complete scope and coverage (skim areas where you're already familiar and comfortable, dig in depth into new areas or areas of weakness)
Take another practice test to gauge learning and to identify areas for more in-depth study
Return to the Study Guide and dig deeply and fully into areas where learning is required, whether for new topics or areas of weakness. Be sure to complete all hands-on exercises, and to bounce between the runtime version of things on a system or network and the discussion of things in the books, videos, and other training materials at your disposal.
Cycle around the preceding two steps until your practice test score beats the required passing score by 5-10 percent (this gives you a margin you may need when test anxiety in the testing center causes an almost-inevitable decrease in exam performance when taking "the real thing"). As you have questions and concerns, you can turn to additional training materials as you may find your need them, and to online communities (like the Born to Learn forums, the many Windows forums online, social.Microsoft.com, the TechNet forums, and other active user-driven areas where technical topics relevant to certification are constantly under discussion).
As soon as you reach your goal, schedule your exam as soon thereafter as possible
Take the exam
Pass or fail, after the exam is over, sit down and record your impressions, especially as they relate to questions you didn't understand, found surprising, or that introduced topics, tools, or techniques with which you didn't feel entirely comfortable. If you need a retake this will help guide your preparation for the next try; if you passed, it will identify areas you need to attend to for subsequent exams or on-the-job deployment of your skills and knowledge
And that, my friends, is the veritable "old, familiar drill" for preparing for a certification exam. If you put it to work for yourself, carefully and systematically, it will ultimately lead you to a passing score, and likewise to earning those certs you seek!