Aug 28 2013 2:52PM GMT

Profile: Ed Tittel
I was researching a reader question for my weekly blog post for Tom's IT Pro earlier this week when I came across a PBS story that posted on July 24, 2013. Entitled "The Bogus High-Tech Worker Shortage: How Guest Workers Lower US Wages," it explains that recent graduates in STEM (Science Technology Engineering and Mathematics) subjects are having trouble finding entry-level jobs at the same time that high-tech employers and industry organizations are bemoaning the shortage of STEM workers for them to hire. This explains a troubling recitation of this so-called problem, for example, that appeared yesterday in the CompTIA Press Releases entitled "Technology Groups Step Up Call for Immigration Reform."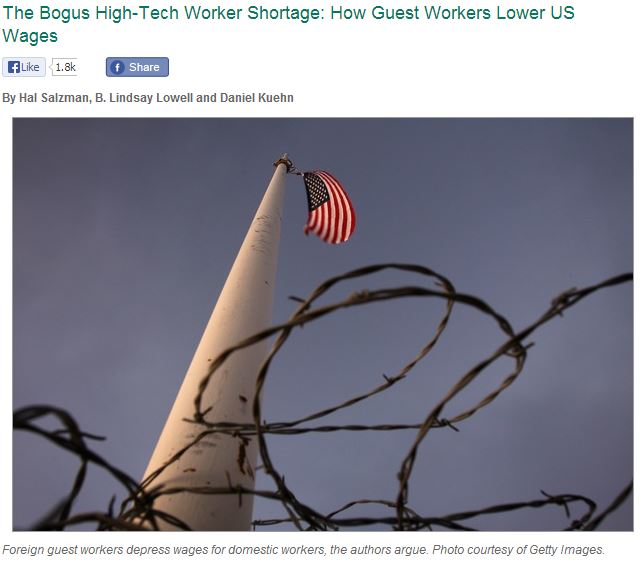 If the subject interests you, you really, really want to read the aforecited PBS story, but the nut-net goes something like this:
1. For the past 15 years, IT wages have stagnated primarily because easy importation of high-tech "guest workers" is keeping a lid on pay for many entry-level IT positions. At the same time, "high-tech industries are now using guest workers to fill two-thirds of new IT jobs."
2. High-tech companies and organizations, decrying a "lack" of STEM workers, have requested that Congress pass legislation to grant visas to a larger supply of guest workers, which — according to the estimates of the social science researchers who presented the case for this story — "would equal 150 percent of the expected number of new IT jobs each and every year going forward…"
3. The researchers see related policy arguments as "a debate about America's policies for creating good jobs, strong technology and an innovation-based economy" and also observe that "policy should not be about targeting government giveaways to a few industries by supplying ever more guest workers when there is an ample domestic supply of qualified graduates and workers."
In fact, the crux of the argument seems to come down to the researchers' observations that the real reason for importing additional guest workers is to keep entry-level wages down, in the interesting of boosting corporate profitability. This trades the futures of all the STEM graduates (both foreign and domestic) whose entry level pay sets the base for all future career progress and development, for a boost to big companies' bottom lines. In fact, the research results presented show that guest workers fill "half of all IT hires each year and fully two-thirds of annual hire of workers younger than 30." In addition, their research also revealed that "only two-thirds of computer science graduates went into IT jobs in 2009," where "of those not landing an IT job, half said they found a better job elsewhere" and "one third reported there were no IT jobs available."
I agree 110% with the conclusion of this article, which I reproduce verbatim here:
We cannot expect to build a strong STEM workforce and encourage domestic innovation by developing policies that undermine the quality of STEM jobs. Before asking government to intervene in labor markets by handing out more guest worker visas and green cards to STEM graduates, we should ask for audits of shortage claims and workforce impacts as a first step toward developing evidence-based policy on this issue, an issue critical to the nation's future.

Asking domestic graduates, both native-born and immigrant, to compete with guest workers on wages is not a winning strategy for strengthening U.S. science, technology and innovation.
Readers: please gear up, and contact your Senators to ask them not to support the Senate's S744 legislation, and do likewise with your representative for any similar legislation that might make its way onto the floor of the US House of Representatives. We urgently need to find a better way to develop solid, workable futures for our STEM graduates and professionals, rather than gumming up the works of progress and innovation with hordes of apparently unnecessary imported high-tech guest workers!