Nov 27 2013 4:50PM GMT

Profile: Ed Tittel
I'm innately suspicious of IT certification programs that require cert candidates to take expensive, multi-day classes as necessary pre-requisites before allowing them to challenge the exams that lead to such certifications. That doesn't mean I don't think all of the many programs that levy such requirements are questionable, worthless, or do more harm than good. Case in point: VMware which, except for a narrow window following a new major platform version release wherein they permit VCPs and higher to take an "upgrade" exam without taking a class, otherwise requires all of its cert candidates to take official curriculum classes to gear up for the related cert exams. Their technology is important and popular, their training is sound and well-designed, and their certifications are deservedly highly regarded. There's only one thing "wrong" with them: they're pretty darn expensive, too.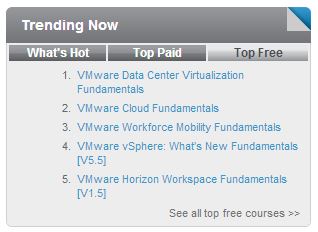 VMware's Free Fundamentals training classes offer quality, 2.5 hour basic topic coverage at no cost to attendees.
That's why I was tickled to discover a whole raft of free VMware Fundamentals courses on the company's web site. Currently, their Top Free Courses webpage lists 30 (of a total of 50) such items. Here's what the top 15 look like (with links to match; all are self-paced and video based):
1. VMware Data Center Virtualization Fundamentals
2. VMware Cloud Fundamentals
3. VMware Workforce Mobility Fundamentals
4. VMware vSphere: What's New Fundamentals [V5.5]
5. VMware Horizon Workspace Fundamentals [V1.5]
6. VMware VCP-DCV 5.1 Exam Preparation Workshop
7. Virtualizing Microsoft SQL Server 2012 with VMware [V5.X] Fundamentals
8. VMware ThinApp Fundamentals [V5.X]
9. VMware vCenter Operations Manager Fundamentals [V5.X]
10. VMware vSphere: What's New [V5.1]
11. Business Continuity and Disaster Recovery Design [v5.X]
12. vCloud Networking and Security Fundamentals [V5.X]
13. VMware vCloud Director Fundamentals [V5.1/V5.5]
14. VMware View: Fundamentals [V5.0]
15. vCloud Automation Center: Fundamentals [V5.1]
That's a whole lotta free fundamentals, covering a broad range of interesting, informative and potentially useful topics. These classes generally run 2.5 hours or so in length, demonstrate high production values and quality content and coverage, and will help ease prospective candidates into the first steps toward the respective certs to which they relate. My guess? These fundamentals are intended to show the public that VMware's required training is not simply a money-extraction tool, but is intended to make sure that candidates really do learn (and interact with) the tools, platforms, and technologies around which their certification credentials are focused. As I understand it, the real reason VMware requires training is that they want to make sure that rote learning alone can't get their certifications into candidate's hands. The required training means that all candidates must spend some significant time learning about such things passively in a classroom or self-paced situation, but then also practicing and demonstrating skills and knowledge in the virtual labs that invariably accompany such materials.
Thus, these high-quality free fundamentals serve a dual purpose: to help the general public learn some basic facts and aspects of the company's products and platforms, and to show prospective cert candidates (and their managers) that the mandatory training does in fact deliver value for the money it costs to attend such classes, either in the flesh in a classroom or virtually online. Given the importance of virtualization in today's IT infrastructures, its absolute centrality to cloud computing, and growing trends toward increased and more widespread adoptions of such technologies in the future, VMware is staking out its place as a major player in this IT market niche. The "Free Fundamentals" make a nice teaser to draw the uncertain or uncommitted into their clutches. And for once, in the face of blatant marketing tactics used to add value as well as create incentives to buy into a technology vision, I approve!