Nov 25 2013 2:45PM GMT

Profile: Ed Tittel
In mid-October 2013, VMware acquired Desktone, a leading player in the "Desktop as a Service" (DaaS) space. At the same time the company's Horizon View platform supports delivery of Windows desktops and applications to mobile users on a wide variety of devices. This puts standard corporate desktop capabilities into the hands of users who may have only smartphones or tablets running Android or iOS at their disposal, as well as more typical "road warriors" armed with Windows notebooks, laptops, or tablets (as well as other desktop OSes such as MacOS or Linux).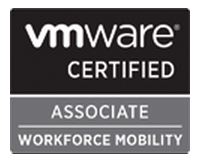 The first step in an associate – professional – expert  cert sequence for mobility is out;  more to follow in 2014.
At the same time, VMware is rolling out a Workforce Mobility certification track, and has made its VMware Certified Associate – Workforce Mobility (VCA-WM) credential available to interested candidates. A Professional-level follow-on credential will be out in 2014, with more advanced tiers to follow thereafter.
All this tells me that VMware is taking cloud-based virtual desktop technology incredibly seriously, and betting at least part of its future on delivering products, platforms, training and certification to arm its partners and customers to cope with a brave new part of the IT landscape as soon as they can put up the necessary scaffolding and infrastructure to support that effort. The acquisition of Desktone speaks loudly to their desire to do more than enable cloud-based VDI, but also to become a player at the services end of that business.
Thus, it will also be really interesting to see how the various Workforce Mobility certification credentials unfold, and what kinds of capability for defining and maintaining images will be exposed to the IT professionals charged with turning the general idea of DaaS and mobile, device-agnostic access to virtualized, cloud-based Windows desktops into working and viable desktop infrastructures for everyday mobile and remote use. We're in the process of doing nothing less than reinventing IT as we know it — or so I am convinced — so it should be simply fascinating to see how all this unfolds, and what VMware lets its customers and partners do.