Dec 3 2012 4:28PM GMT

Profile: Ed Tittel
TrainSignal Training is a reasonably big and fairly successful purveyor of training videos for a wide range of IT certification programs including Apple, Cisco, Citrix, CompTIA, Microsoft, VMware, and even the Certified Ethical Hacker (CEH) curriculum. Their courses aren't dirt-cheap (they usually run $300 and up) but their videos offer strong production values, articulate and experienced instructors, and good coverage of certification topics, tools, and technologies. They've been around for a decade now, and have built a reputation as a purveyor of IT cert training materials that manage a very good combination of value and coverage. They also offer a regular blog to which they post almost daily, that I enjoy reading from time to time. Upon a recent visit, I discovered this banner on the blog's home page:

Warning: the download button shown actually takes you to a registration page where you provide e-mail contact info, and you'll get a link to a PDF download by e-mail  pretty soon thereafter. I guess you can't blame TrainSignal for wanting to harvest potential customer leads in exchange for some interesting and potentially valuable content, but I think it would have been clearer as to what was involved if they had labeled the button "Request download via email" or something along those lines. That's a minor beef, however, because what you get in exchange for jumping through the registration hoops is a 14-page document entitled "Ultimate Guide: Job Search Writing for IT Professionals (A Step-by-Step Guide to Writiting Effective Resumes and Cover Letters)."
Here's a snapshot of the table of contents that appears on the front page of this Guide: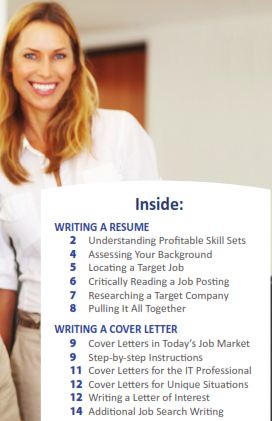 It's pretty useful coverage on an always interesting set of topics — namely, writing resumes and cover letters, with a little bit more on a so-called "letter of interest" and even follow-up material that addresses typical communications that may occur after an interview request is made (interview schedule, travel request, interview agenda, and thank you notes post interview). This useful guide is the work of Alan Ackmann, an instructor of Business and Technical Writing at DePaul University in Chicago, and his breadth of knowledge and experience are on heavy display throughout the guide. He addresses all the key topics in a straight-forward, no-nonsense tone (for example, his discussion of "Cover Letters for Unique Situations" tackles subjects that include career changers, people with gaps in their work histories or who are currently unemployed, and how best to respond to requests for salary requirements and history information).
This is a very nice piece of work, and should be of interest to most IT pros. Unless you're lucky enough to work in a place where lifetime employment is possible, you're going to need to deal with all of this stuff at some point in the future. That's when access to this Guide will be handy, so you might as well register with TrainSignal and grab yourself a copy sooner rather than later.
[Full Disclosure: I am currently negotiating with TrainSignal about creating some editorial content for their Website. Believe it or not, this has nothing to do with my selection of their "ultimate guide" as a blog topic here. I simply collect such resources as part of keeping my own blog current, and when I find a good one, I like to share it with my readers. This is another case in point. However, given the possibility of a business relationship between TrainSignal and myself, I feel that good blogging ethics require me to tell you about this possibility. I will follow up right here to let you know if that relationship is actually formed or not. –Ed–]