Feb 12 2014 3:41PM GMT

Profile: Ed Tittel
Who says Facebook is all networking and no content? Not me! It led me to this excellent blog from the Harvard Business Review by Justin Fox entitled "Where Are All the Self-Employed Workers?"  This story has the best-informed and most  intelligent discussion of the self-employment situation in the USA that I've ever seen anywhere.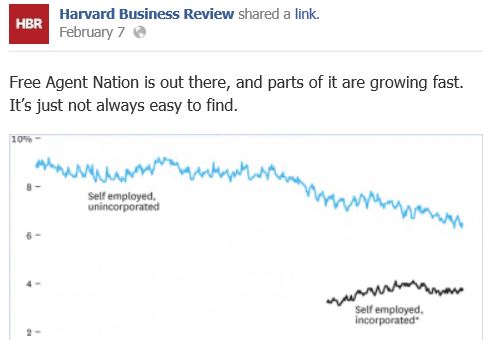 Tracking the self-employed requires looking at lots of data, some of which the Bureau of Labor Statistics (BLS) hasn't tracked very long or very well.
Among the many interesting stats that Fox reports are that the self-employed population for 2000 is about the same as it is at the end of 2013 — namely, 14.4 million, of which 9.2 million are unincorporated, and the remaining 5.2 million are incorporated. The preceding graph also appears to show a downward trend in the larger population of unincorporated self-employed, a conclusion with which Fox takes some issue, along with the measurement instrument that the BLS uses to track self-employment totals (its Current Population Survey, also called "the household survey" tallies responses from 60,000 households, and raises the question "Last week were you employed by government, by a private company, a non-profit organization, or were you self-employed?").
The problem with the question, as Fox puts it, is that "this either/or choice excludes a lot of people who are doing independent work on the side, or whose jobs are really more like [ongoing] gigs." He goes onto cite another survey from MBO Partners (a company that provides support services for non-traditional workers) that counts temporaries, on-call workers, and those on fixed-term contracts as "independent workers." Their count raises the toal number of self-employed to around 17.7 million for 2013, which is up 10% from 16 million in 2011. Other sources have different numbers, too:
The Freelancers Union reports 42 million independent workers, based on a 2006 GAO report that claimed 42.6 million so-called "contingent workers," a term they used to mean "agency temporary workers (temps), direct-hire temps, on-call workers, day laborers, contract company workers, independent contractors, self-employed workers, and standard part-time workers." That's about a third of the workforce overall.
Dan Pink analyses the Census Bureau's annual count of so-called "nonemployer businesses" (sole proprietorships, DBAs, and other ways of reporting business income on personal tax forms which is taken from tax return data, and shows totals rising from around 17 million such outfits in 2002 to a level of around 22-23 million for 2011).
It all adds up to more people and more kinds of "self-employment" in today's labor market than the BLS is currently counting. Fox goes on to cite MBO Partners once again, to share their projection that by 2020 "70 million people, more than 50 percent of the private workforce, will be independent" (which is to say, they will fall into the category of "contingent worker" as outlined above, which I'm also equating with "independent worker"). Their current research indicates that there are currently 17.7 million independent workers in the US, and that population has a 5 percent annual growth rate. A straight line projection indicates that this prevailing rate would produce a population of around 25 million by 2020, so MBO obviously believes that another 45 million US workers are going to take the plunge into independent work mode in the next six years, above and beyond such simple accretion.
What follows next in Fox's story is a terrific analysis of the composition and the history of the self-employed (or "independent worker") labor market in the USA since the beginning of the 20th century. He also chews on some Census Data for the present day (2001 onwards) as recast by Economic Modeling Specialists (a subsidiary of CareerBuilder.com) that shows various categories of self-employment growing, but often at the low-end of the wage and education scales. This is then offset by analysis of the incorporated self-employed, and an attempt to impose a more coherent structure on the oodles of categories that the government (BLS) uses to categorize occupations. He finds growth in interesting areas like that for "Musicians and Singers," but also "Fitness Trainers and Aerobics Instructors," "Editors," "Web Developers," and "Mental Health Counselors."
All in all it adds up to a much more interesting and nuanced view of the self-employment situation in the USA than I'm used to seeing. If this is something you already do, or might be considering in the future (and the numbers indicate that this applies to anywhere from one third to one half of the general population) you owe it to yourself to read over this excellent article.