Mar 21 2014 2:21PM GMT

Profile: Ed Tittel
In  reading this morning's paper (mine is The Austin American Statesman) I came across an AP story that ran last evening entitled "Study: Just 11% of long-term unemployed regain steady work."  Based on findings from three economists from Princeton, it paints a grim picture for the employment prospects for those who've lost their jobs, and have remained out of work for six months or more.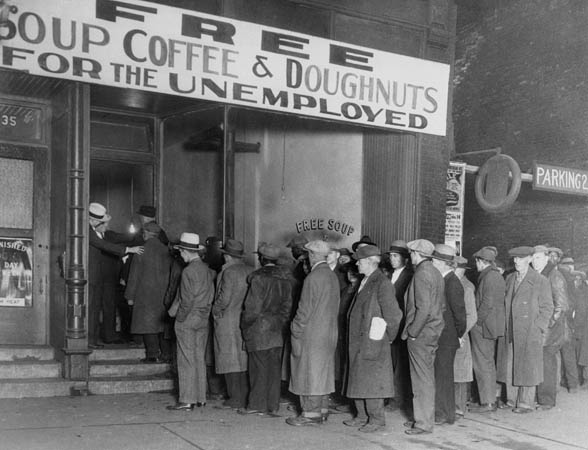 We're not yet back to soup kitchens as in the 30s, but long-term unemployment remains a thorn in the recovery's side.
[Source: A. Bettman Archives/CORBIS]
Alan Krueger, one of the study's authors (and a former chief economic advisor to President Obama) stated that "The long-term unemployed a more than twice as likely to stop looking for a job than to find one." He went on to say that "And when they exit the labor force, the long-term unemployed tend to say they no longer want a job."
According to the study, for any month in the period from 2008 to 2012, just over 10% of the long-term unemployed had found full-time work, in both states with high employment as well as in states with low employment percentages. As perhaps a natural consequence, the study also indicates that a better predictor of rehiring comes from watching the short-term unemployed (those out of a job less than six months) who remain much more likely to be rehired than their long-term unemployed counterparts.
This explains why short-term unemployment rates at now back or close to pre-recession levels (as of late 2007 or early 2008), while the overall unemployment rate remains relatively high at 6.7 percent. The difference, of course, is the large number of long-term unemployed which, at 3.8 million (37% of all unemployed Americans) pushes up the overall count. Although the difference between the Fed's magic number of 6.5% unemployment, at which point they can stop providing financial stimulus to the economy and start letting interest rates rise once again, and the current 6.7% appears to be close enough to reach across that narrow gap quickly, it's further away than a gap of "only" 0.2% might indicate.
Does that mean there's potential hope for those millions of Americans who've been without a job for six months or more? Don't bet on it. Some of these folks have reached or are near retirement age, and will never return to work. Others have found ways to qualify for Federal disability benefits, while still others survive on side jobs or handouts from friends and family. The cancellation of emergency unemployment benefits also has an impact: one of the conditions for receiving those benefits was a continuing search for work. With two million Americans now outside that umbrella as of January 1, 2014, they may quit looking for work and thus no longer be counted as unemployed. This might bring down the 3.7 million total of long-term unemployed, but it will do nothing to alleviate the pain and suffering of those who would work if only they could find jobs to fill.
Overall, this study does not speak positively about future growth and economic prospects for the US economy. As long as we have a large number of officially long term unemployed persons, and must recognize that the "real" number has to be higher than those who stand up to be counted amongst this group, our unemployment situation remains more negative than positive. Though our economy may be able to soak up new entrants to the workforce, and to re-absorb the short-term unemployed, the millions of  Americans who must do without work not by their own choosing will continue to cast a pall on growth, improvement in overall living conditions, and in the willingness of employers to pay living wages to those at the bottom of the wage scale. If, as I suspect, the average age of these long-term unemployed is in the late 40s to mid 50s, this situation seems bound to drag on for at least another 15 years or so. And that, my friends, completely redefines what I've been calling "slow growth mode" for the USA since I started following unemployment and employment figures in 2009.