---
October 4, 2013 2:33 PM
In a story entitled "8 hot IT skills for 2014" dated September 23, ComputerWorld reports on areas of "zero unemployment" within the general field of IT (whose latest 6.6 percent unemployment rate as of August 2013 already beats the overall unemployment rate of 7.3 percent for that same month). Here's their list of items, straight from the source, listed in rank order based on the publication's recently completed 2014 Forecast survey, which also indicates that about one-third of responding organizations plan to increase IT headcount, with about half that amount (14%) expecting to decrease, and the remainder (54%) expecting to maintain headcount status quo:
1.
Programming/application development
(with a reported 1.8% unemployment rate according to the US Bureau of Labor Statistics) where the biggest demand is for mobile development skills, and experience in building secure applications.
2.
Help desk/technical support
, which may be a nice indicator of overall economic improvement because "Organizations mainly add help desk and tech support when they're adding workers and expanding their technology infrastructure," according to Scott Melland, CEO of Dice Holdings (parent company of Dice.com).
3.
Networking
took a big jump from 8th place in 2012 to 3rd this year, thanks in large part to increasing demand for IT pros who possess skills and knowledge in wireless networking, and also, no doubt, to help staff the ever-increasing number of data centers for cloud-based services, big data analysis, and so forth.
4.
Mobile applications and device management
takes a great leap forward (9th place in 2012, to 4th place this year) because of the onslaught of BYOD and mobile-based information access in a preponderance of businesses and organizations everywhere.
5.
Project Management
may have slid from second to fifth place this year, but that doesn't mean it's not still white-hot in the IT community (Dice's Melland places it second only to mobile developers in his estimation of where the IT job action is at present).
6.
Database Administration
makes its way into the rankings from out of nowhere, thanks in large part to the zooming interest in and use of "Big Data" in organizations and businesses of all stripes. DBMS skills and knowledge have always been important, but now they are starting to gather some serious interest and financial value on the IT job market, too.
7.
Security Compliance/Governance
: Security has been important for the past decade or more, but understanding of security requirements, processes, and business import is gaining value and momentum, thanks to increasing adoption of governance and compliance regimes such as ITIL and COBIT, along with a growing set of government mandates to require attention to such things.8.
Business Intelligence/Analytics
: ongoing emphasis on "Big Data" and data mining ensure continued interest in and added-value for this burgeoning field (its fall from 5th place last year to 8th place this year simply shows that as IT job opportunities expand, it must make way for other, even hotter specialties).
In nearly every one of these areas you can find IT certifications that will help you stake out a presence. Check out my various "Top 5 Certification" and other stories for Tom's IT Pro that relate to 7 of 8 of these topical specialties:
October 2, 2013 2:23 PM
CompTIA's follow-on credential to its Cloud Essentials certification — known as Cloud+ — is now up and running, with exams available from Pearson VUE, and prep materials available or announced via Amazon and other online e-tailers. CompTIA's press release on this launch appeared yesterday (10/1/2013) to proclaim "CompTIA Cloud+ Certification Now Available Worldwide," as its title baldly states.
Recommended background for the new credential includes either or both of CompTIA's Network+ and Storage+ (Powered by SNIA) credentials, along with at least 24-36 months of IT experience on the job with networking, storage, or data center administration. In an interesting malapropism the press release states that candidates "should be familiar with major hypervision technologies for virtualization…" (when of course they meant "hypervisor" though I can't help wondering what kind of eyewear I'd have to don to obtain the necessary degree of visual actuity! ;-)).
A quick Amazon search on "CompTIA Cloud+" currently turns up three items, only one of which is actually relevant to the Cloud+ credential (the other two are for Cloud Essentials) — namely: CompTIA Cloud+ Study Guide (Exam CV0-001), Certification Press/McGraw-Hill, by Nate Stammer and Scott Wilson (9/24/2013). I'm guessing that we'll see more materials showing up in the next 90 days or so, particularly from some of the other major cert press players, including Pearson, Wiley/Sybex, and possibly also Syngress/Elsevier. Given how hot the subject matter is at the moment, and growing demand for cloud-qualified IT professionals, publishers, online courseware developers, and practice test providers will no doubt be falling all over themselves, and each other, to get some suitable products out the door. But if you want to get going right away, there's at least one avenue for self-study already available.
---
September 27, 2013 1:35 PM
Every now and then, a promotional offer related to careers and certification comes through my inbox that's good enough to share with this blog's readership. I'm happy to inform you folks that Barnes and Noble has a sale on careers and certification books up and running through the middle of October. There are 229 titles covered in this offer, which includes discounts of up to 45 percent off the publisher's list prices. Be sure to check it out, if you're in the market for any certification prep materials, including Cisco Press materials, All-in-Ones  (Osborne/McGraw-Hill), Exam Crams (Pearson), Complete Study Guides (Sybex/Wiley), VMware Press, and a whole bunch more.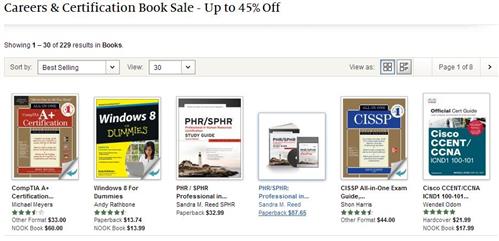 A great mix of cert prep titles from all parts of the landscape on sale thru mid-Oct at B&N!
You'll find all the major CompTIA credentials represented, along with a good mix of Cisco, Microsoft, and VMware coverage as well. Plenty of information security items, too, mostly centered around big-name certs like CISSP, SANS GSEC, and Security+. And of course, popular credentials like the PMP, various Linux items, a handful of Oracle elements, and some cloud stuff also show up in amidst the 8 pages of titles included in the offer. Again: if you're in the market for a cert prep book (or e-book) bargain, be sure to check the sale pages out on the B&N site.
---
September 25, 2013 6:51 PM
On Monday, the Born to Learn blog included a sort of guest post from Microsoft Press publisher Anne Hamilton. Entitled "An Update on the Plan for Revising Books based on Windows Server 2012 R2 and Windows 8.1 from MS Press," it speaks to a whole slew of publications that touch on the October 16 general availability (GA) releases for Windows 8.1 and Windows Server 2012 R2. This information was provided in response to a question from the Learning community that's stated as "When and how will books be updated to reflect the changes that are coming?"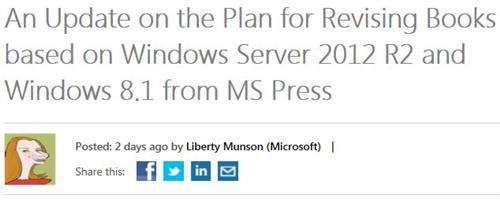 This 9/23 blog post certainly answers most questions about updates to MS cert prep materials for Windows 8.1 and Server 2012 R2 related exams.
The Windows 8.1 MCSA books for exams 70-687 and 70-688 will be updated (70-687) or released as new titles (70-688) within 30 days of the exam's release (which presumably coincides with the software release date of October 16, 2103). The two titles in question are Exam Ref 60-687: Configuring Windows 8.1 and Exam Ref 70-688: Managing and Maintaining Windows 8.1.
The Windows Server 2012 R2 MCSE books will also be available within 30 days of the exam. Titles in bold and italic represent updates of existing books; titles in italic only represent new titles:
Exam Ref 70-410: Installing and Configuring Windows Server® 2012 R2
Training Guide: Installing and Configuring Windows Server® 2012 R2
Exam Ref 70-411: Administering Windows Server® 2012 R2
Training Guide: Administering Windows Server® 2012 R2
Exam Ref 70-412: Configuring Advanced Windows Server® 2012 R2 Services
Training Guide: Configuring Advanced Windows Server® 2012 R2 Services
One additional title will follow 30 days after this first batch, and is an update to an existing book — namely, Exam Ref 70-417: Upgrading from Windows Server® 2008 to Windows Server® 2012 R2.
The MSCE on Windows Server 2012 will follow slightly behind, within 60 days of the exam (and again existing titles are in bold italic while new ones are in italic only):
Exam Ref 70-413: Designing and Implementing a Server Infrastructure for Windows Server® 2012 R2
Exam Ref 70-414: Implementing an Advanced Server Infrastructure for Windows Server® 2012 R2
At least, now I understand why some promised titles have not yet appeared when I had expected them to show up some time ago. MS has known all along it would need to update this information, so with books not yet released, it's far easier to update first and release later, than it is to release, then update, and release again. Interestingly, Ms. Hamilton also promised that some additional titles "are yet to be announced" but that such announcements will appear in the afore-linked blog post as well as elsewhere. I'm incredibly curious to learn what else might be on the way. Stay tuned: I'll keep you posted, too!
---
September 23, 2013 2:34 PM
Last Thursday (9/19/2013) Rackspace announced a new,  On-Demand training class for the OpenStack cloud computing environment (the classroom version runs 4 days and costs $2,500, so it will be interesting to see how much the online version goes for). The title of the course is "OpenStack Fundamentals," and I didn't find any mention of payment in the pre-registration form I just filled out (if I hear anything more about charges in the automated e-mail response that's sure to follow, I'll update this blog post to reflect my improved understanding of the circumstances involved). According to that sign-up page, the course "covers the history and components of OpenStack and teaches students how to build and maintain an OpenStack environment." Even more interesting is the following sentence: "And unlike typical online courses, RackSpace's online course includes virtual labs and a virtual workstation for students to use with courses activities." Some knowledge of Linux and its CLI (command-line interface) is recommended for anyone who wishes to participate in the training, however.
But that's not all there is to the OpenStack announcement from Rackspace, either. The company is adding four new courses to its classroom-based training offerings above and beyond its OpenStack certification program. Here's what the press release has to say about these new courses, where I include duration and cost in square brackets after the quoted text elements, and provide links to each course home page as well:
All this looks very interesting, and tells me there's a better-than-even chance that it's just a matter of time before Rackspace starts building out its OpenStack certification program beyond the single technician-level credential that's currently available, all by its lonesome.
---
September 20, 2013 2:16 PM
According to a news item in the latest GoCertify.com newsletter (Certification Watch 9/19/2013), CompTIA plans to launch both of its new mobility-related IT certifications in October of this year. The two certs in question include both the Mobility+ and Mobile App Security+, where the former seeks to identify IT professionals with skills and knowledge pertaining to deploying, provisioning, and managing mobile devices, and the latter seeks to ensure that programmers understand how to design, build, and test mobile apps to make sure they're safe and secure (and thus fit for business use).
Look out, world! CompTIA plans to unleash 2 new mobile certs in October 2013.
These two credentials already have their own exam pages up and available, where you can grab exam objectives, exam info, and other information relevant to each of them. To learn more, be sure to check out these home pages:
CompTIA Mobility+: relates to job titles Mobility engineer, Network administrator, Mobility architect, Security administrator
CompTIA Mobile App Security+: relates to job titles Mobile Application Developer, Software Developer, Application Development Manager, Network Security Developer
---
September 18, 2013 2:14 PM
It's the strangest thing: my son wants to learn to program a computer, so I'm helping out at his school library every Wednesday morning, where intrepid members of the Round Rock ISD IT staff volunteer to teach a class on Microsoft's free SmallBasic . We start at the ungodly hour of 6:30, and help 31 students learn how to use this small but powerful IDE for building programs. Robert Eckstein is the lead instructor (he works for the central IT service group for the whole school system), ably assisted by Robert Heard (he's the IT guy at Cactus Ranch Elementary, where the class actually meets). What's strange and wonderful about the class is how excited the students are to make a computer do something, how quick they are to pick up on the language and its capabilities, and how intensely interested they are in digging ever deeper into what the toolset enables them to accomplish.
The MS Small Basic environment is easy to install, understand, and use, and features a very friendly autocomplete style of command/reserved word/variable substitution as students hack out bits of code.
This class consists of 4th and 5th graders, most of whom are just learning how to cut and paste, and starting to understand what keyboard shortcuts are, and how to use them. Seeing how excited and enthusiastic they are to be learning (and using) something new, I am reminded that even for old greybeards like myself, learning (and using) something new helps to bring interest and excitement to one's working life. That's why I encourage anyone who's active in IT to create opportunities to study, learn, and play with things that interest them. Sure, there's always the notion that time spent learning can — and often does — help to enhance or develop one's career and often offers opportunities to advance or make changes that might otherwise not come along. But shoot, there's also the sheer joy of learning and expanding one's horizons, skills, and abilities. Seeing the shining eyes and glowing faces of the younger generation learning how to code, it's a great opportunity to offer that same set of feelings and motivation to anyone who's in need of a shot in the arm, career- or work-wise.
Go ahead: learn something! You won't be sorry you did.
---
September 16, 2013 1:58 PM
Found a great story through the NPR program "All Tech Considered" this morning. Entitled "Army Looks to Schools to Find the Next Cyberwarriors" (dated 9/11/2013, by Dan Carsen), it recounts a budding partnership between Grissom High School (part of the Huntsville City Schools system) and the US Army Cyber Command (which has a presence in the Huntsville area, thanks to the numerous DoD installations in and around the Redstone Arsenal in Madison County). This program is an attempt to feed what Carsen calls "the cybersecurity career pipeline" by developing cybersecurity skills and knowledge from the ground up. Ultimately, the idea is to start providing information and exposure to public school attendees about cybersecurity issues in middle school, when more serious computer training generally gets underway for the overall student population.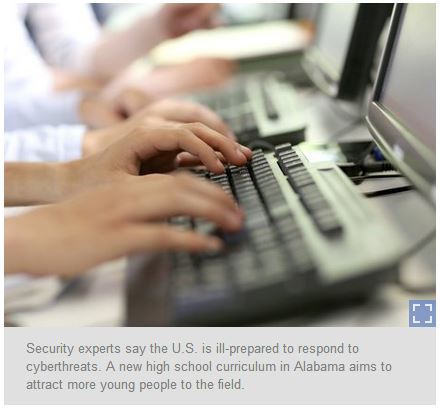 Bright young minds are needed to meet growing needs for qualified cybersecurity professionals for the foreseeable future.
[Image Credit: NPR/JStockphoto.com]
Because serious cybersecurity careers often involve security clearances, cultivating interest in the field can also have positive lifestyle impact on public school students. Issues with crime or drugs will make candidates ineligible for such clearances. This means early information and exposure can help steer kids clear of potential temptations or indiscretions that might otherwise prevent them from establishing careers in the information security sector, where demand for skilled professionals looks bright for the foreseeable future.
The conclusion of Carsen's story helps underscore this point, so I'll reproduce it verbatim here:
Army and Huntsville leaders hope their curriculum will eventually spread across the country. At the end of the class, an enthusiastic junior admits he skipped his advanced-placement history class to sit in on the session. [The contractor who taught the class around which the story was based is named Rodney Visser, who ordinarily works as a "threat provider" and penetration tester for DoD networks.] "I think you made the right choice," Visser says, half-joking.
Thanks to GoCertify.com, whose tweet entitled "Uncle Sam seeks high school cyberwarriors" brought this story to my attention.
---
September 13, 2013 3:30 PM
IT careers
A new and rapidly growing collection of cloud certifications is becoming available from an industry group known as the Cloud Credential Council, or CCC. They already offer a Cloud Technology Associate cert, and plan to introduce half-a-dozen new and more advanced professional level cloud certifications by the middle of 2014. Planned and already announced credentials include Cloud Administrator, Cloud Developer, Cloud Security and Governance, Cloud Service Manager, and a Cloud Architect. These should all be up and running by mid next year. According to Marcel Heilijgers, executive director of the CCC, with whom I spoke by telephone last week, they also plan to offer a Cloud Forensics credential as well, probably in the second half of 2014. It's an ambitious program, and along with Arcitura Education's CloudSchool.com, represents the most comprehensive and well-elaborated set of cloud computing certification credentials available today.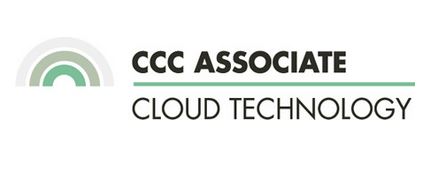 With lots of professional level certs coming sooner and later, the CCC Associate establishes the gateway for all of them!
Right now, their entry-level and gateway credential is called the CCC Associate: Cloud Technology. Interestingly, the credential covers both cloud and virtualization topics, and accepts the CompTIA Cloud Essentials in lieu of its own cloud essentials course and exam. There's also a Virtualization Essentials course and exam involved as well, to make sure that candidates understand clouds from both sides (delivery and data center) to establish a firm and useful foundation for more advanced cloud topics. While you're waiting for the rest of the CCC cert collection to become available, pursuing CompTIA Cloud Essentials and then CCC Associate: Cloud Technology offers a great way to find a pathway into the cloud.
---
September 11, 2013 1:49 PM
I've been blogging a lot about cloud certifications lately, and in researching an upcoming Cloud Cert Survey story for Tom's IT Pro, have also uncovered a number of new credentials that will be going live over the next 6-9 months (at least 15 of them, in fact). In just over three weeks, in fact, CompTIA will be launching its second cloud certification (the first is CompTIA Cloud Essentials) — namely, CompTIA Cloud+.

This time, when CompTIA says "Coming Soon" they really mean it — Cloud+ goes live on 10/1/2013.
Where the Cloud Essentials credential is an entry-level, foundational certification, Cloud+ aims at IT practitioners who work in and around cloud computing environments, and who are tasked with implementing and maintaining cloud infrastructures. Thus, CompTIA recommends that candidates should possess a minimum of two to three years' experience in IT networking, storage, or data center administration. They should also be familiar with "any major technologies for server virtualization," such as VMware, Microsoft Hyper-V, Oracle VM Server, Citrix XenServer, IBM PowerVM, Linux KVM, and so forth.
Exam objectives are already available from CompTIA's Cloud+ page for download (registration required). The exam will run for two hours, and include 120 questions. A passing score is 750 on a scale of 100-900 (~81%). The exam code for Cloud+ is CV0-001, and exam vouchers are already available for purchase from CompTIA.
---