---
October 28, 2008 10:55 AM
I had the good fortune to be recruited by the author of these Two "ACE IT" books from Osborne/McGraw-Hill, and worked with Paula Moreira from 2000-2003. Here are their citations, after which I explain their value propositions and point you at Paula's supporting Web site. All are good resources for those dealing with job interviews and applications, including resumes, cover letters, interview techniques, and lots more: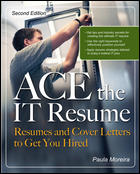 Paula Moreira: ACE the IT Resume, 2e, Osborne/McGraw-Hill, June 22, 2007, ISBN-13: 978-0071492744. Lots of good advice on how to put a resume and cover letter together is helpful, but lots of good examples of both kinds of documents is better still. $16.49 at Amazon.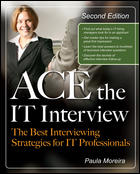 Paula Moreira: ACE the IT Job Interview, 2e, Osborne/McGraw-Hill, December 11, 2007, ISBN-13: 978-0071495783. Sure you'll find basic interview skills practice and information here: what to wear, how to present yourself, things to do (and avoid) in the interview and so forth. But what really gives this recently updated book its value is a battery of questons interviewees are likely to encounter during the interview, for all kinds of IT positions. Literally everything from database administrator, to desktop support technician, to various helpdesk roles, IT management, network administration and engineering is covered, along with programming, project management, security and Web-oriented positions. The second edition adds coverage for trendy IT positions including various architect and business analyst roles as well. Definitely worth the price of admission (also $16.49 at Amazon).
Paula and her husband both still work in IT, so she's got the "feet on the street" perspective as well as nearly 20 years of industry experience to back herself up. I recommend these books highly, as I also do her Web site at ITCareerAce.com, where you'll find her blog, and lots of current and ongong coverage of the topics that make these books both interesting and valuable. Check 'em out!
–Ed–
October 24, 2008 9:20 PM
On August 27, I posted a blog entitled "7 Questions for Highly Effective Career Advice." In posting this piece, my goal was to arm readers and would be advice-seekers with just the right information to include in their requests for help, information, and advice so that I could answer those inquiries as completely and thoroughly as possible without having to conduct much back-and-forth posting or email to get everything out in the open.
So far, I'm batting about 0.500 as far as inquiries received since that posting goes. In other words, about half the people apparently either already know they should include this kind of information or have read this posting, and the other half don't. To the "half in the know," my profound thanks for making my job so much easier. To the "other half:" please ponder these questions when you submit your requests for advice to me (I repeat them here to minimize the effort people must expend to accommodate my wishes, in hope this will help see them satisfied):
1. What is your educational background? High school diploma? Associate's degree? Bachelor's degree? Graduate degree(s)? Please also briefly describe any incomplete progress on any of these items (for example "two years of computer science grad courses, 2/3 of MS completed").
2. What is your prior work experience? How many years of work, and what kind of work have you done? Any volunteer work? Part-time work in school or elsewhere? (You'd be surprised how much value employers give to those who show evidence of being able to hold a job, and how much credit they give to people willing to work for nothing as volunteers or part-time to get experience in their chosen fields.)
3. Where do you live? What is the job market like there? How much opportunity for entry-level people? mid-career people? senior people?
4. Are you interested in working in management, or would you prefer to stay on a technical track? Have you ever done any project management (and again, school, part-time, and volunteer experience all help)?
5. What kinds of certifications interest you? Please describe any certification held, currency status (if applicable), and when earned.
6. Do your long-term career goals include staying in your current position (or in the same field as the next position you're seeking, if applicable)?
7. What kind of job are you doing now? What kind of job would you like to be doing? How important is salary to you? How important is job satisfaction? If you could have any job at all, what would that be?
Thanks for your understanding and support. I look forward to serving you, and answering your questions, as they come up. Feel free to post them here in this blog, in the IT Knowledge Exchange, or email them to me at ed.tittel@techtarget.com.
Have a great weekend!
–Ed–
---
October 24, 2008 9:07 PM
One topic of discussion I see all the time might be baldly stated as "How can I present myself to prospective employers as positively as possible without getting into trouble or promising more than I can deliver?" Besides the obvious answers–namely, "Steer clear of trouble," and "Don't claim skills, knowledge, or experience you don't really possess"–I would urge individuals to answer the following questions as they create resumes, craft cover letters, and present themselves to interviewers during the hiring process:
1. What kinds of things can you do? problems can you solve? Be prepared to provide some history, and maybe even tell a few "war stories," to back up whatever you claim in this vein.
2. When talking about skills and knowledge, rather than simply providing a laundry list, keep answering the same questions "Why does this matter?" and "How does this relate to the position at hand?" as you dig into these areas with interviewers. This goes double for any IT certifications you hold, especially if they are relevant or critical for the position.
3. Think about your soft skills arsenal: can you write (what have you written)? can you manage projects (what projects have you managed)? can you speak or teach (what presentations have you given, courses taught, etc.)? can you manage people (ditto)?
In general, you want to leave your interlocutors with the impression that you are competent, know your stuff, have a useful array of soft skills to complement your harder ones, and are good enough with people to make a useful addition to the staff. It may be tempting to toot your own horn ceaselessly, or to try to make yourself look better than you really are. Avoid these temptations if at all possible, and settle for a well-rehearsed recital of your answers to the foregoing questions. You'll be able to play variations on this theme if you have multiple interviews to tackle, and you'll also get a chance to work on your presentation skills in a pretty serious and meaningful context. You may even want to practice with a friend or family member just to get yourself as comfortable with this material as possible, or perhaps even write out some answers that you can then translate into conversational delivery.
Good luck! I hope you find this information worthwhile.
–Ed–
---
October 15, 2008 7:39 PM
You know that old saying: "You can never be too rich, or too thin?" Well, I think a variation on that theme applies to preparing for certification exams: "You can never be too prepared, or too ready!" To that end, I've compiled a bunch of advice on preparing for exams that readers may find interesting. Here's an annotated list of some stuff to help you review the process, and make yourself as ready as possible for a certification exam when one is coming your way:
The real problem with exam prep is making sure to give yourself enough time to do it right. Don't forget to look over these various resources as you start down the preparation trail, but be sure and make yourself entirely familiar with exam content and questions before your scheduled rendezvous pops up at your friendly neighborhood testing center!
–Ed–
---
October 13, 2008 2:52 PM
Microsoft Learning has been running its Second Shot program on and off since the late 90's. It works like this:
You register for a specific second short offer
You obtain a Second Shot exam voucher, with a voucher number included
You sign up for and take an MCP exam of some kind at Prometric, and provide your Second Shot voucher number as part of the exam sign-up process
If you pass, good on you. If you fail, you can exercise your Second Shot voucher to take it again for free (you must again provide the voucher number to do this, so keep that information in a safe place)
You have until June 30, 2009 to register for any MCP exam whose exam number begins with 070 (and any number of such exams, in fact), complete your first exam, and retake that exam if you don't pass on a first try. Note: you must make it through this entire process by the cut-off date to take advantage of this offer.
It's a pretty good offer, so if you do have to take any MCP exams between now and May, 2009, you should probably bookmark this blog so you can follow the links to take advantage. I won't go so far as to recommend that you take the exam first just to reconnoiter and use it to guide your studies for the retake, but some folks have been known to turn this into a deliberate study/prep strategy.
HTH,
–Ed–
---
October 9, 2008 8:24 PM
Not 'By Invitation Only' Any More!
Normally, you have to hold a Microsoft certification of some kind and your e-mail address has to make its way onto a beta exam invitation list before you become eligible to take a beta certification exam. The invitation e-mail has long been the only way to find out about upcoming Microsoft beta certification exams and to obtain the information needed to reserve yourself a seat at Prometric. But if you know where to look, you can sidestep that process. Microsoft Learning runs a Beta Exam Announcements Blog where the same text that goes into the invitation e-mails gets posted for those in the know.
Right now, the following beta exams are underway (remember exam numbers for betas take the form 71-xxx where the final form will be 70-xxx, and xxx is a three digit number):
71-433: TS: Microsoft SQL Server 2008, Database Development 9/22-10/10/2008
71-403: TS: Microsoft System Center Virtual Machine Manager 2008, Configuring 9/30-10/24/2008
Thus, beta exam 71-433 will become 70-433 when it is finalized and goes "live;" likewise, 71-403 will become 70-403 as well.
You can also dig deeper into the blog to see which exams have gone through beta recently, so as to know what to expect to show up in final form some time soon. It usually takes 3-5 months after the beta is complete for the final, commercial version of the exam to go public. The best thing about beta exams is that if you can get a seat you can sometimes take them for free; always for a reduced fee. And if you pass a beta exam, it's just like passing the real thing: it counts toward whatever Microsoft certifications you may be pursuing.
If you're actively engaged in MS certification, I recommend you add the blog URL to your favorites or bookmarks, and visit it at least once a month. You'll have a good idea about upcoming exams in the pipeline, and you will get an occasional chance to take a beta at lower cost or even no cost. It doesn't get any better than that!
---
October 8, 2008 5:40 PM
In June, 2008, at Tech-Ed in Orlando, Microsoft announced a new high-level certification program to attendees and the rest of the world. As the name is intended to convey, the new Master credentials are intended to "…help IT professionals attain a 'master' level of proficiency in specific products – something previously only available internally to Microsoft employees and select partners. The programs will focus on design, build, and troubleshooting skills, and will require three weeks of mandatory training per track, delivered exclusively by top subject matter experts and industry-renowned instructors."
The topics that are currently available for such certification include Exchange Server 2007, SQL Server 2008, and Windows Server 2008 – Directory (Active Directory/Directory services). According to a blog posted on 6/26/08 by program directory, Per Farny, Microsoft also plans to add credentials for Office Communications Server 2007 and SharePoint Server 2007 fairly soon (it's now October 08 as I write this, and still no sign of them yet on the Microsoft Certified Master Program Web page).
To me what's most interesting about these credentials is the following (quoted from Per Farny's blog cited in the previous paragraph):
One of the main differences between the Master certs and the other certs you're used to from us (MCP, MCSE, MCITP, etc) is that we are requiring candidates to attend a mandatory 3 weeks of training as part of the program. This training will initially be delivered at Microsoft by full time Microsoft employees or Microsoft contracted individuals (this has been the practice to date in the internal versions of the programs) until we can build up our instructor pool. The training will be delivered in Redmond only in FY09, and we will start rolling out worldwide in FY10.

[…intervening content skipped here…]

The prices for the programs are $18,500USD which includes 3 weeks of training, and the first attempts at each of the four required tests: 3 'written' tests and one lab based exam. Retakes cost $250 per written test, and $1,500 for the lab exam, and you are only allowed a maximum of three attempts per test. We know this isn't exactly pocket change, but based on customer feedback from the Ranger program, we are confident that it is a good value to those of you who will go through the program. We recognize that the cost may be a barrier to entry to some people who could otherwise make the grade—but that is something we will have to live with in the short term; getting top notch subject matter experts in one place for three weeks, the hardware, etc. just don't come cheap.
He also has this to say, to answer the inevitable question "How does this compare to/What does this mean for the Microsoft Certified Architect credential?"
Master will not replace MCA—it will live almost side by side. We are fully committed to the Microsoft Certified Architect certifications. Based on feedback over the last several years, we are evolving the programs to more fully meet customer and industry needs. This will likely mean an expansion of the MCA family and a focus on growing the communities overall. In a nutshell, we're making the differentiation clearer between a top technical person and an architect as we're finding the skill sets and job roles are actually quite different.

Master certification is, in effect, an evolution of the purely technical pieces of the Ranger programs, more cleanly separating the technical from the architectural / business / consulting / soft skills. Stay tuned for further details on the MCA evolution.
MS plans to seat 250 candidates for this program in classes for FY09 (which starts in June 08), and then 500 for FY10 (June 2009 through May 2010). Microsoft is also avidly pursuing the best and brightest instructors they can find on these subjects, both inside and outside the company, to make sure the program is properly staffed. In essence, they seem to really want their candidate Certified Masters to learn from "real masters" on the platforms involved.
I'm really, really interested to read about this. It represents the first real step Microsoft has taken to add depth to its cert programs since I first became aware of them in the mid 1990s. I can only hope that Microsoft Learning can deliver on this promise, and that the results will live up to the high expectations they're doing their best to cultivate.
This program is worth watching, but is priced and structured to steer away all but the most knowledgeable and dedicated candidates, probably funded by companies or organizations that understand the value that these kinds of credentials can bring. This should be an interesting program to follow; count on me to do this. Please: stay tuned!
---
October 6, 2008 3:02 PM
To some extent, it's fair to look at the MCITP credentials as an answer to the question: "Where do MCTS on the networking/admin side go for the next rung in the MS certification ladder?" This is territory that's still being explored and mapped, because a growing crop of new MCTS certified professionals is starting to seek answers to that very question. That's where a look at the various MCITP credentials becomes instructive (I skip the MCITP at the beginning of each credential name below in the interests of brevity; Microsoft does not):
SQL Server 2005 credentials:
Business Intelligence Developer:
Pre-req 70-445 SQL Server 2005 BI; Exam: 70-446: Designing a BI Infrastructure using SQL Server 2005. "Business intelligence developers design and implement multi-dimensional database models (logical and physical), data marts, data warehousing, data transforms, data analytics, and reporting solutions."
Database Developer: Pre-req: 70-431; Exams: 70-441 Desginign Database Solutions by Using Microsoft SQL Server 2005 and 70-442 Designing and Optimizing Data Access by Using Microsoft SQL Server 2005. "…design, create, deploy, and maintain database solutions by using SQL Server 2005."
Database Administrator: Pre-req: 70-431; Exams: 70-443 Designing a Database Server Infrastructure by Using Microsoft SQL Server 2005 and 70-444 Optimizing and Maintaining a Database Adminsitration Solution by Using Microsoft SQL Server 2005. (Note 70-431 and 70-447 permit MCDBA's to upgrade to this cert.)
SQL Server 2008 credentials:
BI Developer 2008: Pre-req: one of 70-448; Exam: 70-452 Designing a BI Infrastructure using SQL Server 2008. Business intelligence developers design and implement multi-dimensional database models (logical and physical), data marts, data warehousing, data transforms, data analytics, and reporting solutions.
Database Developer 2008: Pre-req: One of 70-443; Exam: 70-451 Designing Database Solutions and Data Access Using Microsoft SQL Server 2008. "…design, create, deploy, and maintain database solutions by using SQL Server 2008."
Database Administrator 2008: Pre-req: 70-432; Exam 70-450 Designing, Optimizing, and Maintaining a Database Infrastructure using Microsoft SQL Server 2008. "…design, deploy, optimize, and maintain SQL Server 2008." (Note upgrade exams from 2005 to 2008 are also available.)
Consumer Support Technician:
Pre-req 70-620 Configuring Microsoft Windows Vista; Exam: 70-623 Supporting and Troubleshooting Applications on a Windows Vista Client… "…highlight and validate your expertise and skill set in a job role supporting a broad range of consumer desktop operating systems, desktop applications, mobile devices, networking, and hardware support issues related to the Windows Vista operating system."
Enterprise Messaging Administrator:
Pre-req: 70-236; Exams: 70-237 Designing Messaging Solutions with Microsoft Exchange Server 2007 and 70-238 Deploying Messaging Solutions with Microsoft Exchange Server 2007. "…validates the knowledge and skills associated with performing as the lead engineer for messaging solutions within an enterprise organization, as well as the ability to design and deploy messaging solutions with Microsoft Exchange Server 2007."
Enterprise Project Management with Microsoft Office Project Server 2007:
Pre-reqs: 70-632 and 70-633; Exam: 70-634 Micorsoft Office Project Server 2007, Managing Projects and Programs. "…designed specifically to help project managers apply the leading project management best practices and methodologies as established by the Project Management Institute (PMI), resulting in better project outcomes, greater efficiency, and optimal resource management."
Enterprise Support Technician:
Pre-req: 70-620; Exam 70-622 Supporting and Troubleshooting Applications on a Windows Vista Client for Enterprise Support Technicians. "..validates the knowledge and skills required to deploy and support the Windows Vista operating system." (Note a separate upgrade exam is available to those who already hold the MCDST.)
Enterprise Administrator:
Pre-reqs: 70-640, 70-642, 70-643, 70-620 or 70-642 (4 total); Exam: 70-647 Windows Server 2008, Enterprise Administrator. "…demonstrate your skills in Windows infrastructure design and your readiness to excel in working with Windows Server 2008." (Note upgrade paths from MCSA or MCSE on Windows Server 2003 have been defined; they involved a transition exam plus two additional MCTS exams for MCSA and a transition exam plus three additional MCTS exams for MCSE, plus the MCITP Enterprise Admin exam.)
Server Administrator:
Pre-reqs: 70-640 and 70-642; Exam: 70-646: Windows Server 2008, Server Administrator. "…demonstrate your leadership and problem-solving skills in working with Windows Server 2008." (Same upgrade path as for preceding item for MCSA and MCSEs, plus the MCITP Server Admin exam.)
Careful reading of the preceding information and perusal of the related MS Certification Pages (all available through the MCITP Home page) makes several interesting things clear. First, the database certifications for both SQL Server 2005 and 2008 are partitioned into developer, administrator, and business intelligence roles. Second, the Enterprise Administrator emerges as the successor cert to the MCSE, and the Server Administrator the MCSA certifications, and will probably be recognized in the marketplace as such next year. And finally, I see strong evidence that Microsoft has put a lot of time and effort into its cert program designs to make exam requirements more transparent and logical, and to tie credentials to specific platforms and versions so that individuals will have an easier time of explaining or claiming what they know, what they can do, and what problems they can solve to HR professionals and hiring managers in the future.
All in all, the MCITP looks like a serious and hefty credential, especially for Windows Server 2008 Enterprise and Server Administrator credentials, and all the various database credentials. Kudos to Microsoft for defining clear, intelligible upgrade paths, and good certification descriptions and qualifications. This takes a lot of the mystery out of the programs that I and others had to painstakingly decode in previous incarnations.
---
October 3, 2008 3:31 PM
A quick look at the MCTS Web page confirms several observations:
Lots of credentials fall under this umbrella (32 in all)
These credentials cover lots of different ground: .NET Framework 2.0 (3) and 3.5 (6), SQL Server 2005 (2) and 2008 (3), BizTalk Server 2006 (1), Project Mgmt (2), Office Live Communications 2005 (1) and SharePoint Server 2007 (2) and SharePoint Services 3.0 (2), Exchange Server 2007 (1), Windows Embedded CE (1), Windows Mobile 5.0 (2), Windows Server 2003 (1), Windows Server 2008 (3), Business Desktop Deployment (1), and finally, Windows Vista Confiugration (1).
As the foregoing item enumerates, there's something here for nearly everybody in IT: developers, database and platform specialists, administrators, and more
What's not immediately apparent is that earning some of these credentials requires passing only a single exam, while others require two exams. Some of the credentials, such as the MCTS: Microsoft Visual Studio 2008, offer specialties in up to 6 areas, where each one requires passing two exams related to that specialty (7 total number of exams fall under this umbrella, where the .NET Foundation 70-536 exam is common to all of them). Interestingly, Microsoft also indicates where MCTS exams also apply to related MCITP certifications (for example, all the SQL Server 2008 exams for MCTS also apply to MCITP, which adds more exams together and to those requirements for candidates).
Moving to the next rung in the MS certification ladder, the tracks for MCTS lead either to the Microsoft Certified IT Professional (MCITP) or to the Microsoft Certified Professional Developer (MCPD) credentials. Hopefully that explains the large number of developer oriented and platform/administrator oriented offerings in the MCTS program, as well as the large number of constituent credentials underneath this particular umbrella.
Microsoft appears to be moving away from its earlier, more monolithic MCP-MCSA-MCSE and MCSD certifications. The emphasis in this program is more scattered, but that paradoxically allows IT professionals to specialize more narrowly and dig more deeply into the many different platforms and technologies that Microsoft currently offers to its customers. I'm glad to see that the marketplace is endorsing this approach with recognition, salaries, and uptake on both the working professional and hiring organization sides. This can't be anything except good for IT Professionals interested in digging into one or more of these credentials, or organizations seeking to find qualified professionals with specific skillsets.
The only thing I'm not sure about is how much traction some of the service platforms such as BizTalk Server, MS Office Project Server, and SharePoint are likely to gain. I suspect that in these areas we'll see fewer certified professionals and a greater proliferation of other platform focused credentials as they come and go on the MS product landscape.
---
October 1, 2008 9:14 PM
With the end of 2008 now less than three months off, and 2009 chugging resolutely into view on the horizon, it's time to lift your eyes from the day-to-day near horizon of workaday life, and look a bit further out at the bigger career picture. This means asking questions such as:
How much longer do I want to keep doing what I'm doing?
What might I want to do next? (To make things easy on yourself, pick no more than three answers to this question.)
What must I do to prepare myself to meet those goals? Pay special attention to related training, certification, or degrees that might be required or helpful in reaching your goals.
With this kind of information at your disposal, career planning and development becomes less of a "what if?" exercise, and more of a "how do I get where I need to go?" exercise. Of course, upon examination of the latter items, you may (and probably will) end up abandoning some or all of your anwers to the second item above. But as you zero in on what's important to you, and what it's going to take to start making some progress in that direction, you'll also create a blueprint that will let you start to take action as well.
Life is entirely too drab without the dreams and fantasies that often sustain us when things aren't going as well as they might. But nothing beats investing in yourself by making definite plans for improvement, and then acting upon them. I think it's a good idea to indulge in this kind of behavior at least once a year, and hope you will get in the habit as you start thinking about a new year and all the other new (and hopefully improved) things it can bring into your life.
For more details and information on this process, please see my article "Annual IT career checkups help you control your future" at SearchWinIT.
---