---
January 12, 2009 6:50 PM
Every now and then a book comes along that reshapes how people look at the world in which they live and work. Surprisingly to many, a work of traditional architecture by Christopher Alexander called A Pattern Language, ultimately led to the seminal software architecture book by Erich Gamma, et al called, Design Patterns: Elements of Reusable Object-Oriented Software. This latter book has spawned countless imitators in many different areas of the software development world from business software to database to programming languages galore. Interestingly, this is more than just a "me-too" phenomenon: Alexander's original insight that certain elements of design repeat in many different places and ways (which defines what he calls a "pattern") actually works as well, or better, for software where pattern is rampant and visible almost anywhere someone with an analytical bent might care to look.
The latest entrant in the Design Patterns parade comes from Microsoft, in the form of a free e-book. It's called patterns & practices Application Architecture Guide 2.0. It does for .NET Framework based applications what the other books do for different niches: explain how to identify, codify, and use recurring patterns in an interesting and productive way when it comes to creating software architecture, designing applications or services, or building such things (for .NET-based code, this usually means working in Visual Studio with a suitable programming language and add-ins galore to help speed and manage the development process).
If you want to get a deep insightful look into the notion of pattern and how it shaped a genre of software books, read Alexander in the original. If you want to understand why it had such an impact on the software biz, check out the Gamma Design Patterns book. If you want to put this metaphor and method to work with .NET grab the patterns & practices e-book: unlike the other two titles, it won't cost you anything, either. Whoda thunk you could say something like that about Microsoft?
January 9, 2009 11:06 PM
In my ceaseless trolling of the virtual byways and highways on the Internet, I keep digging up interesting sources of  IT career planning information. I can now cheerfully confess to needing a laugh rather badly today, having just elicited a few chuckles from this earnest and well-meaning Microsoft Web page: "Prepare for an Information Technology (IT) Career."
Before I reveal the sources for my mirth, let me make a few additional framing remarks. First and foremost, I don't mean to ding on Microsoft too much here: this page includes plenty of useful, worthwhile information and shows plenty of evidence of careful forethought and editing. Second, I must confess that my Dad is a retired Lieutenant Colonel in the US Army. Thanks to him, I grew up to this mantra: "There are three ways to solve any problem. There's the right way, the wrong way, and the ARMY way!" As I read over this Microsoft Web page, that mantra marched across my memory, for reasons that you will soon see if you visit this page for yourself.
The bulk of the page is a table that describes resources for IT job descriptions, roles, and information; career planning and development; continuing adult education and learning; and even your local chamber of commerce to obtain pointers to career centers and employment offices in your vicinity. There are an even dozen types of resources described in the table. Can you guess how many of them include a link to Microsoft?
If you guessed less than 3, don't forget whose Web site this page is on. If you guessed 6 or more, you may be more prone to "Evil Empire thinking" when it comes to assessing Microsoft's motivation and information delivery skills. The real answer is 5, or 4 if you don't want to consider a link to Microsoft Certified Partners for Learning Solutions a Microsoft link (I do, FWIW). Shoot! They even include a link to their own career site, where the company posts all of its open positions.
My favorite bits of advice on this page are these:
"Network through coworkers, family, friends, and instructors to contact people currently working in the IT career you are considering and request informational interviews with them. This will help you to find out more about their professions and the types of skills they had to develop." [For those already employed and for full-or part time students]
"Talk to counselors, teachers, or instructors in your school's computer department about your career goals, and the training required to reach them." [For full- or part-time students]
The funniest items on this page have to be:
"Talk to your manager and human resources department about your career goals and the training opportunities available to you. In addition to internal training, your organization may provide support for you to pursue external training." [For those already employed] What? You're not grateful just to have a job in this economy? Begone! Begone!
"Review employment ads in newspapers and online, to learn more about available positions in IT and the skills required to get them." [For those already employed and for full- or part-time students] Newspapers!? We don't read/need no stinkin' newspapers! And alas, every blasted one of the online job sites is completely awash in resumes.
Chuckles aside, this page is worth a gander, and probably worth recommending to your favorite underemployed or soon-to-be employed offspring, relatives, friends, offspring of friends, and so forth. All I can say to Microsoft is "Thanks!"
---
January 7, 2009 2:26 PM
I recently ran across an interested article by Lynn Haber at ITCareerPlanet entitled "When IT Certifications Retire." It got me to thinking about what IT professionals can and should do to keep their knowledge, skills, and credentials fresh and up-to-date.
First, let me explain what retirement means in the contect of IT certification. A great many IT credentials–including those from Cisco and MIcrosoft's latest crop (MCTS, MCITP,  and so forth), plus countless vendor-neutral certifications like the CISSP, PMP, SANS, and more–come with what can only be described as maintenance requirements. Typically, this either means meeting yearly continuing education and professional development milestones, or repeating certification examinations at two or three year intervals. This all comes in the name of keeping current.
But when a certification stops being tested, or is no longer available to newcomers–the older Microsoft certs such as MCSA, MCSE, MCDBA, and MCSD are good examples, as are older versions of CompTIA credentials–what then? The answer depends on how relevant those credentials remain to the tasks still at hand, and the jobs that IT professionals perform on a day-in, day-out basis, as opposed to their perceived value and persisting ongoing name recognition.
For IT pros with lots of alpabet soup on their transcripts, I recommend a dual-labeling strategy for resumes and face-to-face career discussions or interviews, including annual reviews, performance reviews, and so on. Divide your certs up into "Current Certifications" (those that remain valid, up-to-date, and still enjoy relevance and name recognition), and into "Certifications Earned" (those that are now out-of-date,  expired, or that no longer enjoy name recognition).
That way, you can concentrate on what remains relevant to your current job, or the job you're going after, while still presenting your entire certification history to those who may be interested in seeing your previous accomplishments and activities as well as your present focus, skills, and knowledge bases. It's not exactly the best of both worlds, but it is a strategy that lets you demonstrate your understanding of current market needs and requirements, as well as enumerating your professional development and activities over your entire working life in IT.
---
January 4, 2009 10:03 PM
A list of New Year's resolutions for those who work in IT, and are seeking to improve upon or build their careers might include the following:
Identify at least two new tools or technologies relevant to your job, and start to learn more about them. If you can obtain trial versions or choose Open Source or other free stuff, so much the better–learning works best hands-on.
Find at least one online or local forum or user's group where you can interact with other IT professionals who share a common platform, tool, or other interest. Please consider this a "hard (technical) skills" element, so that joining ToastMasters to practice public speaking skills doesn't count (see the soft skills item that follows). Examples include the Windows User Groups Network, the Cisco Press User Groups Program, Adobe User Groups, and so forth (your favorite search engine will help you find those that match your platform and tools interests, pronto).
Inventory your soft skills: people skills, project management skills, writing and speaking skills, and so forth. Identify one or two areas where you'd like to improve, and plan to spend some time, reading, studying, and practicing to make some headway in meeting those improvement goals. This is where joining ToastMasters comes into play.
Think about your certification interests and status. Is it time to refresh an existing credential? Time to go after something new? Here again, take an inventory, check renewal or continuing education requirements, and plan to bring yourself up-to-date before the year gets too far along. Haul out a calendar (or use an electronic calendar) to schedule related tasks and milestones for yourself. Often, maintaining certification status requires meeting continuing education requirements at a minimum, so you'll want to dig into those requirements, to figure out what  you must do, and then how best to get things done.
Repeat the preceding item for your continuing academic education. Perhaps you might benefit from finishing an as-yet unfinished degree program, or you may be ready to pursue a graduate degree program of some kind. Examine your possibilities and decide if you want to add some time in academia to your activities for this year. If so, use the same calendar and milestone approach to help keep yourself on track that I recommended in the previous bullet item.
The important thing here is to set some goals for yourself, and then to put those goals–or better yet, incremental steps toward those goals–on a timetable. Then, you can monitor your progress over time and stay on track to meet those goals. I find that regular reminders in my Outlook calendar work to help me stay on top of such things–heck, I even use them to remind me when it's time to get my hair cut or beard trimmed–without letting too much time slip away. Hopefully, the same (or a similar) approach will work for you. If you not only resolve to improve yourself in 2009, but also take definite and positive steps to realize your goals, it can't help but be a better year, no matter what happens.
–Ed–
---
December 29, 2008 5:02 PM
While not all companies' review cycles follow the calendar closely, there's something about saying goodbye to an old year, while getting ready for a new one that leads people to think about where they've been and what they've done on the job, as well as where they're going (or would like to go) and what kinds of work lies ahead (or they would like to see in their futures). Whether sooner or later, if you work for a company of any size, there's probably an annual review on your calendar some time in 2009. Here are some tips to help you get ready for that often angst-inducing periodic ritual:
1. Think carefully about your last review, then answer these questions.
How does your recent performance compare to the period before that encounter?
What kinds of objectives were set for the current review cycle? How have you done in meeting or exceeding them?
What about stretch objectives? Have you made any progress there?
What kinds of learning experiences, problem-solving adventures, or professional development have you been through since your last review that may not fit into your goals or objectives? How can you speak to these in your next review?
What about remedial goals or objectives? If you were given areas or tasks in need of improvement, how can you demonstrate progress or more positive results, attitudes, and so forth?
2. Think about your company's or organization's review process, then answer these questions:
Have you received any accolades or recognition from your manager or others within your company or organization since that last review?
Any significant accomplishments or completions to report?
What have you done to add, enhance, or create value for your employer?
The best way to get a positive review is to prepare for that encounter as often and as obviously as you can in the review cycle interval that precedes it. Particularly when you have areas in need of improvement or remediation, you should speak regularly with your manager about such things on your own initiative, if your manager doesn't do so with you. Even if you don't have problems in need of fixing, or areas where improvement is required or desirable, regular contact and conversation about review related goals, objectives, progress and accomplish is a really smart way to gear up. You should also document such encounters via e-mail, and save them in a folder, so when your review comes you can print them out and bring them with you to the review situation. It's also a good idea to document any kinds of recognition you get for your work, and to follow up with emails on those as well (same reason: creates a compact, portable record you can use during the review process to add substance to your side of the story).
In general, preparation will really help you get more comfortable with the review process. It will also give you a better sense of how you're doing on the job, and help you identify areas where improvement will help you and those you work with. Also, if you can show substantial signs of development, progress, and a growing skills and knowledge base, if only to yourself, you'll have a much better indicator of when it's time to think about moving on when you fail to get the recognition or raises you deserve.
–Ed–
PS: Having exceeded my monthly blog quota with this item (the thirteenth for December) I'm going on hiatus until after New Year's. Happy holidays to all, and my best wishes for a safe and prosperous 2009.
---
December 26, 2008 2:51 PM
It's too easy to get caught up in the working side of life, and to let it overpower other equally important parts. Perhaps because I have tendencies in that direction, I often find myself thinking about how all the different parts of life fit together, particularly work and family life, as the holidays are upon us. That's why today's blog is a rumination on the virtues of balance and perspective where people strive to better themselves by seeking the former, and trying to maintain the latter where the former is concerned!
At any rate, as I found myself assembling various more-or-less-challenging children's toys yesterday in the wake of a frenzied gift exchange and marathon unwrapping session, I also found myself pondering the work/life balance. I have a nearly-five-year-old son, who "needed" his slot car race set, a couple of cool but poorly documented Hot Wheels stunt sets, a modular set of marble raceway blocks, and a 125-piece parking garage set-up put together yesterday. Some of these tasks were pretty straightforward and just required mechanical assembly; others required visual analysis of operation, so that vital adjustments could be applied (one of his Hot Wheels stunts involved a battery powered race cage, triggered by a car arriving from a another stunt; it took me about half an hour to figure out that rocking the car launch forward in its mounts was the only way for the car release trigger to work properly).
As I chugged through these exercises, sometimes solo, and sometimes with the welcome participation of my sharper-eyed wife, Dina, I couldn't help but think about this kind of work (the kind that helps families bond, creates good memories, and turns boxes of parts into precious playthings) versus the other kind of work I'd probably have been doing on just about any other Wednesday during the year (the kind that pays the bills, requires thinking about career and personal/professional development, and planning for continued employability and viability).
My ruminations led me to some interesting realizations:
It's far too easy to devote too much time, energy, and effort to working life, without always recognizing that "the other life" (family, leisure, personal and spiritual growth, or whathaveyou) has to suffer in that exchange.
It's also far too easy to believe that effort on "work work," especially for those who work very hard and seek to better themselves, their families, and their life circumstances, provides some kind of exemption for the "life work" side of the equation. Alas, it doesn't, and far too often getting ahead professionally or materially also means falling behind in other areas.
Building and improving quality of life involves much more than what we do for a living. Stressing work over the other parts is sometimes inevitable, but can't become an exclusive focus or even a partial obsession.
As we plan and plot out our working lives, and seek to climb the next rung, master new subject matters, and better ourselves and our situations, it's important to remember this means expending thought, energy, and effort outside the work domain as well as inside its boundaries. Today, I'm thankful for my family, for the crazy and energetic paroxysms of competing goals and objectives, and for the love that suffuses the interactions and play that family life with small kids involves. Going forward, I want to protect and nurture those things as much as I want to keep the work and cash flowing into the working part of my life. That's what represents balance to me: I hope you'll think about what it represents to you, and seek to strike a better equilibrium in the year ahead.
–Ed–
---
December 24, 2008 4:01 PM
I play pool two nights a week on leagues that belong to the American Poolplayers Association (APA). My Thursday night 9-ball team is composed primarily of people who work in IT. Of the seven people on the team, one is a paralegal, another a hairdresser, and the other five work for Dell (1), IBM/Tivoli (1), NetQoS (1), Megapath (a network management subsidiary of T-Mobile), and me/himself (self-employed technology writer).
One of our number has recently earned his CCNA, by finally completing the second of the two exam sequence for that credential (640-822 ICND1 and 640-816 ICND2), about 9 months after completing the first exam. The second time around it took him three tries to pass, primarily because of the many draws on his time away from studying and toward other things in life: family, leisure, plus a baby on the way. He's 32 and has worked for the same high-tech company for the past 5 years.
When I asked my friend–let's call him Joe–whether or not his newly-earned credential would provide him a salary bump, he thought about it for a minute and then said "No. Probably not. I'll see when my next annual review comes around." When I asked him why he thought that was the case, he observed that his employer is notoriously attentive to the bottom line and that employees tend to come late into their calculations and distributions even when times are good, more so when times are not so good. Right now, 2% raises are about as much as anybody is getting, under any circumstances.
He's getting ready to start on the CCNP for Routing and Switching next, with a goal of earning that credential by the end of 2009 or early in 2010. At that point, he plans to start down the CCIE path for both Routing and Switching and Security, and also plans to start looking around for another job. I've seen this young man grow significantly in skills, knowledge, professional stature, and maturity in obtaining his CCNA and expect him to continue further down that path in pursuing and obtaining his CCNP, and ultimately, his CCIE.
But this story is entirely typical for many early to mid-career IT professionals (Joe has 7 years of full-time IT experience now, and has worked his way up from help desk, to technical support, to infrastructure support along the way). He's also got a bachelor's in Computer Science from a middle tier Texas University and now, of course, the CCNA. When I ask him how he feels about his progress and prospects he's brutally realistic about his situation: "I had hoped to be doing better by now, but with the economy so shaky, I could definitely be doing worse." This only appears to strengthen his resolve to do better in the future, and to turn his advancing certifications into more earnings and improved job security.
So do we all, Joe; so do we all. As we make the transition from a crazy 2008 to an uncertain 2009, I hope all of us can appreciate what's good about our current situations, and resolve to improve them as best we can in the times ahead. What else can we do? You tell me…
---
December 22, 2008 5:02 PM
My colleague and long-time certification industry expert, Anne Martinez, runs a very nice Web site called GoCertify.com. There's lots of interesting content there, not least of which is the information available through its Certifications database, as depicted in this partial screencap from that page: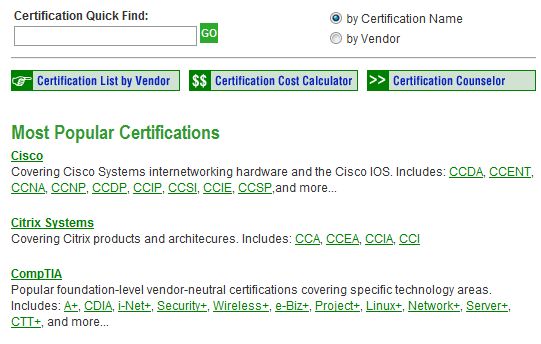 I've used this tool myself many times over the years to slice and dice certification offerings available to the market in all kinds of ways. Ms. Martinez keeps this database reasonably current, making it an unusually good place from which to start looking for information about certifications by topic, expertise level, type (vendor-neutral vs. vendor-specfiic) and a whole lot more.
As an added bonus, check out this interesting story entitled "Five Certification Mistakes You Don't Have to Make." You'll find some interesting thoughts and observations here, good enough for me to repeat the primary points by way of illustration (the ideas are hers, but the pithy paraphrases are mine):
Don't choose a certification just because it's hot or in high demand.
Don't choose a certification because it's easy to earn.
Don't assume your employer won't help with cert costs.
Shop around for the best certification deals
Be sure to set–and stick to–your own certification deadlines
This is definitely one of those cases where I'm happy to let a fellow expert speak for herself, because there's a lot of material in here I couldn't have said better myself. Check it out!
–Ed–
---
December 19, 2008 2:56 PM
Site Member Cruicer had this to say about my recent blog "Can Virtualization Certs Get Real?"
Certs are good, but until the Microsoft's and the VMware's testing centers put individuals in real world situations where they need to think about the answer instead of memorizing the answer to me they are only good to be used as the "tie-breaker" or something an individual has to have for a promotion.
I've been blundering around the certification market with some degree of seriousness since 1996, and have often pondered the whole "Value of Certification?" question in many shapes and forms over the past dozen years. Cruicer's pithy summary here, and his mention of his preference for experience over certification when making hiring decisions earlier in his posting, brings many components of the answer to that question into sharp relief:
Credentials for their own sake don't do anybody much good, not even their holders.
Experience remains the essential tempering ingredient for any mix of degrees, certs, and other ways of declaring and pursuing technical interests.
Certifications work best to help distinguish otherwise equal candidates, and then only when their presence or absence helps to differentiate them.
Multiple-choice exams may actually reflect memorization and test-taking abilities more than they reflect the presence or absence of subject matter expertise. (Incidentally, this is the very same argument that proponents of performance based testing make vis-a-vis conventional testing.)
As I reflect back on my own observations and analysis of what's right and what's wrong about how IT certifications behave, work, and what they reflect about their holders, Cruicer's observations or beliefs ring some pretty profound chimes with me, too.
Let's distill this information into some potentially useful career advice.
1. If you want to get certified, it's best to decide that you also really want to learn something, and develop genuinely useful skills and knowledge.
2. As you prepare for certification, try to get past memorizing the answers to a real appreciation of the subject matter and how it relates to what you do (or can do) on the job.
3. When you refer to certification in the job interview/annual review/promotion situation, make sure you tell others that your certifications are "more than mere merit badges," and then go on to tell your interlocutors what you know, what you can do, what problems you have solved, and how your professional development has advanced or improved thanks to your credentials.
Only then can you get past the "paper certification" stigma, and really use your skills and knowledge to do some good, both for yourself and for those you serve.
–Ed–
---
December 17, 2008 3:49 PM
Interestingly, my latest blog entitled "Can Virtualization Certs Get Real?" has prompted a flurry of e-mail into my inbox. I'm seeing IT professionals weigh in more or less evenly on both pro (8) and con (9) sides of this divide. All are agreed that virtualization technology is important and inescapable, but not all are convinced that certification is the right way for IT professionals to come up to speed in this technology area.
In a way, this is a microcosm for the whole question of the relevance of IT certification to IT job activities, skills, and knowledge. Most of the cons stressed the importance of hands-on experience with the tools and technologies in the context of a particular company's or organization's platforms and applications. Most of the pros stressed the importance of virtualization itself, and argued for certification as a good way for IT professionals seeking to improve skills and knowledge in this area–especially for those who are interested in the technology, but not yet using it in major ways.
If I understand VMWare's classroom requirement for their VCP credential correctly, it's primarily included to provide some hands-on exposure to virtualization technology as part and parcel of the certification itself. But the ways in which I see virtualization popping up all over the place, and in some very interesting forms, argues that IT professionals will have to learn and use this technology going forward, simply to do all the routine administrative and infrastructure tasks they've been doing all along.
Other bloggers have argued that the VCP certification is extremely valuable, which may make my reservations about the training requirement entirely moot. Simply from an ROI perspective, if IT professionals can get the kinds of payoffs that Joe Foran reports in his blog from earning a VCP, it doesn't really matter if they have to shell out $3K to take a class to earn this certification.
It just goes to show you that even in a down economy, market forces still trump most other forms of analysis, even when it comes to certification topics. At any rate, it looks like virtualization is here to stay, and a good bet for IT professional development. And because I'm a firm believer in the notion that demand correlates with higher pay, particularly as use and interest of emerging technologies is on an initial steep climb, before attaining "checkbox" or "commodity" status, it looks like virtualization certification is a good investment for IT professionals for the next few calendar quarters at least. I predict the VCP and Microsoft MCTS Hyper-V/Virtual DataCenter certs will continue to boom, as will other related offerings mentioned in this Datamation article.
---