---
October 16, 2010 2:17 PM
In listening to NPR this morning, with various discussions of how the economy and slow job growth is turning around to bite incumbents on the hindquarters, I couldn't also help but think that while stimulus efforts did pour unthinkable amounts of money into banking and infrastructure they sure didn't pump up job-creation much, if at all. The vicious cycle that persists is that our economy is driven by consumer spending, but that spending remains depressed while unemployment remains high. No spending, no job creation; no job creation, no spending. So, we're stuck in the middle of a situation where things are neither slipping down too far, nor growing too much either.
How to get out of this situation? Economists are starting to project as much as a decade of sub-standard growth (and the recently released Consumer Price Index, which shows continued low inflation, thank goodnesss, is also accompanied by central bank and IMF projections for growth at about one percentage less than usual for some time to come). What we need is some serious innovation, and some good ideas about how to take the un- and under-employed and find useful things for them to do. Anything that gets people busier and boosts overall productivity is good for adding to the bottom line and for creation confidence and optimism necessary for hiring to pick up.
But gosh, things do appear as if we'll be stuck in the middle until my retirement age rolls around. That can't be good!
October 13, 2010 2:48 PM
The upcoming MS online conference I blogged about on 10/7/2010 ("Microsoft Certified Career Conference Online 11/18/2010") has now acquired its own very active blog page. There you'll already find five postings from conference creator and MS Learning gadabout Tjeerd Veninga (from top to bottom):
Of all these postings the Keynote and Sessions & Speakers items are probably the most informative outright, though it's nice to see somebody else who apparently gets a kick out of writing at least moderately interesting blog post headlines (besides me, that is ;-)).
---
October 11, 2010 12:57 PM
As I was pondering this morning's blog, I stumbled across a reference to a company I'd previously known nothing about — namely, Kryterion Inc., a purveyor of "Online Secure Testing" (as per the banner on their Web site) — in checking out some specifics on the SANS GIAC Certified Forensic Analyst (GCFA) certification. It turns out that one of the principals behind the company is Dr. David Foster, a well-known pioneer in computer-based testing technologies (he ran cert testing development for Novell from 1990-1997, and helped create adaptive and performance based testing technologies still in broad industry use today, equivalent to a geological era later measured in "Internet years." Dr. Foster also went on to found well-known psychometrics and test design firm Galton Technologies in 1997, and test security firm Caveon in 2003).
In a nutshell what Kryterion offers is a collection of online security technologies that permit the Internet to be used to deliver exams to certification or licensure candidates, without exposing content or exam answers to third-party sniffing or snooping. In addition, Kryterion bills itself as "…a full service provider of customizable assessment and certification products and services." The company works with organizations of all kinds, including technology vendors, professional associations, educational institutions, and even governmental bodies to "…build and deliver everything from skills tests and simple online assessments to … comprehensive high-stakes worldwide certification program[s]" (I added an "s" to the end of this text snippet to make my quotation gramatically correct).
The really cool thing about the Kryterion technology is that it works for exam development, item creation and vetting, assembly and publishing of exams, and access to results reports using the same enviroment for exam creation, development, and refinement prior to public release that is later used to deliver (and proctor) exams for public delivery to authorized test-takers. The designers even include the ability for customers (technology vendors, professional associations, educational institutions, and so forth) to create customized Web sites that online test takers will use to handle registration, the test taking process (including pre-requisites management, test calendars and availability information), and even retake rules and conditions.  In terms of a different type of Web technology, Kryterion offers a secure content management system (CMS) for certification or licensure exam creation, delivery, maintenance, and reporting — even to the point of offering transcript access to test-takers who've registered with a site and who possess account and password information necessary to access their prior history data after taking an exam.
I'm pretty darn curious to learn who (besides SANS) is using Kryterion's services in the world of IT certification. To that end, I'm forwarding this blog to the Kryterion sales department to see what kind of response it provokes in-house. Although this appears to be the tip of a looming iceberg of entirely Web-based certification and licensure technology adoption, I'm guessing that Prometric and VUE are keenly aware of these efforts, and probably concerned about the long-term implications. Even though many people are lucky enough to live within an hour's drive of a testing center in the developed world, why bother driving somewhere else when your own PC and Web browser can bring the test center to you? And outside the developed world where access to a testing center may involve one or more days of tedious travel, the "bring it to you" model clearly wins hands-down. I think I see the wave of the future…
---
October 8, 2010 8:54 PM
 

 

 Well, OK, then: today's the day that the US Bureau of Labor Statistics publishes its report on the Employment Situation Summary for the month before. As usual lately, modest gain in private sector employment (+64,000 jobs) is offset by higher losses in temporary US Government jobs (more Census workers leaving their desks, their jobs now complete: -159,000 jobs) for a net loss of 95,000 jobs for September.

Some good news, finally for IT workers, though: September showed a net gain of 32,000 IT jobs vis-a-vis the same month in 2009 (Table A-14) as the total numbers of unemployed were measured. As far as I can recall, this is the first upward bump our sector has seen in some time. On the other hand, seasonally adjusted employment numbers (Table B-6) show a modest dip of 3,000 jobs from August 2010 to September 2010 (down from 2,183,000 to 2,180,000).

Where are we going? Nowhere, and not very fast. The "hunker down" mentality persists in corporate boardrooms, and until they open the taps on hiring, we're likely to stay in the same sad place. Keep the faith!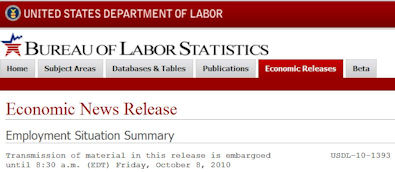 ---
October 7, 2010 3:56 PM
I just got an email day before yesterday from the folks at Microsoft Learning's PR agency, Waggener-Edstrom, informing me that MS would be hosting an online career/certification conference on November 18, 2010. At the time, details were still kind of sketchy and I'm waiting to hear back if they're going to let me attend and report on activities and events while that conference is underway, as well as seeking more detailed information on topics and voerage planned for the conference.
In the meantime, I found this blog posting at the Born to Learn blog that appeared on October 5, as well: "Sessions & Speakers at the Microsoft Certified Career Conference" by Tjeerd Vinega. It provides more information about what the conference will cover as it runs for 24 hours online on 11/18/2010 (I still can't figure out when that clock starts ticking in terms of Greenwich Mean Time or Universal Coordinated Time, but that's another story). What it doesn't say is that this conference requires attendees to pay $50 (at least in the US) to attend, as well as to register in advance so they can guarantee themselves access.
What it does say, however, is pretty interesting. Dick Bolles, author of the famous book What Color Is Your Parachute?  (a book that's been in print for nearly 40 years, and has sold over 10 millions copies) will kick off this conference. Stephen Rose, senior community manager at Microsoft  will present a session called Building and Managing Your Brand (i.e. You) as well. Attendees will also get access to sessions in the following tracks:
Career Essentials: Sessions on finding a job before graduation for the college crowd, preparing for unexpected career changes, and general career info and advice
Microsoft Official Courses: these will be teaser segments, not entire courses, on subjects that include SQL Server 2008, Windows 7 desktop deployment, Windows Server 2008 Active Directory, SharePoint 2010 administration, and Exchange Server 2010
60 Minute Rock Star: intensely focused sessions for working professionals designed to boost skills and knowledge; products covered include PowerPoint, Finance, Windows 7, e-mail, and Exchange Server 2010
A Day in the Life: War stories from newbies and seasoned professionals about life in IT nowadays
Opportunity Knocks: Information about hot new MS technologies that might boost employability, including Azure, Windows Phone 7, and cloud-based e-mail solutions
Super Cert Me: Exam prep information for various MS cert exams, including Microsoft Office Professional and MCTS topics
I'm still digging for more details, and hope to report on same as they become available, but you can always see for yourself what's up through the conference registration page.
---
October 4, 2010 2:43 PM
Nelson Velez at Certification Magazine has penned a nice little article entitled "Tips to Build a Solid Foundation in IT" (10/4/2010) that aims solidly at aspiring IT professionals seeking to gain entry into this field.
He recommends the A+ as a good starting point for IT certification, and goes on to prescribe learning and experience in the following areas:
Networking with a strong emphasis on the OSI network reference model and basic IP and networking hardware skills and knowledge (unsurprisingly, the Network+ cert also comes in for mention here, too).
Operating systems skills, with mention of Windows, Linux, and Unix, and a reminder that server skills are important for those seeking IT employment, as well as desktop skills.
Mention of IT specialties call out routing and switching (Cisco's CCNA gets singled out here), wireless networking (CWNA makes the grade in this category), and information security (no certs come up for discussion, but a number of topics that include OS hardening, firewalls, ACLs, IDSs, and endpoint security are all tossed out for consideration).
This information is all well and good, but it cries out for more detail and coverage for what it doesn't say, as well as for what it covers. For one thing, it's worth noting that entry level certifications like A+, Network+, and CCNA are all well and good but that these seldom suffice to land aspiring candidates in positions they seek without more education and a modicum of experience to back them up. Entry-level certs are best viewed as stepping stones to more advanced credentials, in fact, where those more advanced certs (such as CCNP or CCDP to follow up on CCNA, or advanced OS-specific networking crendentials for Windows, Linux, Solaris and Red Hat to follow up on Network+) can indeed help employability and open additional job options.
I'll wax eloquent and occasionally profane over these subjects in blogs to come, but for now let me observe that an associate's or bachelor's in any of computer science or technology, management information systems, or data management/processing is also designed to provide a basic understanding of the principles and processes of IT as practiced in business, academia, government, and industry nowadays, and that aspiring professionals will be well-served to pursue academic credentials as well as IT certifications.
---
September 29, 2010 1:25 PM
Deborah Gauer of Microsoft Learning recently posed an interesting scenario  to its IT Manager Advisory Council, to wit:
You are the hiring manager in an organization that is running an older version of Microsoft software (eg. Windows Server 03, Visual Studio 2005, etc.).

Would you be more or less likely to hire a candidate if they hold a certification on the newer version of the same Microsoft software (Windows Server 08, Visual Studio 2010, etc.)?
Why?
Her blog "What Matters to Hiring Managers – Certification and software versions" (9/27/2010) then goes on to recap responses to this question from 8 different managers on the council. Interestingly, 5 of those 8 answered "Yes" to the question, from the standpoint that back-rev technologies are likely to advance with time, and that all other things being equal, it's better to have a person in the job who's already familiar with the latest MS technologies (or at least, their certifiable versions anway). The other three basically answered "That depends…" where their experience obviously showed them that some versions of MS software and tools can change substantially between versions, and that when major functionality switches occur, it's important to make sure the candidate can do the job that's needed, irrespective of the value of the newer certification (changes to AD from Windows Server 2003 to 2008, to SQL Server 2000 versus 2005/2008, and .NET 2.0 versus .NET 4 all came in for specific mention in this context).
This pretty much accords with my own experience in talking to employers about certification, and the relative merits of current credentials as compared to certs on older versions of the same or similar technologies. If you want to learn more, read the blog: it's got some great quotes to share.
---
September 27, 2010 4:11 PM
As of November 8, 2010, Cisco will be offering updated versions for some of the exams for its Cisco Certified Design Associate (CCDA) and Cisco Certified Design Professional (CCDP) certifications. There's only one exam for CCDA (640-863 DESGN), but the exam that's changing for CCDP is "Designing Cisco Network Service Architectures" (642-873 ARCH). Although the exams are being refreshed, neither their ID numbers nor designations are changing, which indicates only modest alterations in exam coverage and content are in the offing.
Would-be CCDA and CCDP candidates must use the following exam objectives if they want to take either of these on or after November 8, 2010:
The most current versions of exam prep materials from Cisco Press should remain accurate for the updated exam materials, though you may want to keep your eyes peeled for updated versions.
---
September 22, 2010 1:42 PM
This morning I took a couple of minutes to clean out my Outlook folders, and found an interesting email in my spam folder where it had been mis-classified, probably because the message sender had crafted some text that made it look like a solicitation of sorts. In reality, the message originated from my Website and formulated a number of interesting questions — to which I also append my answers, before ruminating on a an entirely understandable but not always practical impulse that the questions clearly contain:
Is a CCNA by itself enough certification to provide an entree into the job market?
Alas, no: the CCNA is really just a stepping-stone to other, more advanced Cisco credentials, as the author's next question shows that he or she understands pretty well already.
Must I go on to earn a CCNP or some other more senior Cisco certification to gain any employment benefits?
Alas, yes: a CCNP represents something between a checkbox item (something everybody needs to qualify for certain positions) to an outright differentiator (something somebody can use to gain an edge on otherwise similarly qualified job applications) when it comes to going after lots of various networking jobs (obviously, those with a strong focus on Cisco infrastructure elements).
I'm also pursuing a Bachelor's in Chemical Engineering. Is there some way I can combine my Cisco certs with my degree?
Uhhh…gee…I dunno if this even makes sense, unless you're going to get involved in the manufacture of networking equipment and even then the connection is more in the eyes of its pursuer than in any kind of obvious or even overt synergy. Without conducting deep research, or spending a lot of time in pondering this, my immediate impulse is to say "Here's a case where you must go one way or the other, because there's no obvious or easy way to do both together."
But gosh, I certainly do "get" my interlocutor's obvious wish that various aspects of one's professional life interlock together, and that the resulting whole be at least equal to, if not more than, the sum of its constituent parts. All I can say, in chewing on this wish in light of the combination proposed — and lots of others I can think of, turning first and foremost to my own early-career transition from anthropology to computer science, once I realized the chances of gainful employment were much higher if I worked in the latter field, no matter how interesting and absorbing the former one might have been — is that sometimes our wishes for coherence and useful combinations of truly different and disparate things exceed our abilities to put those things together in workable fashion.
People invariably have lots of different interests, both personal and professional. Sometimes, we can reconcile and combine those interests to create something that pulls various things together, and sometimes we can't. Honestly, I'm a bit stumped as to how one might really and truly go after a combination of chemical engineering and Cisco certification (ideas anyone?). And thus, because I can't see a connection, I'm also bound to float the possiblity that it may be difficult or impossible to find such a connection and make it work.
That doesn't mean my writer shouldn't try; it only means that in asking me for advice on how to pursue such a connection I really can't offer much useful information to help that process along. Maybe I'm overlooking something, whether obvious or otherwise, and in that case I hope my readers will post comments to help me remedy that deficit. I'd love to have grounds to offer better input than I have currently formulated, which is to say that it looks to me like the person must go down one path or the other — in other words, to bag the ChemE side and do (Cisco) networking, or to drop the (Cisco) networking and do ChemE instead.
Life is full of choices, and not all of them are easy ones. From my current vantage point, this is a branch in a decision tree, not a shared pathway. What do you think?
---
September 20, 2010 1:18 PM
If you're willing to accept the conflation of jobs and observation into the word that appears in this blog's title, you'll also grant that such things have not been overly rosy since 2008, when the recession took real hold in the US and elsewhere. Here's what one of my favorite news publications (The Economist) has to say about the current state of our recovery from that recession in an editorial entitled "Are we there yet?" dated 9/16/2010:
…history suggests that although nascent recoveries often wobble for a quarter or two, they rarely relapse into recession. For now, it is most likely that America's economy will crawl along with growth at perhaps 2.5%: above stall speed, but far too slow to make such difference to the jobless rate…
And indeed, the problem with jobs right now is that while they're growing very little by very little, that little is so small that it can't begin to make a dent in the 8 million or so jobs lost since the recession began, not to mention the 1-2 million or more new would-be jobholders who enter the job market each year. No wonder jobs are such a major preoccupation for the general population and for the politicians who serve them (and who also face re-election at regular intervals, especially this November).
Unless the current administration can wrestle sufficient cooperation from the Republicans (like that's going to happen) to push through some kind of major government-backed jobs program, we may be stuck in this situation of modest/minor economic growth without a real increase in jobs (the famous "jobless recovery") for another two years or longer. In that same time, the number of jobless could grow further, not just because of the lack of new jobs being created, but also because of the numbers of new job-seekers that enter the workforce — or that try to enter the workforce, anyway — each and every year.
---