---
December 16, 2013 2:32 PM
Saw a very interesting press release from CompTIA over the weekend. Dated December 9, it's entitled "CompTIA Applauds Chicago Public Schools Plan to Make Computer Science a Core Subject." The title captures the gist of this effort nicely — namely, that Chicago schools will start to require at least one computer class for every high school student; that they will offer at least one computer class at every high school; and that they plan to "help students learn the tools required to build computer applications and programs, starting in elementary school."
I sincerely endorse and applaud this effort, and I'll tell you why: since August, I've been assisting at my son's elementary school with an introductory programming class taught from 6:30 to 7:20 every Wednesday morning (that's when the first bell for the morning start rings at our local elementary schools, where classes kick off officially 10 minutes later at the second bell). We have 30-35 kids showing up that early each Wednesday, and we had to turn an equal number of would-be attendees away because of class size limitations this semester. Next semester, we'll "graduate" 20 of those 35 students to an advanced level class, and open a new introductory class to a new pool of applicants, while allowing some interested students who want to repeat the introductory class to do so.
Enrollment in our classes is limited to fourth and fifth graders, who constitute about one-third of the total student body (or about 400 kids total, in round numbers). I believe we could easily double or triple enrollment for this early morning adventure if we had more instructors and facilities. That's what also leads me to believe that a computing class could easily become part of the standard curriculum somewhere at the fourth-, fifth-, or six-grade level. I would envision a regular curriculum as consisting of at least these three parts, and possibly more:
1. A general introduction to computing, with coverage of basic systems architecture (system organization, what's a CPU?, exploration of graphics, memory, storage, and networking subsystems, and so forth), plus discussion of basic computer operator systems (Windows, MacOS, Linux), the command line, and basic system maintenance (applying updates, using antimalware packages, disk cleanup, and so on).
2. Basic introduction to coding. We're using Microsoft's free and interesting (but limited) SmallBasic right now, but I could see using a combination of HTML5, CSS3, and JavaScript instead, or some other simple IDE environment instead. The idea is to teach simple design and coding skills to the students, and give them a sense of how to manage input and output, handle events, deal with errors or out-of-bounds conditions, and so forth.
3. Safe computing skills and practices. How to avoid phishing, steer clear of malware, engage in appropriate social networking, manage e-mail and online activity. Review security settings in browsers, understanding antimalware packages, stick to safe websites, avoid drive-by downloads, and so on.
Because our school-age kids can neither avoid nor ignore the digital world, it's best that we equip them to be savvy, polished netizens of that world. For those who are interested in finding work in that sphere, school programs can help them take important first steps to understanding key job roles in IT — especially systems and network administration, software development, and information security principles and best practices — before they move onto college-level coverage of these topics. I think that however surprising it may be for me to utter (or for you to read) that Chicago schools are leading the way toward systematic and thoughtful development of technical literacy in computing and information technology, it's indisputable that their efforts are worthwhile and potentially quite valuable. Valuable enough, I believe, that this kind of effort should become a part of the standard curriculum from fourth grade all the way through high school in our current K-12 curricula.
December 13, 2013 3:10 PM
Yeah, sure, I could be talking about sugarplums and holiday cheer. But hey, this is an IT certification and career blog, not the North Pole News Flash (though if you want to see as strange and wonderful an intersection between the holidays and certification check this out: "Is Your Santa Claus Master Certified?"). At this time of year for people in my line of work, rather than making a list and checking it twice for presents to put under the tree and into the stockings, we're making lists of different sorts to get folks excited about the prospects for another year. That's why I find myself enmeshed in the following projects:
1. Compiling a list of the most in-demand IT skills for 2014 for TechRepublic
2. Updating all of my Hot IT Certification lists for Tom's IT Pro from 2013 to 2014 (content refresh, in other words)
3. Working with colleagues at GoCertify/Certification Magazine to plow through responses to the 2013 Salary Survey
4. Looking for leads anywhere I can find them about the IT certifications that IT pros, their employers, and industry analysts find most interesting, in highest demand, and trending most strongly upward, respectively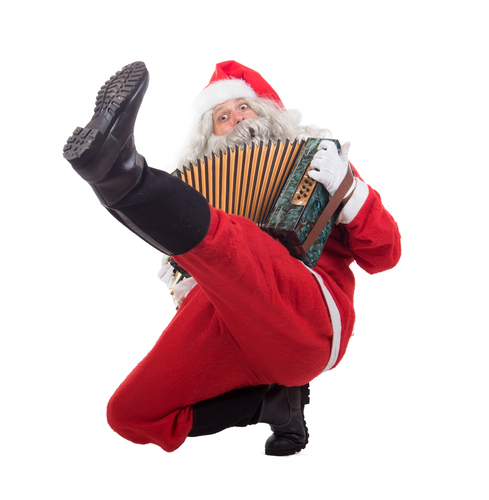 Certification Santa has a lot more to do than hand out presents or lumps of coal. He's got other hoops through which he must jump. Who says he can't have fun along the way?
[Image Credit: Shutterstock 163205465]

What I'm finally starting to see in many different walks of IT life and in many different IT-related markets, industries, and avocations, is a real sense that "things are picking up." In the last quarter, I've seen several new certification programs or credentials get going (Veeam, Centrify, the (ISC)2 HCISPP, INFORMS CAP, and more), with several major certification programs witnessing new additions or even makeovers (Microsoft, VMware, Citrix, Brocade, and many more). In my 15 plus years of tracking the IT cert market closely, I've noticed that training and certification tend to follow just behind the markets and to push their investments and changes hardest when they see the changes of growth and expansion starting to materialize in tangible measurable form. Does that mean they've observed tangible signs of these things in their market sectors? I have to believe this is indeed the case.
And if that's true, it looks like 2014 could finally be the year in which the IT sector gets back to full employment, where solid growth and demand for highly skilled technical professionals finally starts putting more cachet back into IT certification, specialized technical skills, and  other such things. It might even mean more opportunities among which the highly-qualified can choose, and a generally rising tide of employment for the entire sector. Here's hoping, anyway: may 2014 actually turn out to be as positive and affirming as my current analysis and beliefs make it appear to me right now. In other words, may we finally feel a bit of acceleration in our sector after 5-plus years of "slow growth mode." But as always, only time will tell, so I hope these promising glimmers of improvement actually blossom into the full-blown variety.
---
December 11, 2013 7:59 PM
Last week I got an email from Julio Urquidi, one of my colleagues and editors at Tom's IT Pro, informing me that he'd seen a press release about a new certification program from a company named Centrify. He went on to add that he'd become familiar with their products while working at UCLA in a previous job, and had always found their products to be solid and reliable. Intrigued, I started digging further and discovered that indeed Centrify offers an interesting and popular collection of unified identity management and directory services-based authentication tools that are widely used in industry, research, academic and government settings both here in the USA and worldwide.
Centrify hasn't created a badge or logo for the CCSP yet, but the program gets a cool shield logo as a whole.
Yesterday afternoon, I caught up with Dean Thompson, VP of Technical Services, Sales, and Support at Centrify by phone to discuss the company's initial certification credential and some surrounding information I wasn't able to elicit from the Centrify Website. First, here are the basics that you will find there:
Centrify Certification Program home page
Certification Name: Centrify Certified Systems Administrator (CCSA)
Certification Focus: Centrify Server Suite, Standard Edition
Cost of CCSA Exam: $150 (exam is delivered online, 150 questions, 120 minutes, 80% passing score)
CBT version of training class CTS-CSSE-1CBT available, $500; ILT version CTS-DCS-10S runs 3 days, $1,500 (taught on-site and at California and Georgia locations to the public, 10 student maximum for on-site classes)
Pre-requisites: none, but three or more months of hands-on experience working with the Centrify Server Suite, Standard Edition for both deployment and administration is highly recommended
Given this information, I still had some questions for Mr. Thompson, all of which he was able to answer in a very short phone call between flights (I caught up with him at ORD, aka Chicago-O'Hare, getting ready to board a plane after a weather delay). His answers convinced me that the Centrify certification program is very much on the up-and-up, and worth digging into for those who work with its products and platforms, or who might be interested in developing additional competencies in Identity and Access Managements tools and technologies. Here's a choice bit of Q&A from yesterday's call:
Q: Some stories about the CCSA and the program indicate it's aimed primarily at partners. Do you certs also work for end-users or admins for the technology?
A: Our certifications are designed to validate skills, knowledge and experience with our products and platforms, no matter who takes them. Of course, we do want to vet our partners in this regard, but our certifications are open to the public, and to all interested parties who might want to demonstrate their skills and knowledge with Centrify solutions.
Q: Will you be administering your exams through Pearson VUE, Prometric, or another testing company?
A: Our exams are all online, and are not proctored. We guard against fraud and impersonation by requiring identity checks for exam takers, and against cheating by requiring candidates to answer a large number of questions (150 of them) in a relatively short period of time (120 minutes, or 2 hours—a rate of 5 answers every 4 minutes, on average).
Q: Can CCSA candidates challenge the exam directly, or must they take a course to qualify to take the exam?
A: Candidates are not required to take any training; it's provided as a courtesy and as a convenience for the company's partners and user base.
Q: Do your credentials require periodic recertification? If so, how is this accomplished?
A: Centrify certifications must be renewed every three years. Currently, the only way to do this is to re-take the related certification exam. There is no continuing education or alternative activity (courses, publishing, teaching, research, and so forth) option at this time.
Finally, I asked Mr. Thompson what was next for the Centrify certification program. Given that the company's product line-up includes Enterprise and Platinum editions of its flagship Identity and Authentication Management offerings, I wasn't at all surprised to hear that next up in this sequence will be the Enterprise Edition, which incorporates all Standard Edition elements, plus DirectAudit elements for both Windows and UNIX/Linux environments. Somewhat to my surprise, he indicated this next certification would be available early next year, in either late Q1 or sometime in Q2. After that, the company plans to work its way through other key product offerings to further extend its collection of credentials, but those specifics are not yet available – though the Centrify team has promised to notify me as soon as their plans and timetables are more fully defined.
Obviously, as is the case with most vendor-specific IT certifications, the Centrify credentials are of greatest interest to those who work with the company's platforms and products. I'm impressed with what they've put together and how they plan to deliver and maintain their credentials, and would definitely urge current or prospective administrators, installers, or consultants who work with the Centrify products to dig further into their cert program and its offerings. Their exams are inexpensive ($150), and their CBT and classroom training dirt-cheap by comparison with many other programs. Given that their products are highly regarded and widely used, investing in Centrify certification looks like a safe and smart bet for partners, companies that use these products, and individuals who work with them.
---
December 9, 2013 7:16 PM
In other blog posts here and elsewhere, I've mentioned the Microsoft Software and Systems Academy, a military-oriented offshoot of the company's IT Academy program which has branches at high schools, community colleges, technical schools, and even some four-year colleges and universities around the US (and all over the world, actually). A pilot program had been set up this past summer, which put a group of 22 service men and women through a 16-week training program at Joint Base Lewis McChord (JGLM) set up in partnership with a local St. Martin's University campus in Washington State. This first batch was honored last week on campus in a ceremony described in this story from the JBLM newspaper, The Northwest Guardian, entitled "Service members looking to the future." Senator Patty Murray gave the ceremony keynote, as a key contributor to the "VOW to Hire Heroes Act" legislation passed by the Congress in 2011 that helped provide funding for this venture.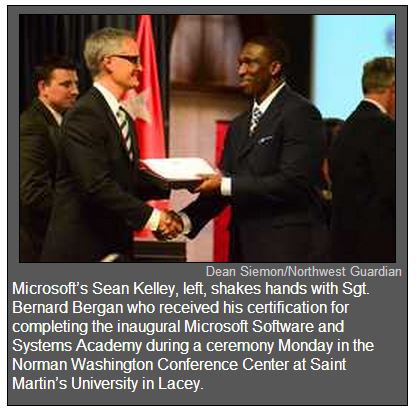 This first group of attendees generally signed up to start the 16-week program in or before August, leading to a completion date in late November. The curriculum included course elements on the C# and R programming languages, along with HTML, CSS, and JavaScript, to help equip them to work in and around Web development projects (here's a brochure that describes the program in PDF format, including entrance and qualification criteria). According to the Northwest Guardian story, many of the initial program graduates "…were offered jobs that start [in] January," including Sgt. Bergan (pictured above).
Microsoft has indicated it will hire some of these graduates itself, while others will go to work at technical staffiing company Launch Consulting, to work as contractors for Microsoft and other high-tech employers. So far there's been no precise word on what kinds of certifications are being conferred at the successful conclusion of the 16-week program, but my "educated guess" is that it's either one of the MTA or MCSD credentials with a Web programming focus. I've got a call into Lorna White at Microsoft to try to tease out this all-important detail, and will modify this blog post as soon as I find out!
---
December 6, 2013 4:06 PM
It's the first Friday of the month and with it comes another opus from the US Bureau of Labor Statistics, reciting the employment situation for the previous month. Even as more workers entered — or returned to — the workplace, unemployment still managed its biggest drop in quite some time, from 7.3 percent in October to 7.0 percent in November. With 203,000 new jobs added in November as well, and modest upward revisions to employment numbers for September (+12,000) that offset small downward revisions for October (-4,000; net gain: 8,000 over both months), the news was pretty positive overall. In fact, because the average forecast for new jobs in November was around 180,000 and the actuals came in at 23,000 over that mark (12.8 percent better), we see something of a "hat trick" in this latest report: a dip in overall unemployment, upward revision to recent reports, and better-than-expected numbers in the most recent employment figures.
What does this latest set of figures tell us? We're clearly still in slow growth mode, because at least an additional 100,000 new jobs per month are needed to start whittling away more effectively at overall unemployment. But it looks like some modest acceleration in job growth may finally be underway. Perhaps it's just the usual effect of hiring for the holiday buying season, and the foot will leave the pedal early next year. But for the moment, at least, it looks like the pace has picked up just a tad.
Overall unemployment is down nicely for the information sector, but no noticeable job growth there as yet.
Table A-14 shows some trickle down into the Information sector, too. Whereas the sector reports fewer unemployed persons in November 2012 version the same month this year:187,000 in 11/12 versus 176,000 in 11/13, the respective unemployment percentages tilt more strongly: 6.8 percent for 2012 versus 6.4 percent in 2013. Why is this an interesting shift? Because these figures mean that total information employment in 2012 was 2.75 million, and exactly the same in 2013 (2.75 million again). Though unemployment has dropped, the Information sector still hasn't added to its overall job count.
Methinks this may be forced to change soon, because 6.4 percent unemployment is getting closer to the typical 5-6 percent range that represents full employment for most sectors of the US economy. As the counts edge close to that threshold, I'd expect to see the sector finally start adding new jobs overall, at long, long last.
---
December 4, 2013 2:50 PM
The SANS Global Information Assurance Certification, or GIAC, program is nothing if not forward-looking. Driven by constant input from a cadre of loyal adherents and followers, the GIAC program stays pretty much at the forefront of information security topics, tools, and technologies. That's why upon reading at GoCertify ("Latest Certification Updates") about the organization's new GIAC Mobile Device Security Analyst, to which the seemingly unrelated acronym GMOB applies (until I had a Homer Simpson moment — "Doh!" —  and realized it meant "GIAC Mobile"), I decided to dig a bit further into its content and coverage.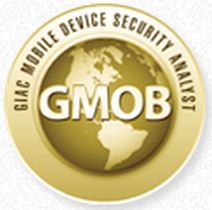 The latest mobile security GIAC cert stresses mobile device penetration testing and mobile application security analysis.
A quick look at the GMOB home page makes it clear that the credential focuses on operational security, with an emphasis on hardening mobile devices, and making sure that communications between mobile devices and corporate systems is protected from snooping and eavesdropping through all technical means available. More specifically, here's what this credential takes as its primary objectives:
General understanding of mobile device architectures, operating systems, and security features.
Assessing mobile devices to find and mitigate security vulnerabilities and deficiencies.
Ensuring technical knowledge necessary to conduct mobile device penetration testing.
Understanding how to conduct a basic security analysis for mobile applications.
Able to understand and apply security policies in a mobile device environment.
Familiarity with common attack methods for mobile devices, such as jailbreaking, rooting, sidejacking, and web application attacks, and methods to remediate or mitigate them.
Able to employ common protection techniques for mobile devices, such as encryption, VPN, configuration management, content filtering, and more.
As is its usual practice, SANS offers a training class to prepare candidates for the GMOB exam — namely, SEC575: Mobile Device Security and Ethical Hacking (6 days, long course, $4,645). Alternatively, candidates may simply challenge the exam without taking the class (2 hours, 75 questions, $579; cut score: 66% ). This credential must be renewed every 4 years to stay current, either by re-taking the exam, completing a continuing education requirement, or other means (see "Certification Maintenance Guidelines & Requirements" for more information).
---
December 2, 2013 11:03 PM
This blog post picks up where my prior November 20 item "Mobile IT: It's the New Raison d'Etre for Information Technology" left off. In particular, I'm digging more deeply into what I learned about upcoming certification changes and new introductions from Ophir Erez, Senior Director of Education Programs at Citrix. The original impetus for my mid-November phone interview with Mr. Erez came from a personal observation that much of the look and feel, and apparently also, a lot of the content, for the Citrix Certification pages had recently changed. My observation was confirmed when Mr. Erez indicated that recent and upcoming changes to Citrix certification credentials and their surrounding infrastructure represents "…the most meaningful change to our framework in the past decade…"

The tiers remain the same, but the silos for content are changing dramatically.
When asked about what motivated such broad and sweeping changes he replied that "…certification has to evolve as the world evolves…" More important he also asserted that Citrix is seeking to provide tools and training to foster the "successful adoption of technology" across what he called "the whole talent eco-system — namely, employees, partners, and users" where the idea is to stress hands-on exposure, in-depth validation of skills and knowledge, and constant efforts to keep cert coverage relevant to on-the-job needs and situations in the workaday world.
Mr. Erez also said a number of things that captured my attention, not just because they speak of shifts in philosophy at Citrix, but also because they speak to broader changes in the drivers for IT certification programs from many sponsors and sources:
moving to a solution oriented information domain, which is broader than a product or platform focused approach, and takes necessary cognizance of other third-party products and platforms (he mentioned both Microsoft Server, and a variety of virtualization technologies in this context)
a desire to address customer needs directly and forcefully, and an equal motivation to enable and facilitate positive business outcomes (to me, this testifies eloquently that the "gee whiz" days of cool new technologies for their own sakes' is coming to an end, and is being replaced by more more focused attention on what kind of ROI cool new technologies can and should deliver to their buyers)
Workforce mobility in general, and to some extent also Windows as a Service (which I often think of as the most common case for "Desktop as a Service"), is driving Citrix strongly into mobility (where the target end-user devices may not even run Windows, yet still need access to Windows apps and services). Urgent market needs are, in fact, driving them to develop an entire Mobility silo in their overall certification offerings. In early 2014, the professional level Mobility cert will make its debut, with the Expert level looming further out later into 2014. Presumably, an associate level may make its appearance sometime thereafter. The reasoning for this mid-tier introduction is, in Mr. Erez's words "…end to end mobility (devices, apps, and data) is not easy and therefore we will start at mid-tier for an implementer, because that is where the market need is."
There's a lot more interesting information from this interview about the Networking certification silo at Citrix, but I'll save that for another blog post. Suffice it to say that interesting changes are indeed a-working at Citrix, and there's a lot to say about what the organization is doing to update and enhance its training and certification programs and offerings. Stay tuned for another thrilling episode in the next week or two!
---
November 27, 2013 4:50 PM
I'm innately suspicious of IT certification programs that require cert candidates to take expensive, multi-day classes as necessary pre-requisites before allowing them to challenge the exams that lead to such certifications. That doesn't mean I don't think all of the many programs that levy such requirements are questionable, worthless, or do more harm than good. Case in point: VMware which, except for a narrow window following a new major platform version release wherein they permit VCPs and higher to take an "upgrade" exam without taking a class, otherwise requires all of its cert candidates to take official curriculum classes to gear up for the related cert exams. Their technology is important and popular, their training is sound and well-designed, and their certifications are deservedly highly regarded. There's only one thing "wrong" with them: they're pretty darn expensive, too.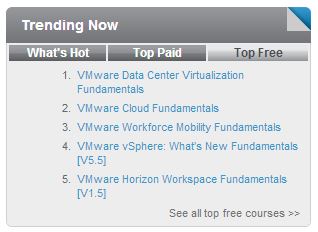 VMware's Free Fundamentals training classes offer quality, 2.5 hour basic topic coverage at no cost to attendees.
That's why I was tickled to discover a whole raft of free VMware Fundamentals courses on the company's web site. Currently, their Top Free Courses webpage lists 30 (of a total of 50) such items. Here's what the top 15 look like (with links to match; all are self-paced and video based):
1. VMware Data Center Virtualization Fundamentals
2. VMware Cloud Fundamentals
3. VMware Workforce Mobility Fundamentals
4. VMware vSphere: What's New Fundamentals [V5.5]
5. VMware Horizon Workspace Fundamentals [V1.5]
6. VMware VCP-DCV 5.1 Exam Preparation Workshop
7. Virtualizing Microsoft SQL Server 2012 with VMware [V5.X] Fundamentals
8. VMware ThinApp Fundamentals [V5.X]
9. VMware vCenter Operations Manager Fundamentals [V5.X]
10. VMware vSphere: What's New [V5.1]
11. Business Continuity and Disaster Recovery Design [v5.X]
12. vCloud Networking and Security Fundamentals [V5.X]
13. VMware vCloud Director Fundamentals [V5.1/V5.5]
14. VMware View: Fundamentals [V5.0]
15. vCloud Automation Center: Fundamentals [V5.1]
That's a whole lotta free fundamentals, covering a broad range of interesting, informative and potentially useful topics. These classes generally run 2.5 hours or so in length, demonstrate high production values and quality content and coverage, and will help ease prospective candidates into the first steps toward the respective certs to which they relate. My guess? These fundamentals are intended to show the public that VMware's required training is not simply a money-extraction tool, but is intended to make sure that candidates really do learn (and interact with) the tools, platforms, and technologies around which their certification credentials are focused. As I understand it, the real reason VMware requires training is that they want to make sure that rote learning alone can't get their certifications into candidate's hands. The required training means that all candidates must spend some significant time learning about such things passively in a classroom or self-paced situation, but then also practicing and demonstrating skills and knowledge in the virtual labs that invariably accompany such materials.
Thus, these high-quality free fundamentals serve a dual purpose: to help the general public learn some basic facts and aspects of the company's products and platforms, and to show prospective cert candidates (and their managers) that the mandatory training does in fact deliver value for the money it costs to attend such classes, either in the flesh in a classroom or virtually online. Given the importance of virtualization in today's IT infrastructures, its absolute centrality to cloud computing, and growing trends toward increased and more widespread adoptions of such technologies in the future, VMware is staking out its place as a major player in this IT market niche. The "Free Fundamentals" make a nice teaser to draw the uncertain or uncommitted into their clutches. And for once, in the face of blatant marketing tactics used to add value as well as create incentives to buy into a technology vision, I approve!
---
November 25, 2013 2:45 PM
In mid-October 2013, VMware acquired Desktone, a leading player in the "Desktop as a Service" (DaaS) space. At the same time the company's Horizon View platform supports delivery of Windows desktops and applications to mobile users on a wide variety of devices. This puts standard corporate desktop capabilities into the hands of users who may have only smartphones or tablets running Android or iOS at their disposal, as well as more typical "road warriors" armed with Windows notebooks, laptops, or tablets (as well as other desktop OSes such as MacOS or Linux).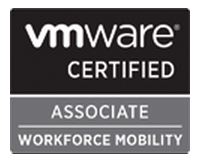 The first step in an associate – professional – expert  cert sequence for mobility is out;  more to follow in 2014.
At the same time, VMware is rolling out a Workforce Mobility certification track, and has made its VMware Certified Associate – Workforce Mobility (VCA-WM) credential available to interested candidates. A Professional-level follow-on credential will be out in 2014, with more advanced tiers to follow thereafter.
All this tells me that VMware is taking cloud-based virtual desktop technology incredibly seriously, and betting at least part of its future on delivering products, platforms, training and certification to arm its partners and customers to cope with a brave new part of the IT landscape as soon as they can put up the necessary scaffolding and infrastructure to support that effort. The acquisition of Desktone speaks loudly to their desire to do more than enable cloud-based VDI, but also to become a player at the services end of that business.
Thus, it will also be really interesting to see how the various Workforce Mobility certification credentials unfold, and what kinds of capability for defining and maintaining images will be exposed to the IT professionals charged with turning the general idea of DaaS and mobile, device-agnostic access to virtualized, cloud-based Windows desktops into working and viable desktop infrastructures for everyday mobile and remote use. We're in the process of doing nothing less than reinventing IT as we know it — or so I am convinced — so it should be simply fascinating to see how all this unfolds, and what VMware lets its customers and partners do.
---
November 22, 2013 3:08 PM
I'm reaching out to the major IT cert sponsors to learn more about their programs and benefits for veterans and active duty military preparing to transition out of the service into civilian life, with a special emphasis on prepping for and finding employment in information technology. To that end, I spoke with several members of the Microsoft Learning Experience (LeX) earlier this week to discuss what kinds of programs and benefits are available to these people. In coming months, I intend to do likewise with Cisco, CompTIA, Oracle, IBM, HP, VMware, and anybody else I can find to help me open up the subject for discussion and documentation.

The Army's Career and Alumni Program (ACAP) is just one of several gems my conversation with MS turned up.
Before I dig into key details of what I've learned so far, I'd like to observe that something is lacking in this picture. Amidst all the great and laudable efforts from many players, there's no central clearinghouse for this kind of information, and overall benefits information available. A vast cast of characters, including the White House, all branches of the military, certification sponsors, training companies, and others are engaged in trying to help our veterans and transitioning military personnel find their way into meaningful employment preparation and job opportunities. But it's difficult for the target audience to find out how to take advantage of these many opportunities, and how to make best use of programs like the post-9/11 renaissance of the GI Bill. I'm going to do my best to shed some light on this subject matter, and to try to make information more transparent and readily available, to help veterans and those transitioning out of the military make more and better sense of this situation.
In my conversations with various members of the LeX team that included a military recruiter for the company itself, plus various individuals involved in programs and offerings that target this specific audience (veterans and transitioning active duty personnel), I not only garnered some interesting and useful information, I also got a sense of how huge and complex this landscape really is. Here are some key bullet points from our free- and far-ranging discussion:
The US Army operates ACAP, the Army Career & Alumni Program, which is labeled as "The Army's Official Transition website." There, members of the US Army will find locations for physical ACAP centers at various Army bases and installation, a central phone number for questions and additional information, and a virtual online center for those unable to take advantage of the ACAP centers in person.
The Points of Light foundation takes on veterans as one of its specific focus populations, with a military initiatives component that provides all kinds of information and opportunities for the public to show support for and provide assistance to veterans, as well as to provide information and pointers to veterans in search of career development and employment opportunities.
Microsoft itself is working with veterans and transitioning service members in all kinds of ways, and through numerous programs, one of which is documented in this recent blog post "From the Conventional Classroom to the Military, IT Academy Is Spreading to New Realms." A new Microsoft Software and Systems Academy (MSSA) takes a curriculum developed by St. Martin's University based on the long-running MS IT Academy program and its materials, and is making a pilot program at Joint Base Lewis McChord in Ft. Lewis, Washington. There, those who complete a 16-week course to earn certification in development or IT project management areas may be hired into entry-level roles as software testers by Microsoft or Launch Computing (the technology consulting firm that's administering this program). Plans are to open other such training programs before the year's end at other key bases in Texas and California, with additional locations to be announced next year. Active duty personnel from all branches of the military, the National Guard, and Reserves, will be eligible for this program.
Finally, my discussion with the LeX team (Sarah Roberts and Dan Sytman of Microsoft, and Sheryl Tullis of Launch Consulting) concluded with some hard-learned advice that they asked me to pass onto members of the target population who may read this blog post:
1. Look for local transition centers for information, guidance, and help.
2. LinkedIn offers numerous advice and mentoring groups that can offer advice, guidance, and good information to those who seek it out.
3. Don't forget that the job market is tough for civilians right now, too, so that plenty of old-fashioned (people) networking and lots of elbow grease will be required to find a job in IT (or just about any other field) these days.
4. Remember that the modern "GI Bill" is limited to four years of support, so be sure you take it up with a well-crafted plan of training and courses to produce a degree or a collection of certifications, if not both, before you start cashing in on the program. Otherwise, you risk running out of benefits before reaching your education and/or certification goals.
All of this is good information and advice, and should be helpful to those who take time to ponder and then act upon it. Count on me to keep coming back to this topic, and to keep adding to the store of information about programs and providers, and to share any further nuggets of advice and wisdom that I can turn up in my conversations with cert sponsors on the general subjects of training, certification, and career development for veterans and transitioning active duty military personnel.
---