---
January 31, 2011 1:52 PM
Back in late August to early September, 2008, I wrote  series of four blogs on the general subject of soft skills, which I define in the first of those four linked postings as follows:
Soft Skills refer to abilities that make people better employees, and open doors to opportunities, that are not directly related to the subject matter for their jobs. In simpler language, soft skills refer to a person's ability to relate to others, to get him- or herself (and possibly others organized), to communicate in written, spoken, or other forms, to conduct research or gather information about various topics as assigned, and so forth.
In the wake of a recent story I just submitted to SmartBear.com on the subject of developing written skills, I decided to return to these postings and found 99.9% of that content to be as sharp, relevant, and timley today as it was when these items first appeared here.
Here's a list of what's available in these four connected blog posts, with links to each one, so you too can benefit from their content:
Taken together, these items provide a powerful blueprint for a major career tune-up or makeover. That's why IT professionals interested in performing a self-assessment, who might also be interested in improving future opportunities or job prospects, might be well-advised to return to these "classic blog posts" from yours truly. There's some good stuff in there: please, take a look!
January 28, 2011 3:02 PM
Yesterday I wrote an article for the SmartBear.com website. When it appears there — and if it keeps the same title it had when I submitted same — it will be entitled "Soft Skills in Writing Can Boost Any Software Developer's Career Profile." Because SmartBear builds developer tools such as TestComplete, CodeCollaborator, QAComplete, DevComplete, and so forth, I aimed this story at developers in particular, so as to suit the company's target audience. But the story could just as easily have been called "Soft Skills in Writing Can Boost Any IT Career Profile," without losing any of its juice (though I would probably have to tweak my language and change the examples throughout to make it completely general).
Nevertheless the key points from that story are worth repeating here, in describing how IT professionals can develop and hone their writing skills:
Take a course: lots of options here online, on DVD, and in the classroom. Check 'em out, and especially look into what your friendly neighborhood (and usually quite affordable) local community college has to offer in this vein.
Read a book: lots of good books are available on technical writing, or writing for engineers and IT pros. Find one; read it; practice what it preaches.
Do some writing: you can't learn how, or get better, unless you put yourself on the line and actually do some writing work. Volunteering online is a great way to start.
Practice makes perfect: If you want to write, you must write as much as you can. The more you write, the more comfortable you will become with this onerous-seeming, but ultimately beneficial and essential type of communication.
Get some feedback: Practice alone is not enough to become a good writer. You must find somebody better than you to look over your work, and help you figure out how to improve. It's a lifetime adventure, in fact, because no matter how well you write, you can always do better. Feedback is the key!
When this article goes live, I'll provide a link to same. It's full of more details, additional tips and tricks, and good information on this topic. Stay tuned!
---
January 26, 2011 6:24 PM
In a lengthy, fascinating, but still embargoed discussion with learning staff from a major vendor's certification program yesterday, I found myself considering how good certification program design often follows a modular, building-block approach. Because Microsoft is NOT the vendor with whom I spoke, I can (and will) use their program as an example:
the various Microsoft Certified Technical Specialist (MCTS) credentials all require taking one specific exam (which makes it a partial equivalent to the old MCP, or Microsoft Certified Professional credential)
earning any of the Microsoft Certified IT Professional (MCITP) credentials require multiple exams (and hence also, multiple MCTS certficiations) to qualify
all five of the various Microsoft Certified Master credentials require multiple MCTS exams (which sometimes add up to MCITP credentials, and sometimes not), and some even hearken back to MCSE
Why do I call this a good design? Because it permits IT professionals to earn credentials sooner, while tracking the path to a more senior credential they may earn later. This lets individuals prepare themselves for more substantial credentials by earning "building block" elements. It lets companies and organizations deliberately foster staff development through total or partial funding and support for credentials. And it gives more junior staff members pursuing a "block at a time" path to more senior certs and responsibilities tangible signs of progress along the way.
I submit that all of these things are good for individuals and those who hire them, and not coincidentally, also good for Microsoft (and other vendors or sponsor organizations who implement similar approaches to certification program design). Sometimes, a the notion of a "certification ladder" (a progression of credentials where individuals advance methodically and deliberately from one to another, as when climbing up the rungs of real ladder) is more metaphorical than actual. But when this kind of cert program design is followed, it's pretty actual — and easy to follow — as well!
---
January 24, 2011 2:46 PM
Listening to NPR this morning I heard a story that quoted a survey from the National Association for Business Economics (NABE) that "…Show[s] Signs of a Strengthening Recovery…" While the story was running, I found myself thinking "Does what economists think matter more than what other professionals think?" In looking over some of the background (especially the information presented at the second link above in the summary of that NABE report), I found myself thinking — much to my own suprise — "Well…maybe it does."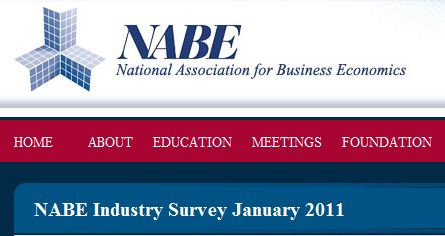 Here's why, summarizing from their own summary of the highlights from that survey:
Industry demand has been increasing for six consecutive quarters now, with 55% of panelists reporting rising demand against 12% reporting falling demand, with all major industry sectors showing demand growth.
Profit margins continue to expand, and have also done so for the past six quarters (38% of panelists reported rising profits versus 18% falling ones, with the biggest spread between those two numbers since Q4 2005).
Employment is improving, with 34% of firms reporting increases in headcount versus 13% in January 2010, and the number of firms cutting jobs fell from 13% in the past three quarters (Q1 2010 through Q3 2010) to 6% (Q4 2010 to present). Measures of planned investments in hiring showed the highest values since 1998, and 42% of panelists reported their firms will be increasing employment near term, up from 39% in the previous quarter, and 29% one year ago.
Expectations of future capital spending improved to 62% of firms reporting heightened planned outlays, as compared to 48% in the previous quarter.
Slightly more than half of panelists (53%) report expectations of positive results from the 2011 tax package, particularly in goods-producing businesses, which anticipate favorable sales impacts. Interestingly, 60% of panelists said they anticipate no changes in spending or employment plans for 2011 in response to these new policies.
Hmm. Maybe these economists do have some useful data and insights to go with them. But it's clear that while things are improving, they continue to do so in a gradual way, and that the floodgates of recovery have yet to open. I guess at this point we can shift from hoping that things might start improving, and hope for them to start improving faster instead. I'm still waiting to see more tangible signs of recovery in the IT sector, particularly in the areas of job creation and re-hiring of laid-off personnel, and more conversions of part-time and temporary staff to full-time, permanent positions.
---
January 21, 2011 2:31 PM
In reading over Anne Martinez' most recent GoCertify Newsletter (1/18/2011), I noticed a small item about upcoming Microsoft exam retirements scheduled for the end of June this year. So I jumped on over to the MS Discontinued Exams page, where this sight blasted me right in the eyes:
I've tried not to shink things down so much that you can't see them, but I did have to reduce my screencap to keep it from totally dominating this blog (it's still pretty big, though, and if my 58-year-old eyes can read the text, hopefully yours can too). There are 26 exams listed here in total, including some minor, off-the-beaten-track stuff (Connected Home Integrator, Consumer Sales Specialist) but also some important but older stuff related to Windows XP, SQL Server 2005, and older .NET versions.
My gut feel is that Microsoft is cleaning out the old to start making way for the new. What with rumors of the upcoming Windows 8 release now pegged to January 2013 (a scant two years away) with a new server version slated for release at the same time, I'm guessing we're going to see a whole new exam line-up introduced to fill this void in the Microsoft exam catalog over the next 18 months or so (betas usually surface about six months prior to release, which means we will start seeing Windows 8 and next-gen server stuff in mid-2012).
---
January 19, 2011 3:02 PM
I found an invite to the next Microsoft Certified Career Conference (MCCC) scheduled for 2/17/2011 in my inbox this morning. Not only did it include more info about what's on the docket for the second go-round for this online conference, it also included the information that a discounted registration fee of $20 is available to all comers until January 24 (6 days from today). MS charged $55 to US registrants for the last iteration, and only granted 50% off ($22.50) to MCPs and registered students. Thus, this is a better deal for everybody with no special qualifications required for those who take advantage of the disounted fee on or before the 1/24 deadline. If you're interested, this is one case where it makes sense to register sooner rather than later!
Here's an overview of the scheduled content (a detailed schedule/timetable for the event could be available as early as next week):
Microsoft Official Courses: technical sessions excerpted from Microsoft's most popular certification exam prep classes, taught online by the cream of Microsoft's instructor corps
Super Cert Me!: exam prep/tune-up sessions for those preparing to take various MS Cert exams
Career Essentials: Information on finding, inquiring about, interviewing for, and landing the right job for you, including sessions on interviewing skills, resume writing, and other good stuff
People and Technology: Profiles in certification from people seeking career enhancements at the entry-level, mid-career, and in more senior positions
Meet the Masters: Take a deep dive in the Microsoft Certified Master (MCM) program, and learn more about its offerings, qualification, preparation, and related career opportunities
Cloud Computing Talent Explored and Explained: a freewheeling session with Chandra Prasad, a world-class expert on cloud computing, about career opportunities and work in this burgeoning area
Podcasting Your Way to a Job: Podcasting whiz Michael Surkan podcasts about job search, entrepreneurs, and the economy in the guise of his fuzzy alter ego, The Optimistic Bear
This is just a smattering of all the good stuff that will be featured during the upcoming conference. I myself will be presenting about certification and academia for that conference and holding two or three free-wheeling Q&A sessions with the help of a few of my heavy-duty certification guru friends.
You'll definitely want to check the upcoming MCCC out if you're in the mood for a career tune-up, and you'll want to let friends, family, and colleagues know about MCCC too, especially if they have any college-age or job-seeking offspring looking for information, inspiration, tips and techniques — or perhaps even some job opportunities (employers do make themselves available to candidates during MCCC, and it's a great venue for serious job prospecting). And don't forget that if you register before next Tuesday, you get a 64% discount off the usual price!!
---
January 17, 2011 4:09 PM
Last Friday, I followed up on my December 16 blog entitled "Interesting doings at the Microsoft IT Academy; More lie ahead!" with Microsoft Learning General Manager Lutz Ziob and Jeff Johnson, North American Academic Area Lead, to learn more about the company's IT Academy program. For those not already in the know, the IT Academy makes Microsoft technology, software, and certification materials available to high schools and post-secondary education outlets (mostly two- and four-year colleges, but also technical schools, job (re) training programs, and so forth, as well) so they can prepare students to be more productivie and capable when they enter the workforce.
My earlier blogs on this program have focused on offerings from the State of North Carolina, where the IT Academy is now at least available to all its high schools, and actually on offer in the vast majority of those institutions. This time around, I got to learn more about some of the other significant adoptions of this program, both inside and outside the US.
Here are some high points from that discussion, about which I plan to follow up in the weeks and months ahead:
The State of Georgia has adopted the ITA into its entire community college system. Today, its two-year networking degrees can include MCTS credentials on Windows Server 2008, or even (optionally) the MCITP: Server Administrator on Windows Server 2008. The state has also racked up some notable success in placing students in jobs thanks to ITA, particularly at the rural Ogeechee Technical College in Statesboro, where students have landed in big metro areas such as Atlanta, Savannah, and Augusta.
Microsoft has made inroads with the American Council of Education in its efforts to establish that passing certification exams can stand in for credit hours in programs where outside experience for certifications related to Windows Server, Exchange Server, and SQL Server are appropriate. This not only lets students save time and money when completing their degrees, it also offers a "double-whammy" on earning IT certifications while still in college (good for the degree, good for post graduation employment prospects).
The State University of New York (SUNY) system has not only adopted the ITA for its various campuses around the state, it's also created off-campus locations in low-income and high-risk neighborhoods to reach out to disadvantaged or unemployed adolescents and young people. Such programs enable individuals to complete a GED while also earning Microsoft certifications at the same time, greatly enhancing their employability and raising their life expectancies and lifetime earnings prospects.
While ITA numbers in the US currently stand around 2,000, total global numbers are around 8,000, with strong penetration in India, China, and Nigeria, as various levels of government seeks to bring IT technology and learning benefits to bear on improving their workforces, and opening up first-world employment opportunities to their populations.
In future blogs, I'll not only provide more information about the specific programs mentioned above, I also plan to dig more deeply into ITA doings and plans outside North America, particularly as regards the three countries specifically mentioned above in the final bullet list item. Stay tuned!
---
January 14, 2011 2:54 PM
It's that time of year again, when the initial glow of New Year's resolutions is starting to fade, and the long, slow slog from January through all those months into the next big holiday season from November through early January begins. What better time to take stock of your current professional situation and aspirations, and to start making plans to rack up some solid and tangible accomplishments in 2011? Here's a list of items to ponder as you assess your career and certification status and goals for the next year and beyond.
Resources available
How much time, money, and energy can you devote to career development and/or cert study? Don't forget that this stuff competes with family responsibilities, the daily routine, and leisure time, and plan accordingly. Don't plan to overdo things: that will happen all too often on its own. Overbooking is an almost sure way to impede, rather than speed up, progress.
Goals and objectives
Preparing for a single cert exam can take anywhere from two to six months for lower-level stuff, and a year or longer for the highest level items (like the CCIE Laboratory Exam, which costs $1400, requires travel, and which most candidates take two or three times before they finally pass). Make sure your plans reflect realistic use of the resources you allocate in the preceding item.
Long-term vs. short-term accomplishments
Ideally, your individual activities should combine together nicely so that their sum really represents more than just a collection of individual elements without strong interconnections or an obvious growth path. Of course, some certifications (like the various CCNP or CCIE credentials) and most college degrees represent deliberate attempts to combine numerous individual elements into a larger whole that requires planning for the long term, while also knocking off a whole series of short-term elements along the way. For those who seek to put their own unique combinations together, a certain amount of care, and reality checks with colleagues and mentors may be warranted (I, for example, have made a powerful and valuable niche for myself by combining strong interests in markup languages like HTML and XML, with Windows operating systems, and information security topics: there's a suprising degree of overlap, and the combination ends up being something of a "techology sweet spot" — at least, for me). That said, if you can manage to combine and martial your interests and avocations into an interesting and useful mix, you may not only enjoy your working life more than you otherwise would, you may also thrive and prosper more as a consequence as well!
As you work your way through these items, you'll also want to decide how where you are now compares with where you'd like to be one, two, five, and ten years from now. Bigger, more complex growth or development paths — like those that include entire certification ladders, or advanced degrees — require a longer planning horizon, not to mention more sacrifices and expenditures of resources along the way. But if you want to grow your career, you must plan things out, establish milestones, and hold yourself to your commitment to reach key checkpoints as you progress from one step to the next. You get to decide what you'll chase, but you must rely on your tangible achievements to help you assess how well your pursuits are proceeding.
---
January 12, 2011 3:39 PM
In researching an article I'm writing for PearsonITCertification.com right now, I've been spending some time on the CompTIA Website lately. As of the first of this year, everybody should know that CompTIA certs are no longer "for life," but rather, must be renewed every three years, either by re-examination or by meeting continuing education requirements. This is a consequence of CompTIA signing onto  ANSI/ISO/IEC 17024 compliance, which requires internationally recognized certifications to include mechanisms to ensure that certification holders maintain currency in their fields of certification. If you get a CompTIA cert going forward, you will have to renew it every three years, and you will also have to pay an annual maintenance fee to maintain its currency (at present A+, Network+, and Security+ all fall under this regime, and it's not unlikely that other CompTIA certs will fall under this umbrella sooner or later).
There's lots of other interesting stuff going on at CompTIA, too. The roster of available certs has been slimmed down. Compared to a year ago, the current roster (depicted in the following screenshot) no longer includes the DHTI+ (Digital Home Technology Integrator, a credential aimed at installers of home systems for media, alarms, remote controls, and so forth), and Convergence+ has been renamed to CTP+. There's also news that the company will be working on a Storage+ certification, aimed at IT professionals who work with NAS (network-attached storage) and SAN (storage area network) technologies. The long-time "Big 3" at CompTIA remains unchanged, however: A+, Network+, and Security+ (in that order) still occupy the top 3 slots by certified population count.
The CompTIA Cert Roster, 1/12/2011
Be sure to give the site a visit if you're interested in any of the many subject areas covered by a CompTIA cert. Though these credentials are seldom, if ever, the stopping point on a certification progression, they are quite often the starting point for those seeking to boost their professional knowledge, skills, and credibility.
---
January 10, 2011 1:49 PM
In my final post for 2010 "Say Goodbye to 2010, Hello to 2011" I observed that not much had changed in the employment situation for the whole year, despite a few modest ups and downs as it wound through its course. I also said the future remained uncertain and that dramatic changes in the near term were unlikely. Alas, the January 2011 Employment Situation Summary released on Friday, January 7, 2011, only bears this out. Overall employment increased by 103,000 for the month but that's just barely enough to accommodate population growth in our country (with new workers entering the job force), and does nothing to start the huge backlog of unemployed on their way back into the full-time workforce.
Before the report came out, I heard predictions from various economists that the number of new jobs created in December would range between 140,000 and 180,000, but nothing as low as the final number that emerged in its contents. Sigh. I think this reflects the overwhelming desire for some good employment news, as much as it reflects the impetus for economists to see silver linings in every faint glimmer of hope that twinkles on the employment horizon.
For the time being, though unemployment dipped from 9.8 to 9.4 percent in December, things look like they're going to keep muddling along at a slow and frustrating pace. In fact, the numbers are really more a reflection of the way the BLS maintains unemployment counts, and drops individuals who are no longer looking for work from the tally of unemployed persons, rather than a true reflection of the number of people out of work who would like to be employed.
In the grand tradition of seeking such glimmers myself, a couple did surface in the latest BLS report, where IT is concerned. Information unemployment as per Table A-14, is down from 8.5 percent in 2009 to 8.1 percent in 2010. And, as per table B-6, Information employment held steady in December 2010 to match November 2010 levels of 2,181,000 workers altogether.
Nevertheless, "hunker down" and "wait for things to improve" remain the watchwords on the employment scene, and look to stay that way for some time yet. Happy New Year!
---