---
February 24, 2011 5:10 PM
In an early February press release, CompTIA shared some insights gleaned from a recent survey it performed that involved 1,700 hiring managers and HR staff at businesses and organizations of all kinds and sizes in the US, UK, and South Africa (see IT Certifications Grow in Importance in Hiring Process, but Employers Challenged by Evaluation, Validation Issues, CompTIA Study Finds for the complete text).
Here are some of the high points from that survey (full text of the survey results are available to CompTIA members, but not to the general public):
64% of hiring managers rate IT certs as having "extremely high" or "high" value in validating skills and expertise.
80% of HR professionals "…believe IT certifications will grow in usefulness and importance over the next two years."
Some hiring managers hold a perception "…that the HR department does not have a solid understanding of IT certifications."
Some organizations report that "…verifying a job candidate's credentials can be a challenge due to the time involved …" (44% of hiring managers) "… and effort required (38%)."
"Experience, track record, and accomplishments rank as the most important factors when evaluating job candidates…" was a key conclusion from this study.
"…education and credentials such as certifications also rank high. For example, 86% of hiring managers indicate IT certifications are high or medium priority during the candidate evaluation process."
To me, these results strongly validate what I've said all along about certifications during the job application and interview processes: It isn't the having of certifications that counts, it's what they enable you to do, the problems they enable you to solve, and the skills and knowledge they bring to the job for you that really count. Remember this as you write your resume and cover letter and go through the interview process and you'll definitely come out ahead!
February 21, 2011 10:54 PM
VMWare quietly released its VCA-DT certification exam to beta on February 15, and that period expired yesterday (February 20, 2011). I didn't manage to catch on to this new addition to the VMWare cert family until today, at which point the exam is now live and readily available. Shoot, the company hasn't even issued a press release on this latest member of the lineup. That said, the cert is designed to "recognize individuals with the technical capabilities and real-world expertise needed to increase efficiency, reliability, and availability when delivery desktops from the datacenter as a managed service."
Of course, this is just an associate level certification, so we can expect to see more in this same vein from VMWare, probably later this year. Stay tuned for more on this as it breaks: I'll try not to miss the beta announcement the next time around!
[Thanks to Anne Martinez, whose latest GoCertify.com Certification Watch newsletter (Volume 14 #2) brought this to my attention.]
---
February 18, 2011 4:22 PM
At 7:30 Central last evening, I jumped back into the fray at the second Microsoft Certified Career Conference (MCCC) for my second presentation of the day with Jeff Johnson, Microsoft Learning's Academic Area Lead for North America. We had a 1-hour time slot and used almost 50 minutes in giving the presentation, and kept the Q&A going right up to when our time slot  expired. Then I jumped over to my Expert Chat area and, much to my amazement, kept going with still more Q&A for another 40 minutes. By the time yesterday finally rolled to an end for me the only appropriate word to describe my mental and physical state was "Trashed!"
Nevertheless, I've had a good night's sleep now and am not only ready to face the rigors of a new working day, but delighted to share some high  points with you from yesterday's presentation:
As I've said many times in the past, even here on this blog, it's never a matter of "degrees vs. certs;" it's always a matter of both degrees and certs!
It's highly ironic that in a time of much-higher-than-normal unemployment, lots of jobs today (and even more tomorrow) must go begging because candidates don't have the right skills and training to fill them. Certs and degrees can remedy this situation, but people must go out and earn them.
Half of today's jobs require at least some technology skills, and by the 2020s that number will climb to over three-quarters of all positions available.
Certification is just the ticket to augment basic learning and fundamentals taught when earning a degree with current, real-world, job-related skills and knowledge. That's why they're better together.
MS certs from MCTA to MCTS and MCITP are finding increasing coverage in middle and high schools in the US, and in secondary education around the world. Same goes for Microsoft Office Specialist crednetials and the MS Digital Literacy credentials as well.
College programs, especially community colleges, are creating strong linkages between IT certifications and their 2 and 4 year degree programs (and sometimes even Master's degrees). For Microsoft credentials, this currently includes MOS, MCTS, and MCITP. Many community colleges embed MCTS in their various IT-related degrees (and some include MCITP); many four-year colleges include MCTS and MCITP in their degree plans as well.
Microsoft has worked with the American Council on Education to enable students who earn MS certifications to request college credit for such work. See the MS page Earn College Credit with a Microsoft Certification for more details.
The MS IT Academy program not only offers professors access to Microsoft Official Curriculum (MOC) materials, it also offers students, faculty and staff at participating  institutions up to 55% off the normal cost of MCP exams (that means $56.25 for an exam instead of $125). Second shots are also available for most exams, which greatly increases the odds of passing, even for a budget deal!
This is great stuff and well worth remembering, both for those considering a return to academia for themselves, or for those with children or relatives with children about to head off to high school or college. Combining IT certification with a diploma of some kind is definitely better than an either-or approach, especially in today's challenging job market.
---
February 17, 2011 9:23 PM
I'm on and off the conference software all day long today, and blogging catch as catch can. This morning I delivered a presentation entitled "IT Certification Success: From Book to Site." It describes my book of the same name (IT Certification Success, that is) that went through five editions in the period from 1998 through 2003.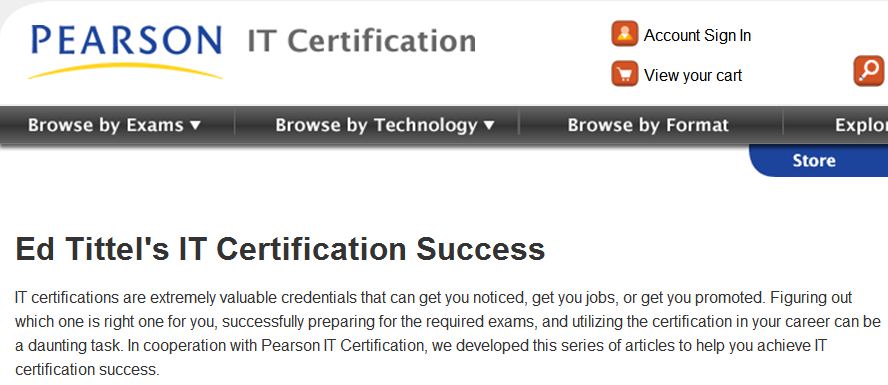 In the dozen or so slides that I put together to walk people through the newly-revised and updated materials you can find on the "Ed Tittel's IT Certification Success" page at PearsonITCertification.com, I talk about all the useful materials that I've just recently revised, updated, and added to tell people how to look for, choose, and pursue and IT certification, and then how to put it to work as they try to develop or advance their career prospects.
It's definitely worth a once-over, and some of the 29 articles that go into these materials (over 40,000 words of text from yours truly  almost as long as the original book, in fact) may be worth reading through. I also hope you'll tune into my blog for that site as well as this one, and share your comments and concerns with me in either place.
Enjoy! And if you're interested, it's still not too late to register and attend the MCCC! I'll be presenting on IT Certification and Academia with MS Learning Academic Director Jeff Johnson at 5 PM PST later today!
---
February 14, 2011 3:44 PM
Mr. Dulaney and I have both been working the "IT certification patch" since the mid-1990s, and I always enjoy reading his weekly column for CertCities.com. His latest effort is no exception, and includes a section somewhat blandly entitled "Certification Exam Tip #1" (by which he means his first such tip for this year). Lurking behind that ho-hum heading is a peachy piece of exam preparation advice on dealing with scenario-type questions, sometimes also called exhibit-based questions, on certification exams.
He makes the point in this tip that practice in dealing with these questions will improve your ability to process and get through them more expeditiously when you go into a testing center to tackle the real thing. These questions are designed to try to distract you and make you waste your time chasing irrelevant details and lines of inquiry, so learning how to deal with them is as much about learning time management skills as it is about learning how to separate the meat (or what he refers to as the question stem, or more succinctly, the stem) from the chaff, if you don't mind a metaphor so mixed as to bridge between the animal and vegetable kingdoms.
He also points to sources for practice questions outside the usual IT certification realm (various standardized academic tests such as SAT, GRE, GMAT, and so forth) that will give you the opportunity to dissect and decode these kinds of questions outside the usual subject matter. I endorse and recommend this strategy highly, because you do need to learn some formal skills in recognizing, dealing with, decoding, and answering such questions. And when you practice outside your usual subject matter, you can focus on the verbal skills involved without getting distracted by interesting technology issues along the way (and you'll be deliberately tempted to do this in the real testing situation, which is why learning to handle such questions is so important).
I'm going to throw another couple of exam-taking tips into the mix to augment Emmett's tips, right here and now at no extra charge:
When taking an exam, it's always a good idea to go through the whole question bank as quickly as you can so you can mark the lengthy or most difficult questions and save them for last. That way, you can work through the stuff that's most likely to earn you points first, and save the tough, time-consuming stuff to take up as much time as you have left after you get the other stuff out of the way.
As you work through exhibit or scenario questions, read the questions first before you read the whole scenario. This will speed the process of looking for the content that really matters when you use the exhibit or scenario to try to answer those questions, and let you skim over the irrelevant stuff more quickly (because you'll know it's designed to distract and confuse).
As always, I hope this information comes in handy when you take your next cert exam. If you have other tips you'd like to share, please post them here. If I like them, I'll write about them in subsequent blog posts, too!
PS: My buddy Don Poulton also gets pretty good plugs for his recent books on Windows 7 related certification topics in the cited Dulaney column. Check those out, too: I've got his 70-680 Windows 7: Configuring book and it's terrific!
---
February 11, 2011 3:56 PM
This week Cisco added another considerable arrow to its learning quiver, with the introduction of the Cisco Virtual Classroom Instruction Specialist credential. Leveraging the company's acquisition of well-known and -recognized virtual meeting technology company WebEx nearly four years ago, Learning@Cisco is plunking down a big bet that the virtual classroom is the place for technology education to be, and for them to have a major role in shaping and defining how online training works in that context.
When I quizzed several members of the Learning@Cisco team about this, they agreed that it's not unreasonable to put this new Cisco credential on a par with the Microsoft Certified Trainer (MCT) or the CompTIA CTT+ (Certified Technology Trainer Plus). That a very good thing, because both of these are widely-known and highly-regarded "train the trainer" credentials that are required in many IT training programs and organizations before professionals are allowed to get up in front of a classroom full of paying customers.
That said, the VCIS (if you don't mind me abbreviating that long Cisco cert title "Virtual Classroom Instruction Specialist") obviously takes a different slant on training, because it's oriented entirely at a virtual classroom, rather than a real one. But as with so much else in life, training is indeed becoming increasingly more virtual, so I see this as a shrewd and forward-looking move on Cisco's part. Its WebEx arm also has the chops to stand behind this credential, with over 40,000 virtual classes already delivered to a broad range of audiences, and a pretty serious team of seasoned virtual instructors and curriculum developers on the Cisco WebEx University staff.
The exam for this credential is already available, but candidates will also have to do a live virtual demo for evaluation as part of the qualification process for this cert. That infrastructure is slated for completion some time in March, after which interested virtual trainers can complete and earn this certification.
---
February 9, 2011 7:49 PM
Back in 2000, I created a special volume for the Exam Cram series of books designed to augment their exam-focused coverage and content. This book was called IT Certification Success and it went through four editions in the period from 2000 to 2003, during which time the series changed hands from Coriolis (the original publisher) to Pearson (the second and still active publisher).
Over the past four months, I've been busily engaged in revisiting much of the material from that book, and recasting it in the form of a series of articles for PearsonITCertification.com. I'm also going to start blogging for the site once a week, as soon as all the set-up gets done, but for now, I wanted to point out the articles available on the Web site that cover topics sure to be near and dear to the readers of this blog:
General Certification Information: Programs, Benefits, Pros and Cons
Why Vendors Like Certification Programs (Jan 31, 2011): This article explores the impetus behind certification programs and how those programs benefit certification seekers and vendors alike.
Why Organizations and Professional Societies Build Cert Programs (Jan 27, 2011): We examine why professional organizations and associations sponsor or endorse certification programs, how they help to build quality certification programs, and the support they can provide for prospective candidates.
Why Employers Like Cert Programs (Jan 24, 2011): We look at why employers like certification programs and the benefits such credentials provide to them.
General Certification Program Characteristics (Jan 20, 2011): We examine vendor-specific and vendor-neutral cert program characteristics and explain how they benefit IT professionals who pursue them.
Benefits of IT Certification (Jan 17, 2011): This article looks at numerous benefits that certification offers to IT professionals.
What's Not To Like About IT Cert Programs (Jan 19, 2011): While there are numerous benefits that adhere to earning certifications, IT professionals may not be aware of all the hidden costs and challenges involved. We examine some of the drawbacks to certification programs.
Ranking Certifications (Dec 13, 2010): This article looks at one method for rating and ranking IT certifications.
Certification Rankings (Dec 14, 2010): Find rankings for more than 100 top IT certifications, using the method described in the preceding article.
IT Certification Planning, Preparation, and Training
Overall Certification Preparation Overview (Dec 27, 2010): Explore some common certification exam preparation activities and how they benefit certification candidates.
Certification and Career Self-Assessment: Can and Should You Do It? (Dec 22, 2010): Take a look at how annual self-assessment and planning benefits your professional career, along with things to consider when developing or refining career and certification plans.
Crafting a Personal Certification Plan (Jan 5, 2011): Learn how to construct a personal certification plan to reflect both long- and short-term certification goals.
Understanding IT Certification Ladders (Dec 15, 2010): Take a look at the Pyramid Certification Model, how it works, and what types of skills are required at each of its various levels.
Build Your Own Customized IT Certification Ladder (Dec 20, 2010): Learn how to customize a certification ladder to match your professional goals and aspirations.
Pros and Cons of Classroom and Online Training for Certification Prep (Jan 10, 2011): Learn how to assess cert prep training, and how to choose what's right for you and your budget.
Using Practice Exams for Study and Preparation (Jan 10, 2011): Take a look at several different ways practice exams can help candidates prepare to take and pass certification exams.
Establishing a Certification Support System (Dec 27, 2010): Learn how to establish and maintain a personal certification support system.
IT Certifications, Employment, and Career Planning and Development
Top Job Posting Web Sites (Dec 8, 2010): Reviews for the "hottest" job posting sites, along with some features and resources they offer to job seekers.
Using Job Posting Web Sites (Nov 22, 2010): How to get the most out of job posting sites in your search for a great IT job!
Working with Professional Associations and Societies (Dec 6, 2010): Learn about some of the many professional organizations available to help you develop your career, and how to go out and look for more for your particular technology niches or areas of interest.
Working with a Personal Network (Nov 29, 2010): Learn how to interact with friends, family, colleagues, co-workers, schoolmates, and others who can (and probably will) help you kick your career up a proverbial notch.
Finding a Job That Fits (Nov 29, 2010): Learn how to ask the right questions (and collect the corresponding answers) to help you decide what kind of job you'd like to have and how to compare what you've already got (or may be offered) to what best fits your wants and needs.
Working with Technical Recruiters (Nov 24, 2010): Understand how technical recruiters operate and how you can benefit as they guide your search for an ideal job.
IT Job Roles and Related Certifications of Interest
When Ideal IT Job Candidates Meet Real Job Requirements (Oct 29, 2010): Get a good understanding of key IT job roles and the kinds of skills and knowledge that go with them. This will help ensure the most positive experience for applicants, no matter what kind of IT work they are after.
An Ideal PC Technician (Nov 1, 2010): Take a look at relevant certifications, technical skills and knowledge, and subject matter expertise of greatest interest to employers of PC technicians.
An Ideal Network Administrator (Nov 3, 2010): Take a look at relevant certifications, technical skills and knowledge, higher education, and subject matter expertise of greatest interest to employers seeking to hire network administrators.
An Ideal IT Internetworking Professional (Nov 15, 2010): Take a look at relevant certifications, technical skills and knowledge, higher education, and subject matter expertise of greatest interest to employers hiring IT internetworking professionals.
The Ideal Security Professional (Nov 8, 2010): Take a look at relevant certifications, technical skills and knowledge, higher education, and subject matter expertise of greatest interest to employers of security professionals.
An Ideal Project Manager (Nov 10, 2010): Take a look at relevant certifications, technical skills and knowledge, higher education, and subject matter expertise of greatest interest to employers hiring project managers.
An Ideal Programmer (Nov 24, 2010): A review of the qualifications that make for the best prospective programming job candidates.
As soon as I get my blog set-up and the summary page goes live on the PearsonITCertification.com Website, I'll follow up with that information here. But in the meantime, here's nearly two hundred pages of some of my best work, updated to be relevant to today's certs, technologies, and economic situation.
---
February 7, 2011 3:26 PM
Last Friday, the US Bureau of Labor Statistics once again released its latest Employment Situation Summary for January, 2011. Once again the number tell some interesting stories: though the unemployment rate fell by what appears to be a healthy 0.4 percentage points, the decline is in large part due to the Bureau's practice of trimming off unemployed persons after they've been out of work for more than 99 weeks (5 weeks less than two years). If the long-term unemployed are factored back into their numbers, the situation is basically unchanged.
What's really important right now is job creation, because without new jobs, the unemployed can't get back to work (nor can we absorb our full output of new graduates or other workers entering the ranks of the full-time employed for the first time). Those numbers are not too encouraging just yet, whether you look at the average since last February (2010) of 93,000 per month, or the most recent month at 36,000.
As lots of economists have observed, job growth right now is sufficient only to absorb population growth, or those new workers seeking to enter the workforce for the first time. It is nowhere near enough to absorb the 14 to 18 million unemployed (depending on whether you count those out of work for more than 99 weeks: I do, because those people would return to work if jobs were there for them to fill).  Nor is it enough for the 8.4 so-called "involuntary part-time workers" to convert back from part- to full-time employment as they would like to.
We really need to see job growth in excess of 200,000 new jobs per month for an extended period of time (and 300,000 or more would be even better) to whittle away at the huge balance of unemployed or underemployed workers currently looking for some or better employment before things can really start to improve. I'm starting to wonder just how we're going to pull that off as a country. I sincerely wish the Republicans and Democrats would stop bickering about the declining tax base that we do manage to collect, and start thinking more and harder about ways to restore that tax base to its proper levels. That is I'd like to see them mount a concerted effort to bring unemployment back down to its "normal" range between 4.5-6.0 percent. That would probably do more to fix the deficit and help the budget than fighting over "job-killing Obamacare," or engaging in the kind of mental gymnastics required to simultaneously balk at raising the federal debt ceiling and cutting entitlements.
---
February 3, 2011 3:11 PM
Last week, I wrote a blog entitled "Pondering Certification Building Blocks," wherein I waxed eloquent about certification programs that are wisely and well-built. In particular, I lauded those programs like Microsoft's where  junior level certs roll up, then add up to more senior level ones, and where forethought has been expended to enable people to grow themselves, and organizations to grow their people, so that by occupying more junior job roles and earning more junior certs, over time these things accumulate. Smaller certs eventually lead to bigger ones, and lesser job roles likewise to greater ones, and everybody wins. The company wins by grooming and developing its talent pool, the people win by advancing up a well-defined career ladder, and the sponsoring organization wins by attracting more adherents to its certification program and creating advocates for its tools, techniques, and technologies.
In that same blog, though I used Microsoft as an example, I indicated that what had stimulated my thinking was some company other than Microsoft, but that I was under embargo for talking about it. Well, that embargo is lifted as of yesterday morning (February 2, 2011), so I can talk about it now. The sponsoring organization is the other "big gun" in the IT certification world — namely, Cisco Systems — and the program in question is their security certification program. As of today, they are adding three new credentials to their existing security line-up and these certs do more than just expand their portfolio. Each one contains elements that are also required for the CCNP Security certification, so they also define true "stepping stones" to that credential starting from high-demand, more narrowly focused areas of specialization.
The new security certifications from Cisco all fit under their Specialist branch, and are designated as "Security Specialist Certifications." These new certs are as follows:
1.       Cisco Firewall Security Specialist (FIREWALL): A certification that recognizes security professionals who possess the skills and knowledge necessary to design, implement and maintain Cisco security appliance solutions, using the Cisco ASA adaptive security appliance and zone-based firewall solutions.
2.       Cisco IOS Security Specialist (IOS Security): A certification that recognizes professionals who have demonstrated the hands-on knowledge and skills required to secure networks, using features within Cisco IOS Security from the latest Cisco routers and switches, and in widely deployed Cisco security appliances.
3.       Cisco VPN Security Specialist (VPN): A certification that recognizes security professionals who possess the knowledge and skills necessary to configure, maintain, troubleshoot and support VPN solutions , along with Cisco IOS software and the Cisco ASA adaptive security appliance.
The following snippet from Cisco's press briefing slide deck on the new certifications puts these items into context along with three other security-related specialist certs (the one in  gray is attached to the Cisco Certified Security Professional, or CCSP credential, which works in tandem with the new Cisco Certified Network Professional , or CCNP, Security certification, to which the specialist certs in yellow below it are attached).
The real point of the building block approach that applies to all the items in yellow in the bottom row is that the exams that apply to those credentials may all be applied when earning the more senior CCNP Security credential. That's what makes them building blocks, and why they should be quite attractive to aspiring Cisco security professionals. Furthermore, Cisco says their customer research shows that the job roles associated with these specialist areas are in high demand and that while many organizations don't need large numbers of CCNP Security certified professionals on staff, those resources will be nicely augmented by other, more junior professionals who earn one or more of the specialist certifications shown. Over time, as higher-level professionals themselves grow out of their CCNP Security positions, more junior Security Specialist staff can climb the ladder and grow into those vacant positions. This creates nice opportunities to groom and develop staff, and to offer them a clear, well-defined job and certification ladder to climb.
---
February 2, 2011 1:00 PM
For the upcoming Microsoft Certified Career Conference, to be held all day on February 17, 2011, I'm on the docket for two presentations, one with Jeff Johnson, Academic Area Lead, Microsoft Learning, with another solo offering that same day. Here's the scoop:
Opportunity Knocks: IT Certification Success (9:15-10:15 AM CST/-06:00 UCT)
Many ingredients go into obtaining a certification credential, but even more go into parlaying a certification into career success. Hear from Certification Guy Ed Tittel on how best to work your IT certifications to turn them into a new job, a better-paying job, or to help you lay the groundwork for future promotion and advancement. Learn about how I've reworked my 2003 book of the same name into updated content at PearsonITCertification.com that you can put to work right away, for free!
Microsoft Certification in Academia, with Jeff Johnson (7:30-8:30 PM CST/-06:00 UCT)
Tune in for an overview on how IT certification melds with academia, both within and alongside typical degree programs in computer science, information technology, business, and more. You'll get a sense of how Microsoft certifications can add to, and even sometimes stand in for, typical 2- and 4-year degree plan requirements.
Whereas the last MCCC offered curriculum elements and coverage mostly tailored for entry-level  job seekers and aspiring IT professionals, this upcoming MCCC aims across the IT professional spectrum. In fact, it will include 2.5 hour training sessions lifted straight from the Microsoft Certified Master training materials, and will also delve into subjects more likely to interest experienced professionals, including certified training elements on Windows Server 2008 Active Directory and Messaging Solutions for Exchange Server 2010, Platform-as-a-Service (PaaS) coverage on Azure, and even trends in CRM solutions.
Visit the MCCC Registration page to sign up today! And please note: I am working with MS as a volunteer for this event, so I'm not shilling for the money, I'm shilling because I think it's a great program, with strong content, and a terrific opportunity for IT professionals at all levels to learn, investigate career opportunities, and build their personal and professional networks.
---