---
March 30, 2012 2:09 PM
In this case CSL stands for the "Cisco Learning Network," where you'll find a peachy item entitled "Get the Secret of Surviving and Thriving as a Self-Study Student." This features a dandy video from a powerful Cisco training duo–namely:
Stephanie Burns, who has a PhD in Adult Education, specializes in explaining how adults learn and retain materials best and most easily. She's even put her methods and theories to repeated "road tests" and has herself learned what the web page describes as "a host of skills" as well as teaching "others to do the same."
Keith Barker is a double CCIE who's chewing on the idea of chasing a third one, too. He's also a regular contributor to the Cisco Learning Network, a full-time networking trainer, and the guy behind YouTube channel "Keith6783" that currently features over 70 videos on networking subjects that have garnered over half a million views.
The video is described as "best practices on how to manage and complete your learning goals without giving up your life." Dr. Burns discusses "learning to learn" and Mr. Barket describes how these principles can be put to work earning Cisco credentials. Definitely a worthwhile 75 minutes' worth of material.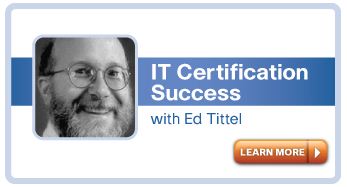 And if this isn't enough for you, please visit my IT Certification Success page at PearsonITCertification.com, where you'll find a section entitled "IT Certification Planning, Preparation, and Training" that includes the following items:
Overall Certification Preparation Overview
Certification and Career Self-Assessment: Can and Should You Do It?
Crafting a Personal Certification Plan
Understanding IT Certification Ladders
Build Your Own Customized IT Certification Ladder
Pros and Cons of Classroom and Online Training for Certification Prep
Using Practice Exams for Study and Preparation
Establishing a Certification Support System 
Enjoy!
March 28, 2012 2:11 PM
As the June go-live date for promised MS System Center 2012 private cloud exams approaches, MS Is making progress with its private cloud MCITP certification exams. Thanks to a recent post on the Born to Learn blog entitled "Overview of upcoming certifications for the private cloud" I just learned that the two MCTS exams that combine with the requirements for MCITP Server Administrator on Windows Server 2008 to create the private cloud MCITP now have their own pages up on the MS Learning Website. (For the record those other exams are 70-640, 70-642, and 70-646; add 70-647 and any one of 70-620, 70-680, or 70-681, and you're also an MCITP: Enterprise Administrator on Windows Server 2008.)
These two exams are:
Exam 70-246: Monitoring and Operating a Private Cloud with System Center 2012
This exam has a scheduled release date of June 26, 2012.
Exam 70-247: Configuring and Deploying a Private Cloud with System Center 2012
This exam has a scheduled release date of June 25, 2012.
Both of these exams should therefore be going into beta test soon. That means you'll want to keep one eye on the Beta Exam Announcements page for more information, assuming this might not be an "invitation-only" exam. That said, you'll also want to read up on How to become an MS Learning SME so you might still be able to procure yourself an invitation to the beta through "proper channels." If you're interested in one or both of these exams, be sure to mention cloud certification as a strong interest in your application materials!
---
March 26, 2012 2:36 PM
The Wounded Warrior Project (WWP) is a national, non-partisan organization whose mission is to "honor and empower Wounded Warriors," and whose vision is "to foster the most successful, well-adjusted generation of wounded service members in our nation's history." Recently, they've been getting backing from CompTIA and its IT Futures Foundation to offer a path into IT work for returning wounded veterans through providing free testing vouchers to the WWP's clients. Vouchers were first made available in July 2011, and their delivery will continue until the end of 2014, with a total of up to 5,000 vouchers to be made available (with a value of nearly $400K).
This is an eminently worthwhile organization, with opportunities for volunteer work of all kinds, and a presssing need for donations to help meet the needs of wounded veterans from Afghanistan and Iraq achieve a successful re-entry into civilian life, work, and family. I just made a $50 donation on my credit card to the group, and I urge all of my employed readers to do what they can to help out a terrific organization, and the clients they serve. These people have suffered on our behalf, and we owe it to them to give something back, however small, to express our thanks for their service and sacrifice.
I am contacting the organization to learn more about volunteer opportunities and will report back when I get more information. Stay tuned!
---
March 23, 2012 6:43 PM
Reading the Austin American Statesman over the past couple of days, I noticed two very interesting items in the business section. Number one (in today's paper), first-time unemployment claims are down to a level not seen since March 2008 — namely, 348,000 for the week of March 12-16. The tag line on this story reads "Drop coincides with strong hiring numbers; economic indicators rise for fifth straight month." Number two (from yesterday's paper) proclaims "Austin leads nation in job creation since 2004, data show."
Better yet for the readers of this blog, most of that growth has been in IT and technology related jobs. Here's what I hope: that the economy is turning the corner, and things are looking for IT, and that my own home town can serve as the pivot point around which to rotate from worse conditions into better ones. Goes well with the optimism, warm breezes, and beautiful wildflowers that also grace central Texas around this time of year. Oh yeah…and we're catching up on our rainfall, too!
---
March 20, 2012 8:49 PM
I don't often get the chance to toot my own horn, but I received a very nice e-mail from Randy Brians this afternoon. Randy is the online marketing coordinator for a Website called INE.com, a provider of online training for Cisco certification. They describe their visitors as follows: "Our core audience is made of people looking into certifications and IT careers in general."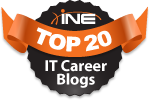 The INE Top 20 Has Its Own Logo
(click the logo to read the story)
They've compiled a list of "Top 20 IT Career Blogs," in which your very own IT Career JumpStart appears, as does my "Making it in IT" blog for Tom's IT Pro. It's kinda cool to find my work getting a nice fillip of recognition from an outside source, and even more gratifying to have two of my blogs selected for this collection of cogent, crafty, and courageous career advice.
In thanking Randy at INE for the recognition, I couldn't help but also ask: "What about my IT Certification Success blog for PearsonITCertification.com?" Just goes to show,  not only is it true that "you can't win them all" but also that "all of them can't win!" I would have still liked to boost my tally in this list from 10 to 15% anyway. ROFL!
---
March 19, 2012 1:21 PM
Starting in 2009, the US Congress acknowledged the importance of certfication as part of the American Recovery and Reinvestment Act (ARRA) which sought to stimulate renewed growth and vigor in the US economy. Since then, they have made grants and funding available to service providers and hospitals for "meaningful use of EHR (electronic health records) technology." The total amount of money involved through the ARRA is nothing to sneeze at, either: somewhere around $34 billion dollars in related funding should be disbursed under the act by the time it expires, says the Congressional Budget Office (CBO).
In turn, this has led to an explosion in healthcare certification programs and credentials. In addition to the CompTIA Healthcare IT Technician (aka hitech) there are at least half-a-dozen other programs in this arena out there worth checking into:
For the time being the following organizations have been approved to certify EHR systems for the federal incentive program, while the Office of the National Coordinator for HIT puts a permanent certification program together, working with NIST. These organizations include:
See this story "ONC final rule establishes permanent health IT certification program" for more details. Look for an article on Tom's IT Pro from me soon to be entitled "Top 5 Healthcare IT Certifications" wherein I'll dig into this stuff in more detail.
---
March 12, 2012 8:09 PM
Cisco announced this morning that both the CCNA Security and CCNP Security credentials have had their course materials and exams updated, to keep them in synch with the latest and greatest Cisco tools and technologies for security. The new curriculum and questions now include coverage of the Cisco ASA adaptive security appliance (software versions 8.3 and 8.4), increased focus on Cisco AnyConnect 3.0 and other, traditional IPsec VPN clients, more information on the ASA appliance (with 8.3 software) and its revised simplified NAT capabilities, enhanced data to configure access control lists (ACLs), extended EtherChannel items, and greater emphasis on bridge groups support in transparent firewall mode.
The Cisco Learning announcement page provides more information on these new changes, including five-minute-plus videos on CCNA Security and CCNP Security certification requirements and coverage. The 640-553 IINS (Implementing Cisco IOS Security) exam will remain live until September 30, 2012, and the new 640-554 IINS exam is ready for immediate sign-up. The CCNP Security 642-617 FIREWALL and 642-647 VPN exams will be retired on May 28, 2012, and the updated 642-618 and 642-648 exams are available now. See the CCNA and CCNP cert pages for more details.
---
March 9, 2012 2:45 PM
OK, so this month the guys at the US Bureau of Labor Statistics (the BLS of this blog's title)  threw us a slight curveball: Instead of posting their numbers on the first Friday of the month, as they so often do, they are posting those numbers today on the second Friday instead. But though the date may be different this month, the ongoing trend isn't off at all. Another slight jump in jobs — 227,000 for February, with the majority of the action in professional and business services, health care and social assistance, leisure and hospitality, manufacturing and mining — with unemployment holding steady at 8.3 percent.
There is one nice little positive surprise in this month's numbers, however: the BLS recast its employment numbers for December 2011 and January 2012, both jumped up a bit. For December, the increase was 20,000 (203K to 223K, about 8.97%); for January 41,000 (243K to 284K, about 14.4%). Numbers revisions happen all the time, but it's nice when they also reflect an upward trend.
Just to keep readers from busting out the party hats, and declaring early happy hour on this rainy Friday (in the Austin, TX, area where rain itself is pretty good news these days) I'll throw a dampener on this good news. The first-time unemployment claims for the week ending March 3 came out yesterday and showed an increase of 8,000 claims over the preceding week. But that total number — 362,000 — is still below the magic 400,000 number at which economists believe that economic recovery becomes more problematic here in the USofA. The less volatile four-week moving average (which adds all claims for the last four weeks, then takes the average) is somewhat lower at 355,000.
What does it all mean? Things are still getting better, but only slowly, slowly. This has been our trend since last fall, when slight improvement really announced itself as the "new normal." Considering other possible alternatives, we'll take it!
---
March 7, 2012 2:21 PM
According to the following press release "(ISC)2 to Complete Final Stages of Computer-based Testing for All Its Certification Exams," the best-known information security certifications — including the CISSP and SSCP — will migrate to computer-based testing on June 1, 2012. After a successful pilot test at Pearson VUE testing centers in Latin America, the organization is preparing to roll out all of its exams at Pearson VUE testing centers world-wide this summer.
Until now, it's been necessary for (ISC)2 cert candidates to register for proctored exams at specific, limited locations so they could take these exams using pencil-and-paper forms. The switch to computer-based testing (which (ISC)2 calls "CBT" even though the cert and training industries usually reserve this acronym for "computer-based training" instead, so be prepared for a double-take or three if you read the press release yourself) will speed scoring and exam results reporting, make it easier for candidates to take these exams at nearby testing centers, and enable them to register and pay for their exam encounters more quickly and easily.
It's been a long time coming, but it's good to see that (ISC)2 is finally catching up with standard best practices for exam offer and delivery.
---
March 5, 2012 4:10 PM
Thanks to a story posted today on CertMag.com entitled "Push Is on for More Women in IT," I learned about a new CompTIA program called "Advancing Women in IT Community" this morning. I was a little confused in scanning this name for understanding until I realized this represents an online community, sponsored by CompTIA, to help advance women in the IT profession. The ultimate goal is to foster the recruitment of members to build this community, and then to foment the proliferation of "member-driver initiatives" to help move this process along. Thus, suggested examples for current member-driven initiatives on the home page include the following (though the Initiatives tab page currently reads "There are no initiatives at this time."):
Create an "Advancing Women in IT" video
Develop educational speakers and webinars
Design a mentoring program
Collect and develop group best practices
A quick gander at the home page for this community shows the kind of scope that CompTIA has in mind for its development and activity (pay special attention to the tabs, please):

CompTIA Advancing Women in IT online community home page
Further inspection of the tabs on the page shows this to be a community still very much in the early stages of coalescing. Besides the absence of real initiatives on the Initiatives tab, there's only one entry on the Community Resources tab (survey results on forming the community from Breakaway 2011), only a single link to a couple of blog posts on the Blog Posts tab, and two events on the Events tab (both sponsored by CompTIA). There's more to see on the bottom row of tabs, however: half-a-dozen news items under the News tab, photo and bio for community manager Cathy Alper of CompTIA on the Community Staff Leader tab, two names on the leadership tab, including Sandy Ashworth of Unisys as the Group Chair, and Jean Mork Bredenson of Service 800 as the Vice-chair, plus more than a dozen entries under the Industry Resources tab.
Obviously, this is a community that's just getting some air under its wings. I invite my readers to check out their work, and urge them to consider lending some support and volunteer assistance to help get up and get going. For those women who already work in IT, and those getting ready to go to work in the field, that goes double!
---